A black woman had to sign a "no party" agreement when she checked into a Portland hotel, while white guests weren't asked to make a similar pledge, according to a lawsuit filed in Oregon.
The woman, Felicia Gonzales, 51, was forced to sign the waiver by a front desk clerk at the Residence Inn by Marriott Portland Downtown/Convention Center on Jan. 25 last year, she claimed in a lawsuit filed this week in Multnomah County.
Gonzales, a beautician from Rancho Cucamonga, California, said she's a Marriott Rewards member and has never had a noise complaint made against her. She "signed the form so she could get into her room and move forward with her trip," according to the lawsuit.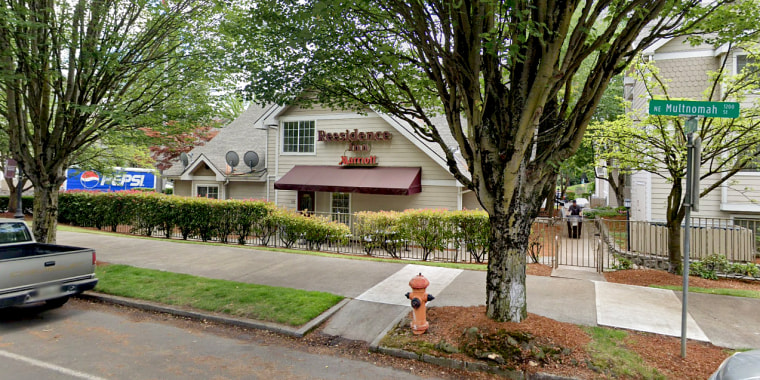 "Having to sign a 'NO PARTY' Policy form did not feel right to Ms. Gonzales, so she went back to the front desk," Gregory Kafoury, an attorney for Gonzales, wrote in the civil complaint.
"Ms. Gonzales observed as multiple Caucasian guests checked in. None of them were asked to sign a 'NO PARTY' policy," according to the complaint.
The suit names a host of defendants, including Marriott International Inc.; Residence Inn by Marriott; the hotel's general manager, Lee Luetjen; and a "Desk Clerk Doe."
Gonzales suffered "embarrassment, frustration, anger, humiliation" and a "sense of increased vulnerability, and feelings of racial stigmatization" following her stay at the hotel, the lawsuit claims.
Download the NBC News app for breaking news
A representative for Marriott declined to comment on the lawsuit Thursday but sought to distance the company from the hotel in question.
"While this hotel is a franchise property and is operated by a third-party management company, Marriott strives to provide an environment where all feel welcome," according to Marriott.
Luetjen could not be immediately reached for comment.