Two inmates who escaped from a prison van in New Mexico and who are being sought in a multi-state manhunt likely have had outside help, New Mexico's state police chief said Friday.
Convicted murderer Joseph Cruz, 32, and another inmate, Lionel Clah, 29, could have split up since they escaped from a prison van Wednesday between Roswell and Las Cruces, state police Chief Pete N. Kassetas said.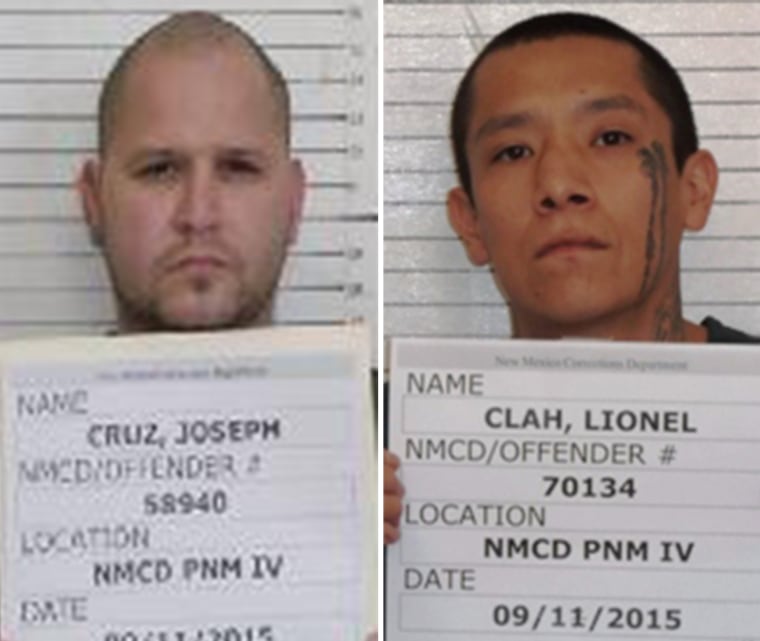 "They're getting help, no doubt about it," Kassetas said. "The reality is, people need to think twice about helping these individuals. They're very manipulative and dangerous — it's going to come back on you."
The U.S. Marshals have joined in the search for the escapees, and the search now includes Texas and California, officials said. The Marshals are offering a $10,000 reward each for information leading to their capture.
Albuquerque police chased a vehicle that may have contained Clah, but a man believed to have been the escaped inmate bailed out of the vehicle and escaped, police said.
A woman who was also inside the grey pickup truck was taken into custody and questioned but was released without being charged. Investigators don't have any indication she knew Cruz or Clah, Kassetas said.
Cruz was sentenced to prison in Nov. 2006 for first-degree murder, attempted murder in the first degree and child abuse, according to the New Mexico Corrections Department.
Clah was convicted in April 2009 of armed robbery with a deadly weapon, conspiracy to commit armed robbery and assault with intent to commit a violent felony upon a peace officer.
Both prisoners were fully shackled with leg irons, belly chains and handcuffs and were wearing white paper transport suits, the corrections department said. In surveillance video taken in Albuquerque Thursday, they were wearing civilian clothes. How the inmates escaped from the van is still under investigation.