Culinary icon Martha Stewart is set to make history as she becomes one of this year's cover models for the Sports Illustrated Swimsuit Issue, which hits stands later this week.
Stewart revealed on Monday to Hoda Kotb and Savannah Guthrie on NBC's "TODAY" show that she is one of this year's cover models for the issue, out May 18.
Stewart was photographed in the Dominican Republic by famed photographer Ruven Afanador. The other three cover models this year are Megan Fox, Kim Petras and Brooks Nader — but, at 81 years old, Stewart has become the oldest cover model in SI Swimsuit's history.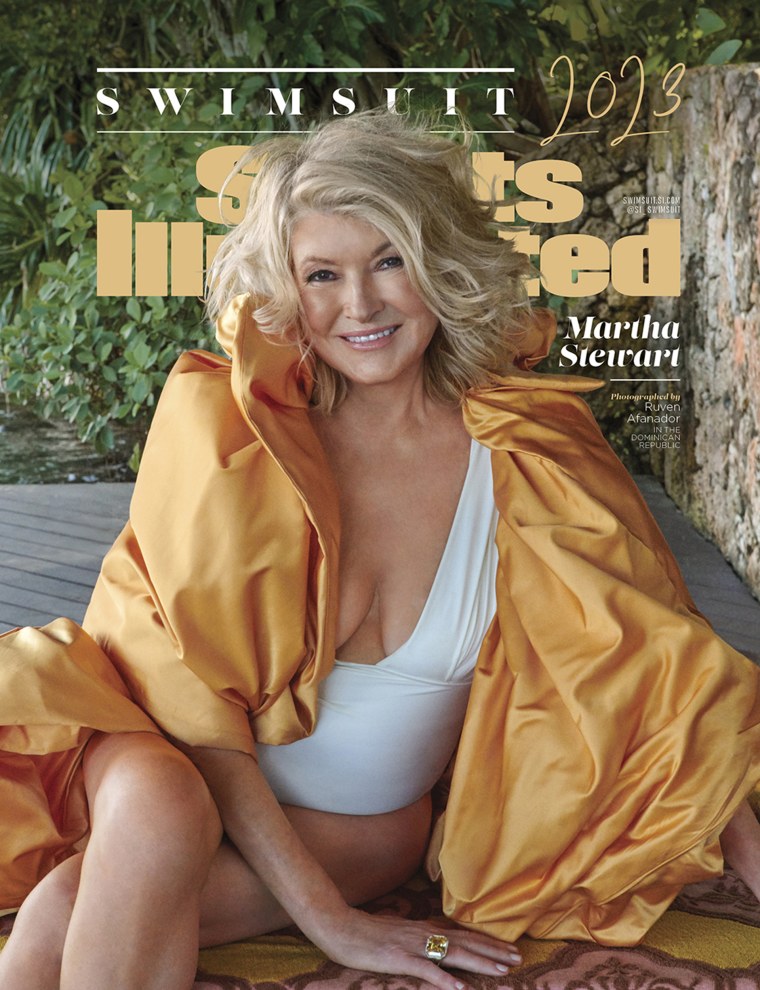 "I like that picture," Stewart said with a giggle on TODAY while standing next to her ultra-glam cover shot with tousled hair and a fresh, summery look. "I'm sort of shaking because it's odd to go to an island and then get changed into nine different bathing suits in one day in front of all those people ... it turned out OK."
"It turned out more than OK," Hoda replied. She asked the homemaking mogul about how the stunning cover came to be. Stewart said that the idea was proposed to her in November of last year, telling the co-anchors that at the end of January she needed to be ready to pose.
"You know, that was kind of a request I have never had before," Stewart said with a laugh. "And to be on the cover at my age was a challenge. I think I met the challenge."
Donned in a swimsuit on the cover by Monday Swimwear, cover-up by Torso Creations and accessories by Anita Ko and Jacob & Co., the grandmother of two reclines on a blanket-covered bench with the innate grace and polished style she's known for. It's no wonder, since her success as a model early in her career shines through in everything she does.
The video shows clips of Stewart at the shore of the photo shoot location, where the cover star gets her outfits together and her makeup done. For one shot, photographer Afanador stands waist deep in water while a photo assistant pours a bucket of water over Stewart's head.
"Getting dressed in 10 different bathing suit outfits can get a little exhausting," Stewart says, adding that she prefers to wear one thing all day, so the shoot was a bit of a switch-up for her — but, clearly, it was worth it.
SI Swimsuit editor-in-chief MJ Day says the goal for the 2023 issue is to continue to evoke captivating and thought-provoking conversations.
"Martha Stewart is a legend. The definition of a great female entrepreneur who built a dynasty against insurmountable odds," Day said in a statement. "While the industry wavers on its arbitrary notion of beauty, our issue has stayed the course, showcasing the women of today, the women shaping the future. This year, we're featuring an extremely diverse group of women starting with our cover models, who are collectively the most unapologetic women from different walks of life who continue to forge their own paths on their own terms."
"I want other women, especially women to feel that they could also be on the cover of Sports Illustrated," Stewart said. "I don't think about age very much, but I thought that this is kind of historic."
A step into a magazine such as this seems natural for Stewart, who has become the queen of sultry selfies, sharing photos on Instagram from the hairdresser's chair, ultra close-ups of her glowing skin and perhaps in preparation for her SI debut, her 2020 viral poolside thirst trap.
"I love to travel. My favorite place to go is the place I haven't been yet," Stewart said at the end of the video. "And my motto is: 'When you're through changing, you're through.'"