Martin Greenfield has taken the measure — and measurements — of the man currently occupying the White House, three of his predecessors, and that of the Manhattan mogul vying to be the next president.
And when and if Hillary Clinton is ready, the Brooklyn tailor will gladly take hers too.
"If Hillary becomes president, then she needs a suit," Greenfield told NBC News.
Greenfield, who is 88 and still dapper, knows a thing or two about suits.
He's been making them for over half-a-century at his workshop in the East Williamsburg section of Brooklyn. And he's clad everybody from former New York City mayor Michael Bloomberg and ex-Police Commissioner Ray Kelly to hard-to-fit athletes like NBA star Patrick Ewing and notables like Cardinal Edward Egan and former Secretary of State Colin Powell.
He outfitted the cast of the HBO show "Boardwalk Empire" with custom duds. The late Paul Newman was a customer. So is Tonight Show host Jimmy Fallon.
Greenfield is also the go-to guy for President Obama and one of the few tailors who have been able to pry Donald Trump out of the Brioni suits that are pretty much his uniform.
He's made suits for other Democrats like President Bill Clinton. He's made suits for Republican presidents like Gerald Ford and Dwight Eisenhower.
"I dress both sides of the aisle," he said.
And not a day goes by that Greenfield doesn't don one of his own custom-made creations. "I am dressed every day in a three-piece suit when I come to work here," he said proudly.
Greenfield learned his craft in hell.
Born Maximilian Grunfeld, a Jew in what was once Czechoslovakia, he was 14 when the Nazis dispatched him and his family to the Auschwitz death camp. He was the only member of his family to survive, a fact that haunts him to this day.
"Before the concentration camp, I was the happiest kid you ever met," he said.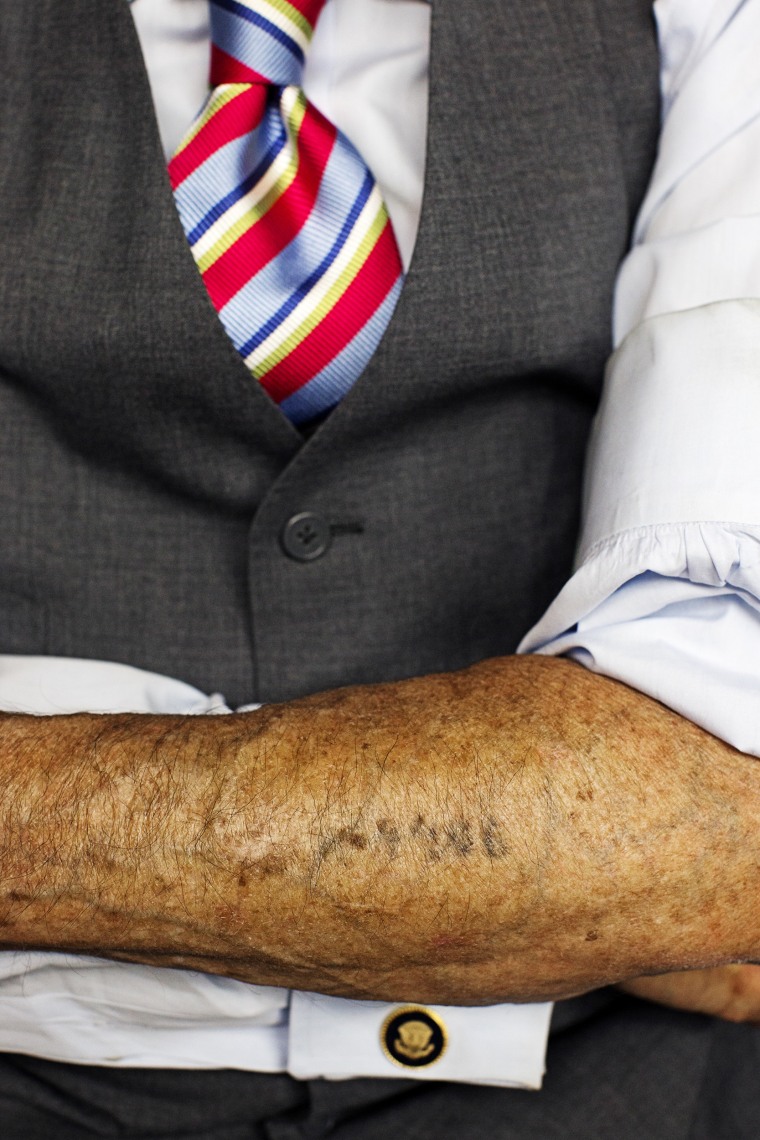 But it was there that Greenfield found his calling when he was assigned to work in the camp's alterations shop. And it was in the waning days of World War II, after the inmates were forced to march to the Buchenwald concentration camp, that Greenfield encountered Dwight D. Eisenhower — the first future U.S. president who would become his customer.
"He liberated me," Greenfield recalled in one of his company videos.
There was nobody left for him to return to in his hometown of Pavlova, so Greenfield headed west for the U.S. to start over. After a brief sojourn in Baltimore, he set off for New York City and a job in the East Williamsburg neighborhood at GGG Clothing.
There, Greenfield started out as a laborer before becoming a sewer and then a fitter. His hard work and talent did not go unnoticed.
"My boss came, Mr. Goldman, he said I gotta sit down and talk with you," he recalled in bursts of still-accented English. "You have a brain for the clothing business. You are good and I gonna pay you the $110 and I'll make you a suit doctor."
What's a suit doctor? It's the guy whose job it is to make sure a big shot gets the best fit possible. And it's in this capacity that Greenfield found himself fitting Eisenhower, who was then president of Columbia University, with a three-piece suit.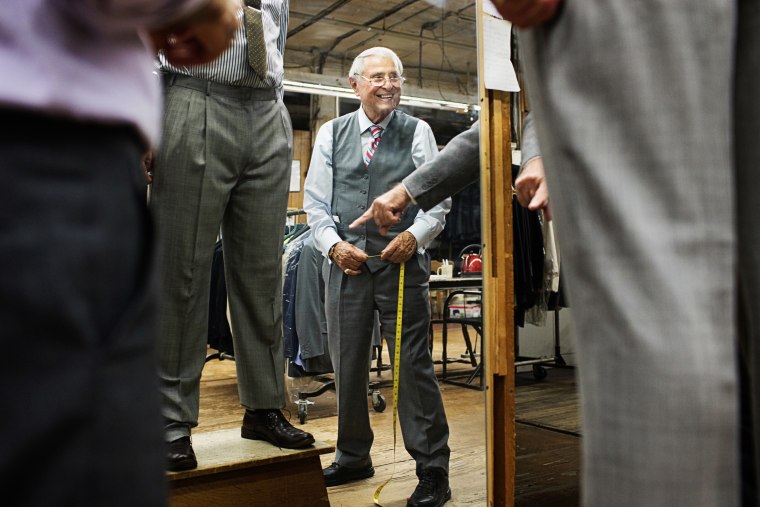 "I worked when Eisenhower started with double-breasted suits," he said. "I was already in charge of the quality because every teacher that taught me, I was better than the teacher."
In the 1970's, Greenfield bought the business outright and stuck his new "American" name on it. He insisted on the best fabrics, he insisted on a custom fit, he insisted on doing everything the old school way — by hand.
And soon, well-heeled customers starting flocking to buy Martin Greenfield suits, which according to the New York Times costs as much as $2,600.
Greenfield made Clinton the tailcoat for his first state dinner. He made Obama the suit he wore to meet the Queen of England.
"It's always perfect, he cannot make it look bad because it fits so good," he said.
Greenfield said he's been following the presidential election but wouldn't be pinned down on who he was backing. But he admitted he is pals with the Clintons and their mutual friend, clothing designer Donna Karan.
"Hillary Clinton and I are very friendly because Donna Karan made clothing for her too," he said. "And, uh, of course, (Bill) Clinton and I are very close."
Greenfield's also bullish on America and grateful to his adopted country. He said he regularly tells Americans who are born here they should count themselves lucky because "you could become anything you wanna become."
"You know, I meet a lot of presidents," he said. "I'm smarter than some of them. Guess what? I can't become president, but you could."