A Maryland police officer was suspended after a bystander recorded video of him embracing a woman and entering the back seat of his patrol vehicle with her at a public park, officials announced Tuesday.
Video caught the uniformed Prince George's County officer entering his cruiser with the woman at Southlawn Park in the Washington, D.C., suburb of Oxon Hill on Monday.
Nelson Ochoa, who recorded the video, told NBC Washington that the officer and the woman were in the back seat for 30 to 40 minutes before they went their separate ways.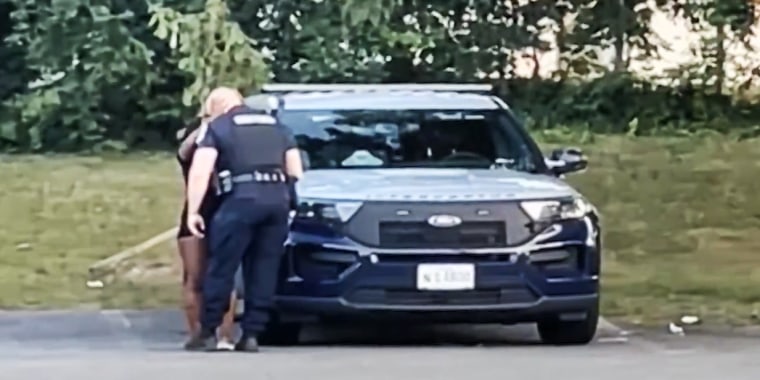 "We couldn't believe what we were seeing, and what really made us go, wow, this is crazy is when the car started rocking a little bit to the left and right," Ochoa said. "That's when we were, like, this is crazy. In broad daylight with kids around."
The Prince George's County Police Department said Tuesday that it was aware of the video and that the officer had been identified and that he had been suspended pending an investigation.
NBC Washington identified the officer as Francesco Marlett, who was previously accused of abusing a former girlfriend's child in a 2016 case. The charges were dropped, the station reported.
A representative for the police department confirmed Marlett's identity to NBC News on Wednesday and said he is the same officer involved in the 2016 case.
A voicemail left for Marlett was not immediately returned.
The Fraternal Order of Police for Prince George's County Police said while the union does provide access to legal representation for its members, it is not involved in the investigation. The union has been made aware of the video, FOP Lodge 89 said in a statement.
"We ask that our officer be given the same consideration that any other person would ask for in that you reserve judgement until all of the facts are known and the videos are put into context," the union said.
CORRECTION (Sept. 6, 2023, 8:30 p.m. ET): A previous version of this article misspelled the name of the Maryland county. It is Prince George's County, not Prince George.