Buildings with their foundations ripped away teetering on the verge of collapse. Streets and sidewalks completely washed away. Cars scattered like toys, some stacked atop each other, others submerged in the river.
That was the scene Monday in Maryland's hard-hit Ellicott City two days after a disastrous flood ravaged the picturesque town, sweeping two people to their deaths and causing untold damage to the historic city.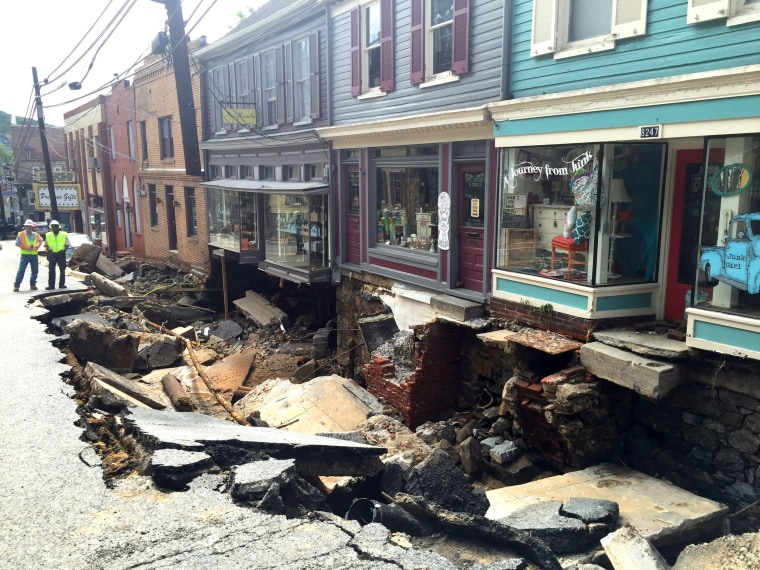 "I have represented Howard County for more than 30 years, I have never seen devastation like this," said Sen. Barbara Mikulski (D-Maryland), adding that she and Gov. Larry Hogan will seek federal help in rebuilding the devastated town on the Patapsco River.
Photos: Maryland Recovers After Ravaging Floodwaters
Howard County Executive Allan Kittleman said this was the worst calamity he had seen in 50 years — eclipsing the damage done by Hurricane Agnes in 1972, which caused the river to overflow its banks.
"It looks like the set of a disaster movie," Kittleman said. "Cars everywhere, cars on top of cars, parts of the road are gone, many parts of the sidewalk are gone, storefronts are completely gone."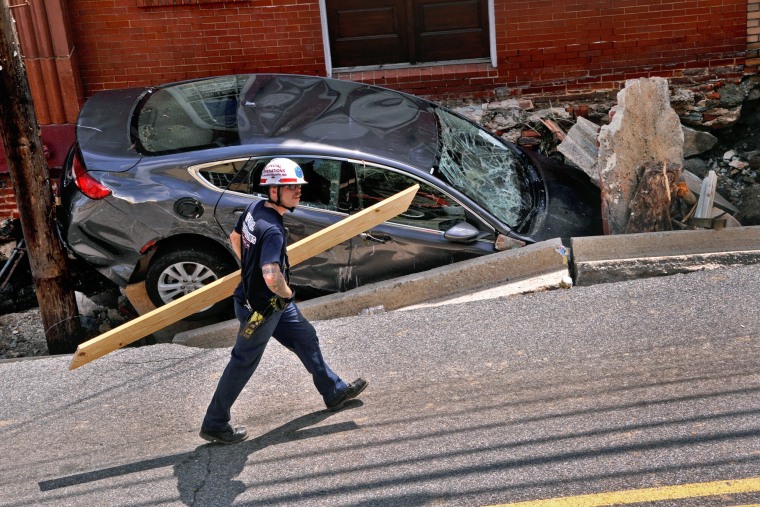 Some of the worst destruction was on historic Main Street, a sloping artery that was transformed into a white water river at the height of a storm, which dumped almost 6 inches of rain fell in two hours on Saturday night. That's the equivalent of a full month's normal rainfall.
Main Street is now closed until further notice because of gas leaks and downed power lines and devastation. officials said.
"There are no foundations under some buildings," Mikulski said.
The dead were identified as Jessica Watsula, 35, of Lebanon, Pennsylvania, and Joseph Blevins, 38, of Windsor Mill, Maryland. Both were inside vehicles that were engulfed by floodwaters.
So far, more than 180 flooded cars have been towed from the Main Street area to a nearby high school and workers were struggling to remove another 20 or so that had been washed into the river.
The Baltimore Sun reported that a handful of looters have been caught picking through the remains of some damaged businesses. Mikulski, however, focused on the Marylanders who rose to the occasion, like the brave souls who formed a human chain to rescue a woman from a car caught in the floodwaters.
"My breath was taken away," she said.