At least four people were killed and more than two dozen others were injured in shootings in Illinois, Missouri and Washington state in a deadly night of gun violence.
At least one person was killed and 22 more were injured at a strip mall in Willowbrook, Illinois, a southwest suburb of Chicago, police said. Authorities described the gathering as a peaceful "celebration of Juneteenth" that began at 6 p.m. Saturday.
"At approximately 12:25 AM police were called away due to a 911 call alleging a fight had broken out nearby," the DuPage County Sheriff's Office said Sunday. "As deputies responded, they heard gunshots and immediately returned to the scene of the gathering."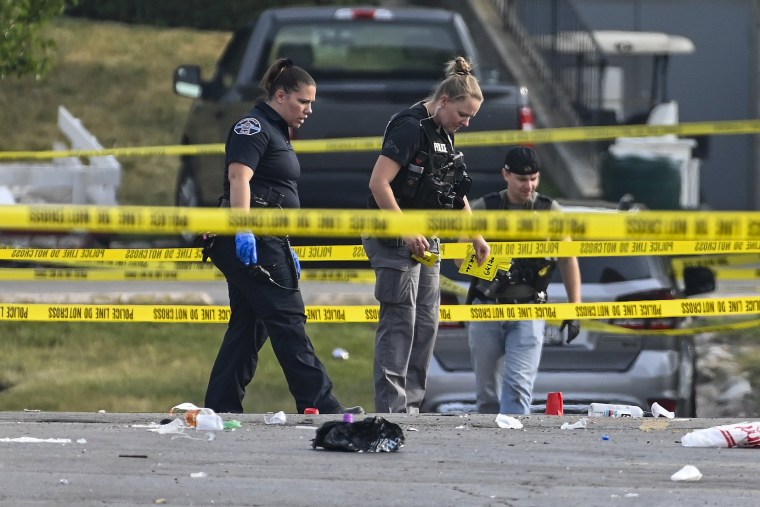 Preliminary witness and victim reports indicated "that there were at least 20 individuals shot," Chief Sheriff's Deputy Eric Swanson said early Sunday. "At this time one victim is deceased." 
He said the victims were taken to nearby hospitals, adding that their names and ages were not available. Some people were also injured as they fled but were not struck by gunfire.
"The motive behind this incident is unclear, and this is still an active investigation," he said.  
Advocate Good Samaritan Hospital said it received 12 patients in relation to the shooting Sunday, seven of whom were treated and released. Four patients remained in good condition, and person was described as being in fair condition.
Some witnesses told NBC Chicago they were leaving the gathering when shots rang out.
"We were all just out, and next thing you know, shots just got going off," Craig Lottie said. "Everybody ran, and it was chaos."
Two people were killed and three others were injured hours earlier near the Beyond Wonderland electronic dance music festival in Washington state.
There, police said, someone shot "randomly into the crowd" at a campground near the Gorge Amphitheater in the small city of George, around 150 miles east of Seattle.
Another deadly shooting took place just after 1 a.m. in St. Louis. One person was killed and nine others were injured, St. Louis police said.
The victims were ages 15 to 19, police said Sunday. The person who was killed was 17 years old, Police Chief Robert Tracy said.
The survivors had injuries from graze wounds to gunshot wounds; two people were shot in the back. A teenage girl was trampled running away and suffered serious injuries, Tracy said. Their conditions were not immediately known.
Tracy said officers in the area noticed a group of people fleeing a building downtown and called for backup at the same time multiple calls came in reporting a shooting.
It appeared the shooting occurred at a party on the fifth floor of the building, an office space, Tracy said. Bullet casings indicated that more than one gun was fired, and "multiple firearms" were recovered.
A person of interest, a juvenile, has been taken into custody, Tracy said.
St. Louis Mayor Tishaura Jones said at a news conference Sunday that her office was working to expand resources to keep city youths away from gun violence. She also called on parents throughout the area to engage with their children and monitor their teenagers.
"We're seeing downtown St. Louis become a place for teens from across the region to gather on a late night," Jones said. "The city of St. Louis is leveraging every resource we have making major investments and youth programming ... working with communities to create safe educational spaces for kids while they're out of school."
There have been 307 mass shootings in the U.S. in 2023, according to the Gun Violence Archive, a nonprofit project that tracks incidents. It defines a mass shooting as a single incident in which at least four people — other than the shooter — are shot.
CORRECTION (June 18, 2023, 11:16 a.m. ET): A previous version of this article misspelled the name of the town in Washington where a shooting occurred. It is George, not Gorge.