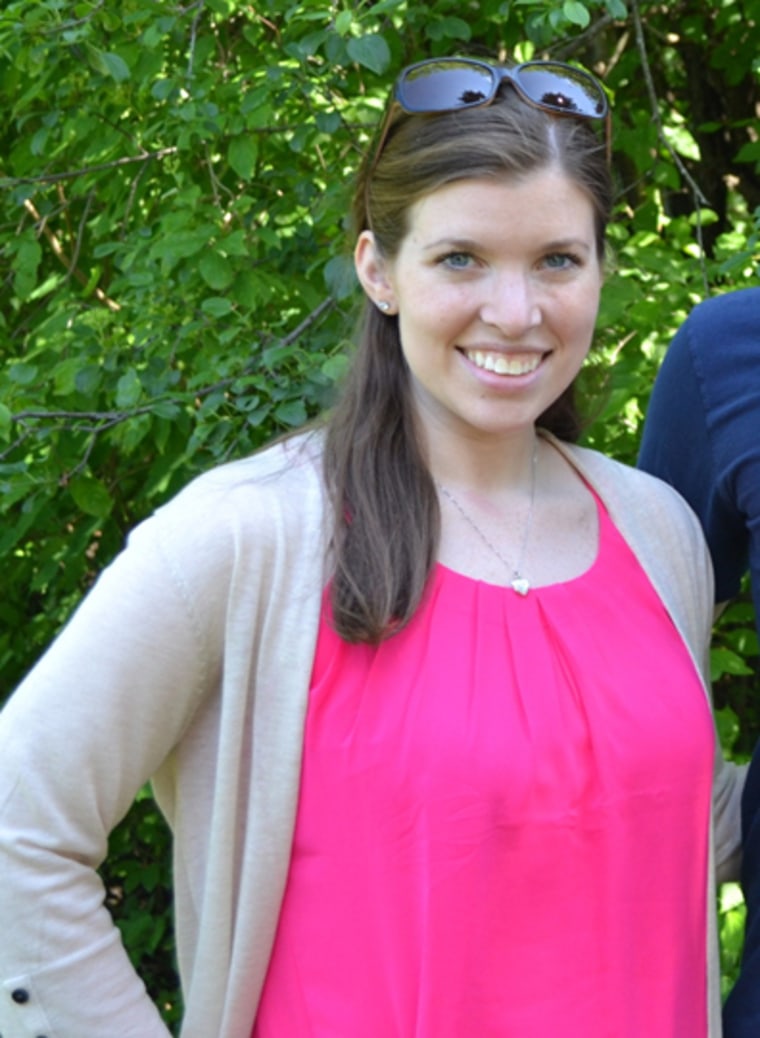 Colleen Ritzer had the challenging job of getting sleepy, slouching high school students to work geometry proofs — the tedious building of evidence to show that two angles are congruent, or two lines parallel.
But Ritzer, in her second year teaching at Danvers High School in Massachusetts, had a strategy. She tried to relate geometry to jobs in the real world. She was relentlessly enthusiastic. She even had a catchphrase: "Yay proofs!"
Hokey, but it worked. Well enough that her students found themselves interested in math in spite of themselves. And well enough that they repeated it to each other on Wednesday as they struggled to come to grips with the murder of their beloved teacher.
"There's all this drama in high school. People are in bad moods sometimes," said John Tibbetts, a junior who took Ritzer's geometry class last year. "She always knew how to put us in a better mood."
"Geometry isn't exactly the most exciting subject to learn about," he said. "What she did, instead of just teaching us the facts, she tried to put excitement to it."
The body of the math teacher, 24, was discovered just after midnight Wednesday in some woods behind the high school in Danvers, a town of about 25,000 people half an hour outside Boston.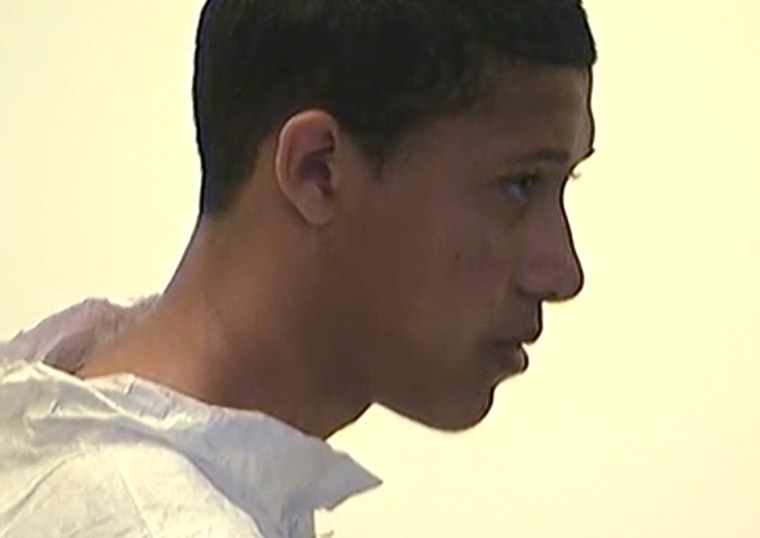 Authorities charged a 14-year-old student, Philip Chism, with murder and said he had beaten the teacher to death. They did not give a motive. They said blood was found in second-floor bathroom at the school.
On Wednesday morning, Danvers had closed its public schools and said only that there was a homicide investigation. Parents woke up their children to tell them something was going on. Some of the kids said they thought at first that they had overslept.
"As soon as I heard her name, my heart just sank and I started bawling my eyes out into my mom," said Laura Voisine, who also took Ritzer's geometry class last year. "I just don't want to believe that this actually happened."
Students at Danvers High spent the day exchanging messages of disbelief and mourning on Twitter. Ritzer herself used it often — posting homework assignments, sharing inspirational quotations and math puns, wishing the kids a happy weekend.
Less than a week ago, she posted a joke: "Parallel lines have got so much in common. It's a shame they'll never meet."
In class, on her electronic chalkboard, she would put up her picture of the day — a cute animal, a nature scene, beaches for springtime. She would count down the days until summer vacation.
"I actually looked forward to class," said Kaleigh Halloran, a junior and former student of Ritzer's. "She was just such a kind person. She never — you would never see her without a smile on her face. She was so excited."
When Halloran got her driver's license last July, Ritzer tweeted her congratulations. Other students recalled how she would see them in the hall and pay them compliments: You look nice today. You did great on that last test.
Even kids who never had her for a class knew her and said hello, students said.
Ritzer graduated magna cum laude in 2011 from Assumption College, a small Catholic school in Worcester, with a degree in mathematics and a minor in psychology. She taught eighth-grade math at a middle school before taking the job in Danvers.
Ritzer was also a part-time student in the master's program for school counseling at Salem State University. She was not taking any classes this semester but was enrolled for graduate classes in spring, the school said.
Her family issued a short statement recalling Ritzer's passion for teaching and how she "mentored each and every one of her students." A friend, Sara Brandolini, said that Ritzer "had a grace and compassion that was beyond her years."
Chism, the student charged in the killing, had recently transferred from Tennessee and had been reported missing on Tuesday after not coming home from school. He was charged as an adult and ordered held without bail, and a judge denied a request from his lawyer to shield his face from the public.
Prosecutors said he had caused Ritzer's death by assault and beating. His next court appearance was set for Nov. 22.
Mitchell Bussone, a senior at Danvers High, said that he and about 10 other students went looking for Chism on Tuesday night and "thought something bad had happened to him." When he turned on the television Wednesday and learned that Chism was suspected of killing Ritzer, he said, he was in disbelief.
"What went through my head was: How could this happen?" he said.
He said that Chism "seemed like a normal kid," played junior varsity soccer and fit in.
As they grappled with having lost their teacher, Ritzer's students watched the news for the few details that were available, between reports on the Red Sox in the World Series. Some made plans to attend a candlelight vigil Wednesday night.
Some said in interviews that they wanted people to remember Ritzer as the model for what a teacher should be. Halloran, who is taking algebra this year under someone else, said she ran into Ritzer in the bathroom just last week.
"I was telling her how much I missed her class," Halloran said. "She said: I miss you, too. If you ever need help, you can come see me. Don't hesitate."
Hundreds of students and other community members gathered at the candlelight vigil in Ritzer's honor on Wednesday night. They placed flowers at a growing memorial in front of the high school and prayed. Many of those who attended the vigil wore pink, the teacher's favorite color.