BOSTON — Jack Teixeira, the 21-year-old Massachusetts Air National Guardsman arrested in connection with the leak of classified documents, feared federal authorities were on to him days before his apprehension, court documents showed Friday.
Judge David Hennessy told Teixeira, in his first court appearance here Friday, that he was being charged with possessing classified documents pertaining to national security and possessing national defense materials.
The charges carry a maximum of 10 years behind bars.
Teixeria, on April 6, "used his government computer to search classified intelligence reporting for the word 'leak,'" according to an FBI affidavit supporting his arrest.
The first media reports about the leak were published that day, the FBI said, meaning that Teixeria "was searching for classified reporting regarding the U.S. Intelligence Community's assessment of the identity of the individual who transmitted classified national defense information," the affidavit said.
As Teixeira appeared in court, at least three family members in attendance hugged and consoled one another after Teixeira, wearing a tan brown jail jumpsuit, was ushered to the defense table by U.S. Marshals.
A family member appeared to say, "I love you," as the defendant seemed to respond, "I love you too," NBC Boston reported.
Teixeira was not required to enter a plea during this initial court appearance on Friday. His next court appearance was set for Wednesday.
Following the brief hearing, Teixeira's supporters left the courthouse linking arms but did not answers reporters' questions outside. A federal public defender, listed as Teixeira's attorney, could not be immediately reached for comment on Friday.
Teixeira was arrested Thursday afternoon at a home in North Dighton, Massachusetts, federal officials said.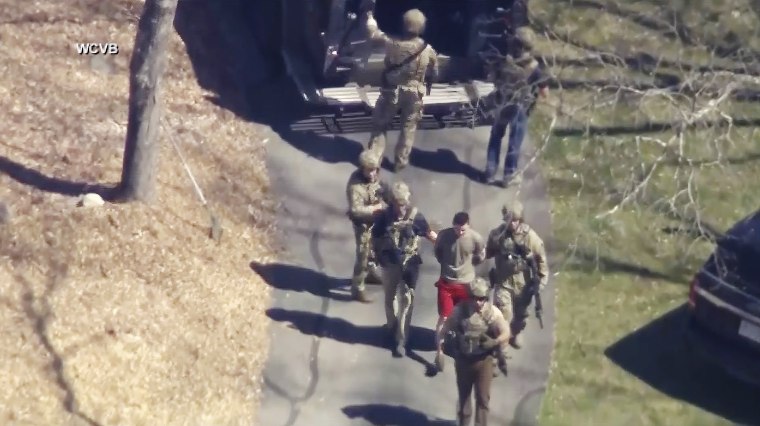 Teixeira, who holds the rank of airman first class, has held top secret security clearance since 2021, the FBI said.
An agent contacted an unnamed administrator of a social media platform, popular with gamers, where the documents, many of which pertained to Russia's invasion of Ukraine, started appearing last December.
That witness told investigators he had online video conversations with the poster, who "called himself 'Jack' and "appeared to reside in Massachusetts, and claimed that he was in the United States Air National Guard," the FBI agent said.
The final investigatory moves leading to Teixeira's arrest appeared to unfold rapidly.
The social media platform on Wednesday "provided the FBI with records pursuant to legal process," which led agent to Teixeira, the affidavit said. The witness identified the suspect on Thursday from Teixeira's DMV photo, according to the affidavit.
Teixeira entered the Air National Guard in September 2019, and has been based at Otis Air National Guard Base on Cape Cod, assigned as a cyber transport systems journeyman.
Christian Campezato, 21, a former classmate of Teixeira's at Dighton-Rehoboth Regional High School, about 15 miles east of Providence, Rhode Island, said the allegations were shocking but not unbelievable.
He described Teixeira as well-mannered and respectful, someone who seemed "obsessed" with the military — Teixeira would wear camouflage and military-style boots to school — and was bright: he appeared to have a deeper understanding of politics than others in their senior year American government class, Campezato said.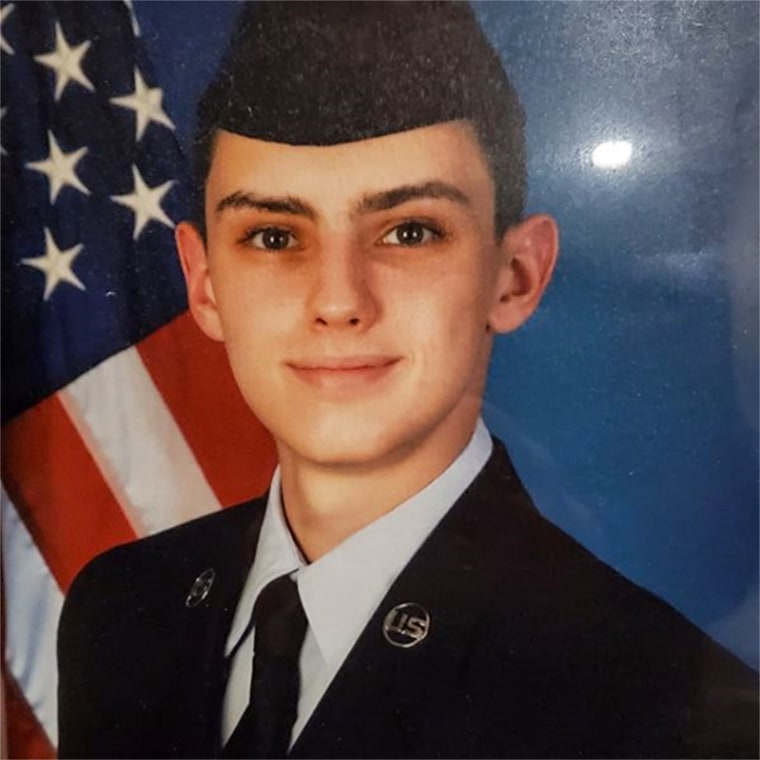 When the two worked on class projects together, Campezato said, Teixeira did the bulk of the work. But Teixeira had another side, Campezato said: he was willing to do "crazy stuff" in class for a "laugh."
He recalled Teixeira pretending to have seizures, something that would prompt the teacher's attention and polarize their classmates.
"Half of the class freaked out," he said. "The other half was like, yeah, that's Jack."
Campezato said hasn't talked to Teixeira since 2020. But Campezato said that he and other former classmates who have discussed the arrest in a group chat suspect that Teixeira hasn't changed much since high school.
"We think it was nothing more than: he was willing to do semi-crazy stuff for attention or approval," he said.
Teixeira's arrest followed weeks of intense work by federal authorities seeking the source of the leak, which exposed potentially hundreds of pages of intelligence about Russian efforts in Ukraine and spying on U.S. allies.
Attorney General Merrick Garland said Friday the Defense Department is in the midst of reviewing "the methods of access, accountability and control procedures" regarding sensitive material.
"So that something like this can never happen again," Garland told reporters at an event announcing the Justice Department charging 28 members of Mexico's powerful Sinaloa cartel.
U.S. Rep. Raja Krishnamoorthi, D-Illinois, said he has a meeting with Pentagon officials next week when he'll ask "how this possibly could have happened?"
"You know we spend billions and billions of dollars collecting these secrets and preserving these secrets and for a 21-year-old to be able access them, print them out and then share them with a bunch of his teenage friends is just mystifying," Krishnamoorthi, a member of the House Permanent Select Committee on Intelligence, said on MSNBC's "José Díaz-Balart Reports."
"This is absolutely ridiculous."
Brian Michael reported from Boston, and David K. Li from New York City.