Federal investigators said Saturday there doesn't appear to be "anything intentional" behind the series of gas explosions that killed a teenager, injured 25 people and burned or damaged about six dozen homes in the Boston suburbs.
Robert Sumwalt, chairman of the National Transportation Safety Board, said the agency plans on looking into the procedures and record-keeping of Columbia Gas of Massachusetts, whose pipelines set off Thursday's explosions in Lawrence, Andover and North Andover, Mass.
They also plan to take a closer look into recent complaints from the utility's customers, Sumwalt said at a news conference.
He also said Columbia Gas, a unit of NiSource Inc., was notified about a recorded pressure increase in its pipeline control console in Columbus, Ohio, before the explosions.
Investigators will examine how the gas company responded to that change in pressure and whether its response was in line with safety protocols.
"We expect to be on the scene anywhere from seven to 10 days and we will thoroughly document," Sumwalt said. "Our purpose for being on scene is to collect perishable evidence. We are not here on scene to determine the probable cause, that will occur on a different day."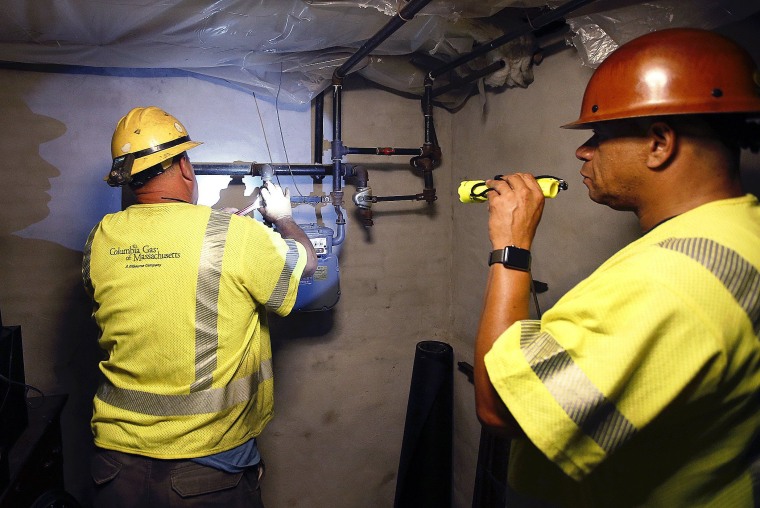 Leonel Robson, 18, of Lawrence, Massachusetts, was killed when a chimney from a house explosion in Lawrence fell on the car he was in, officials said.
The eruptions also cut power to more than 8,000 homes.
Gov. Charlie Baker declared a state of emergency on Friday. He faulted the response of Columbia Gas, and essentially directed another utility, Eversource, to take over the effort to restore utility services to the three towns.
The NTSB estimates its investigation could take up to two years to complete because of the nature and scope of the incident.
"We want to find out what happened so that other neighborhoods don't have to go through the devastation that happened here," Sumwalt said.