William "Rick" Singer, the mastermind of a nationwide college admissions cheating scheme, was sentenced to 3½ years in prison and supervised release Wednesday afternoon in Boston.
Singer, 62, pleaded guilty in March 2019 to racketeering conspiracy, money laundering conspiracy and other charges in connection with the scandal, dubbed Operation Varsity Blues. He cooperated with the government's investigation and wore a wire for the FBI.
In addition to 42 months in prison, Singer will have three years of supervised release.
The operation involved bribes, cheating on entrance exams and use of bogus claims by unqualified applicants to get into schools as elite recruited athletes.
Singer told the judge Wednesday that he was ashamed of what he had done and that he previously believed that "lying to win was acceptable because of victory."
"I've learned how to use my strong self-discipline to become an honest and legitimate person," Singer said, adding that he "can and will" be a law-abiding citizen.
Prosecutors had sought a six-year sentence, while defense attorneys requested three years of probation or a maximum of six months behind bars. 
U.S. Attorney Rachael S. Rollins called the behavior in the Operation Varsity Blues case "something out of a Hollywood movie." In a news conference after sentencing, Rollins described her shock at the depth of the scandal.
"I, like millions of hard-working lower- or middle-class families, have gone through this process," Rollins said. "I was never foolish enough to believe it was a meritocracy, but I had absolutely no idea how corrupt and infected the admissions process was until this case exposed everything. Any parent or guardian who has ever experienced the college admissions process should be angry."
FBI Special-Agent-in-Charge Joseph Bonavolonta said that with every bribe Singer paid on behalf of wealthy families, he "sold out hard-working students a little more."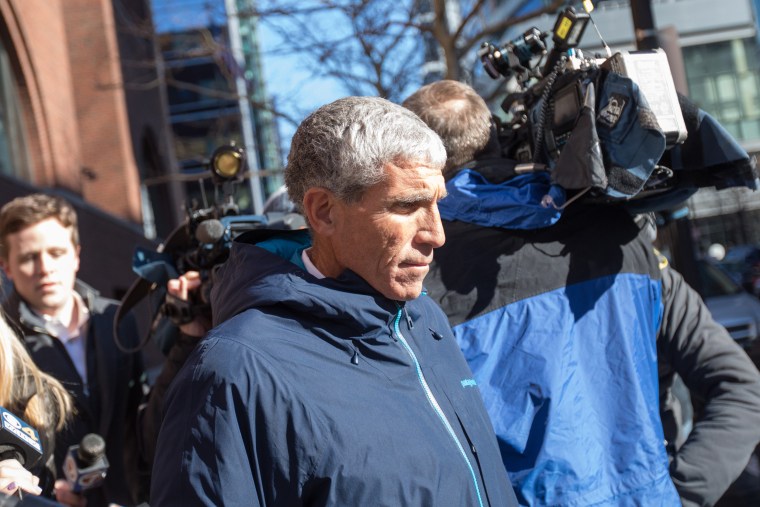 "Everyone arrested, charged and convicted to date are integral to the scheme's success, but without Rick Singer, they never would have succeeded," Bonavolonta said.
Singer's sentence is the longest handed down in the case so far, followed by the 2½ years former Georgetown University tennis coach Gordon Ernst got for pocketing more than $3 million in bribes.
So far, more than 50 people, including parents and coaches, have been convicted in the case. The scheme ensnared Hollywood with actors Lori Loughlin and Felicity Huffman being charged in the case.
Singer raked in more than $25 million from his clients, paid bribes totaling more than $7 million and used more than $15 million of his clients' money for his own benefit, prosecutors alleged. 
In a letter filed Thursday with his defense's sentencing memorandum, Singer said he lives in a trailer park and can't get a job, despite more than 1,000 attempts, because of his role in Operation Varsity Blues. 
"For most of my life, if not all of it, I have thrived on winning at all costs," he wrote. "My moral compass was broken and, increasingly over time, choosing right over wrong became less important than doing whatever had to be done to be recognized as the 'best.'"
By getting caught, he has been provided "the opportunity for insight, atonement, and redemption," he wrote.