High winds toppled three massive trees at the Masters on Friday, forcing the tournament officials to halt second-round play and evacuate the grounds.
No one was injured, and the second round will resume at 8 a.m. on Saturday, tournament organizers said.
Wind gusts of 26 mph were moving through Augusta around the time the trees fell.
"The safety and well-being of everyone attending the Masters Tournament will always be the top priority of the Club," the Augusta National Golf Club said in a statement. "We will continue to closely monitor weather today and through the Tournament."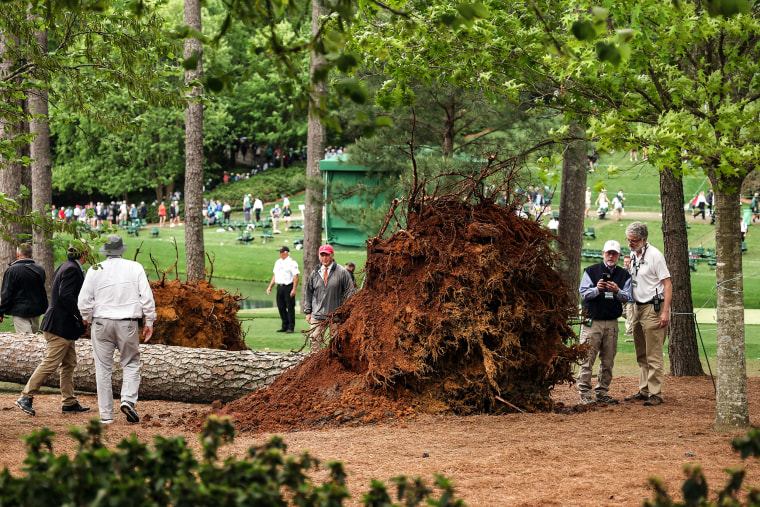 The course was cleared once for 21 minutes by an earlier band of storms. The air horns sounded again at 4:22 p.m., forcing the evacuation of patrons and sending players and officials searching for cover.
Just before the second horn sounded, three enormous pines slowly fell near the 17th tee box, sending about 50 people below them scattering.
On the nearby 16th green, Harrison Crowe saw the tree falling and started to backpedal in surprise, while on the 15th green, Sergio Garcia stopped and stared at what seemed to be happening in slow motion.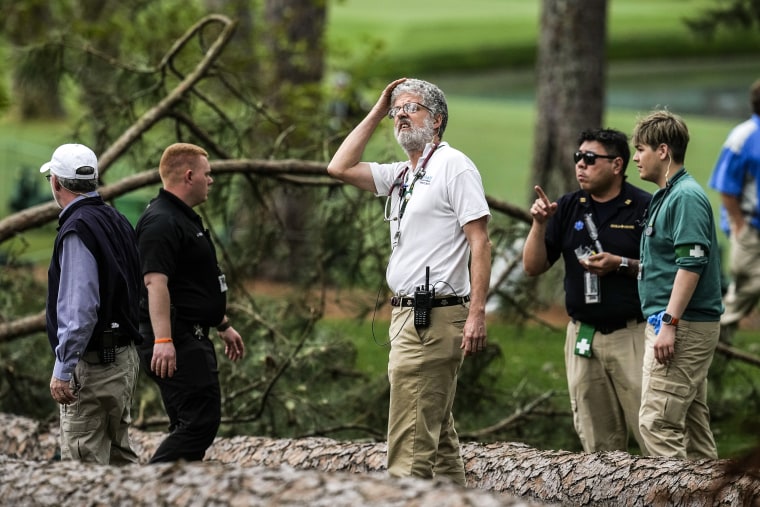 "You could feel it down there. This little tornado whipped up," Crowe's caddie, John Serhan, told Australian Associated Press. "It caught those trees. You could see them start to sway. They were lucky no one got killed. Very, very lucky."
The uprooted pines fell slowly with two of them acting as support for the third, and that provided time for the patrons below to get out of the way. But the close call was evidenced by several crushed chairs beneath the fallen trees.
"I was talking to friends next to me and all of sudden we heard a crack," said Katie Waites, who was attending the second round from Charleston, South Carolina. "And there were three trees across the pond, and all of a sudden we saw them falling and everybody — it was just like ants. They were like, scattering just like ants from beneath. All three fell at the same time. And then I just grabbed my friends' hands we were like, 'Is everyone OK?' And it was silent."
Waites said she saw one woman standing between two of the fallen trees, and she heard that a man had crawled out from beneath some of the limbs. She added that it was "absolutely a miracle" that nobody was hurt.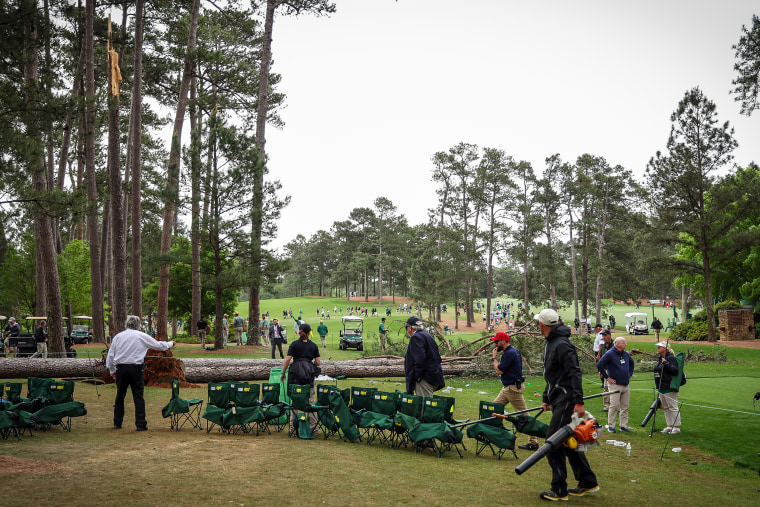 Workers quickly arrived with chainsaws to begin clearing the trees away.
American Brooks Koepka topped the leaderboard when play was halted with a 12-under through two rounds.