Matt Damon helped "Saturday Night Live" kick off its 44th season on NBC by portraying U.S. Supreme Court nominee Brett Kavanaugh as a beer-obsessed bro during the show's cold open.
Damon was grilled by cast members who played members of the Senate Judiciary Committee in a spoof of Thursday's hearing on sexual assault allegations against Kavanaugh by former high school classmate Christine Blasey Ford.
"I'm going to start at an 11. I'm going to take it to about a 15 real quick," Damon said, reflecting the sometimes angry nature of Kavanaugh's opening statement.
He called the "a political con job orchestrated by the Clintons, George Soros and Kathy Griffin."
Former cast member Rachel Dratch returned to portray Sen. Amy Klobuchar, who asked if Damon believed he was a "frequent drinker" in high school.
"Look, I like beer, OK," Damon said. "I like beer."
Asked by Cecily Strong as Sen. Dianne Feinstein if he has the "temperament to be a Supreme Court justice," Damon said, "I went to Yale! … I lifted weights!"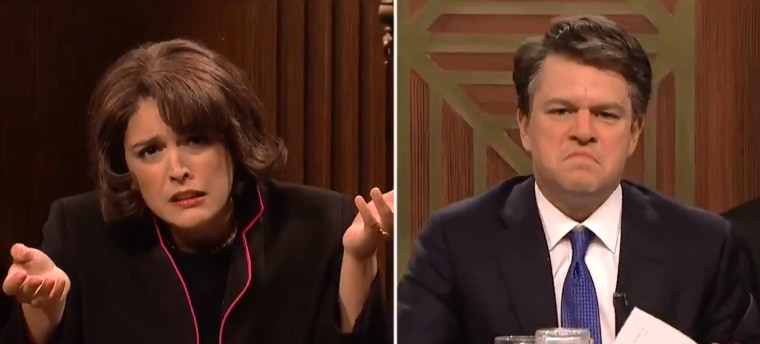 The "Weekend Update" skit described the Senate hearing as "She said, he yelled." Co-host Colin Jost took aim at Kavanaugh's yearbook from 1982, which he used to refute Ford's allegations that the assault took place that year.
"If you took a shot for every time Kavanaugh lied about his yearbook, you'd be as drunk as Brett Kavanaugh was in the summer of '82," Jost deadpanned.
Supreme Court Justice Ruth Bader Ginsberg, played by Kate McKinnon, joined the news desk and called Kavanaugh's calendar from 1982, "The portrait of a judge as a young d-bag."
The show wasn't wall-to-wall Kavanaugh.
Musical guest Kanye West, in his sixth appearance on '"SNL," set social media abuzz with a flat performance of his latest hit, "I Love It," a track so laden with expletives that much of it couldn't be said on network television.
West and rap partner Lil Pump were censored multiple times during the performance, leading some on social media to wonder if the bursts of silence were planned and rehearsed.
President Donald Trump tweeted on Sunday that while he did not watch the show, he had heard Wests's performance was "great."
"Like many, I don't watch Saturday Night Live (even though I past hosted it) — no longer funny, no talent or charm. It is just a political ad for the Dems," he wrote. "Word is that Kanye West, who put on a MAGA hat after the show (despite being told 'no'), was great. He's leading the charge!"
Adam Driver of the "Star Wars" franchise hosted the program. It was his second time front-and-center on "SNL." "Crazy Rich Asians" actor Awkwafina is scheduled to host next week's show.