Within two hours of having learned about the explosive wildfires in Maui, Dr. Reza Danesh had stocked his mobile medical clinic with antibiotics, food and water. He set out for Lahaina, a community now almost entirely devastated by the flames.
Danesh said he spent 14 hours Wednesday driving people to evacuation shelters, treating them in his mobile clinic and helping triage evacuees. One woman he treated was covered in small burns. She told him she jumped into the ocean to avoid the flames, along with her neighbors — one of whom died, she said.
"I heard that story and I was just so sad," Danesh said. "There she was, keeping her spirits, and her pets had all died, and she had nothing, and I'm taking care of her wounds."
For the most part, Danesh said, he was tending to the "wounded well" — people with asthma or other chronic health issues that made it difficult to tolerate the smoke or the stress of watching their homes burn. Danesh said he gave out antibiotic drops for eye infections and inhalers for people who had trouble breathing because of smoke inhalation.
Since Tuesday, strong winds have fanned wildfires on Maui and the Big Island. At least 53 people in Maui have died, and dozens more have been injured, according to Hawaiian officials.
Danesh, a board-certified emergency physician, runs an urgent care center and mobile clinic, MODO Mobile Doctors, which he said he started in hope of expanding access to outpatient care in Maui. But even as someone accustomed to working in the emergency room, Danesh said, he wasn't prepared for what he saw on his drive to Lahaina on Wednesday morning.
"I had just walked into a war zone, the hot aftermath with steam and fire still cooking on the side. We're going down this road, and it was like 'I Am Legend' with Will Smith — like zombies, people just coming out covered in scud looking like they're about to collapse," he said.
Reuters reported that at least 20 people suffered serious burns. Danesh said pharmacies in Lahaina burned down, so many evacuees were running low on essential medications like insulin.
Urgent care clinics were destroyed, too. Justin Prouty, the owner of Minit Medical Urgent Care, said Wednesday that he assumed his Lahaina facility was no longer standing. Cliff Alakai, an administrator at Maui Medical Group, which operates another urgent care clinic in Lahaina, said the facility appeared to be heavily damaged based on a photo he saw on Facebook.
Danesh said people on the island don't have many options for medical assistance.
"My goal is just to keep people out of the hospital," he said. "They got amazing people there, but it's limited resources."
Maui Memorial Medical Center, the major hospital serving the Maui region, has been treating patients since Tuesday night — most of them from Lahaina. As of Thursday, the hospital said, it was treating six patients for fire-related injuries, including burns, shortness of breath or inhalation issues, and other trauma-related injuries, such as falls or abrasions sustained during evacuations.
Wade Ebersole, the chief operating officer at Maui Health, which operates Maui Memorial Medical Center, said that two of the hospital's patients were in critical condition but that they have been transferred out of intensive care and are expected to make full recoveries.
"The first night we had a full house. The waiting rooms were pretty full, but we treated all of the patients that night," Ebersole said.
He added that some hospital staff members "have lost everything, and they're showing up to work."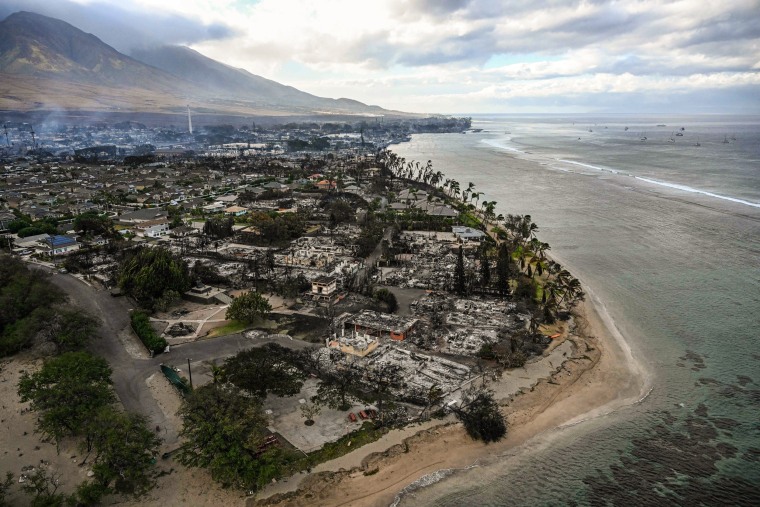 Seven patients who arrived at the hospital Tuesday night were transferred to Oahu, Ebersole said. Of those patients, three burn victims were flown to Straub Medical Center in Honolulu. A firefighter in critical condition was transferred to The Queen's Medical Center, also in Honolulu.
Dr. Rick Bruno, the president of The Queen's Medical Center, said the hospital is caring for several patients as a result of the wildfires. Straub Medical Center didn't respond to multiple requests for comment.
The wildfire that devastated Lahaina is 80% contained, the county government said Thursday. Hawaii Gov. Josh Green estimated "well over 1,000 buildings" could be destroyed in Maui. More than 1,300 people stayed in emergency evacuation shelters on the island Wednesday night, and 1,400 more stayed overnight in Maui's Kahului Airport.
Danesh said he plans to return to the evacuation shelters to keep offering medical assistance. He can't shake the image of a man Wednesday who refused to leave the rubble, he said.
"You go home and still think about that guy crying," Danesh said through tears of his own. "His wife is in the hospital, and he's looking for his best friend and dog."