LAHAINA, Hawaii — A group of farmers, activists and lawyers is rallying behind a top water official who was reassigned after the catastrophic wildfires, saying he has become a scapegoat in the ongoing finger-pointing about how the fires grew out of control so quickly.
Kaleo Manuel, who was a member of the state Commission on Water Resource Management when three wildfires erupted on Maui on Aug. 8, has come under intense scrutiny after a land developer wrote a letter to him accusing the water commission of delaying additional water resources during the blaze.
But Manuel's advocates question the facts and motives behind West Maui Land Co.'s claim that the water commission had a hand in delaying a water diversion, and behind the state government's decision to reassign him as criticism mounted.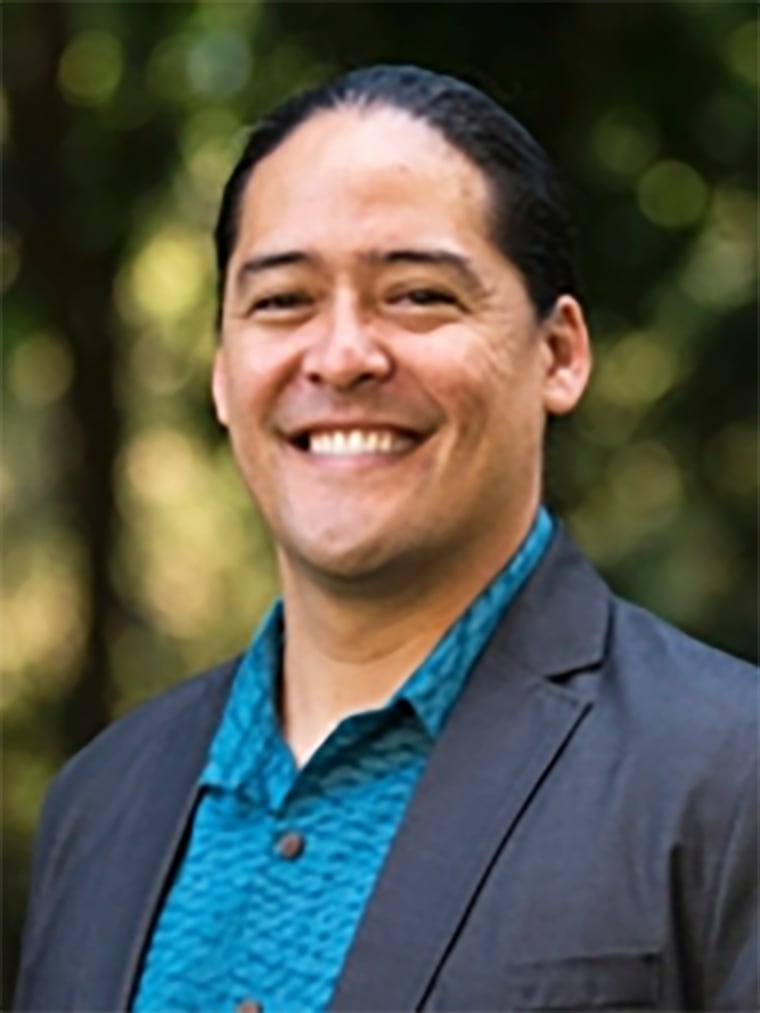 Maui taro farmers Charles and Lauren Palakiko have joined a growing chorus of Native Hawaiians demanding that Manuel be reinstated. Charles Palakiko said in an interview that West Maui Land Co., which supplies water to parts of Lahaina, is using the fires as a pretext to tap into his stream, which he needs to maintain his farm, where he grows the vegetable used in Native Hawaiian dishes.
"Kaleo had nothing to do with it," Palakiko said. "They're trying to destroy us, and they're blaming him."
Manuel did not respond to requests for comment.
Developer seeks more water during the wildfires
Glenn Tremble, an executive with West Maui Land Co., wrote to Manuel in an Aug. 10 letter reviewed by NBC News claiming the water commission delayed approving the company's request on the day of the fires to divert more water to its reservoirs, which Tremble suggested firefighters could have used to slow the blaze, which destroyed most of Lahaina.
In the letter, Tremble said that an unnamed water commission representative instructed the company to contact a downstream farmer for permission but that the farmer, who was not named, did not immediately respond.
Tremble said in the letter that the water commission approved the diversion five hours after the initial request but that the company could not reach the equipment it needed to make the adjustment because the fires had spread. 
The letter asked the commission to suspend the water diversion rules for the company during the declared emergency period, which would have allowed it to divert more water for "fire prevention," and it sought changes to the rules that would allow its reservoirs to be filled during fires.
In a written response the same day, which was reviewed by NBC News, the commission's chairperson, Dawn Chang, said she would grant the company's requests.
After Tremble's letter was reported by local and national news outlets, Manuel was criticized by conservative pundits and politicians, including Republican presidential candidate Vivek Ramaswamy and Charlie Kirk, the founder of Turning Point USA. In a post on X, the site formerly known as Twitter, Ramaswamy said the alleged delay was connected to "the DEI agenda" but did not explain how the two might be linked. "DEI" is an initialism for "diversity, equity and inclusion."
The Hawaii Department of Land and Natural Resources announced Aug. 16 that Manuel had been reassigned to a different division. It did not say which one, and it said in the statement that it would not comment further on the matter.
"This deployment does not suggest that First Deputy Manuel did anything wrong," the announcement said.
'A great deal of water conflict on Maui'
But Gov. Josh Green seemed to suggest at a news conference after the fires that Native Hawaiians were stymying efforts to divert water even during emergencies.
"One thing that people need to understand, especially those from far away, is that there's been a great deal of water conflict on Maui for many years," Green said last week. "It's important that we're honest about this. People have been fighting against the release of water to fight fires. I'll leave that to you to explore."
Green's office declined to comment further. 
The cascade of decisions and statements from government officials has alarmed and angered farmers and activists. Palakiko, the taro farmer, contests the core argument that water from his stream could have helped fight the fires, because, he said, his stream is not connected to the Lahaina water system.
The nearest reservoir, owned by West Maui Land Co., is best accessible by helicopter, Palakiko said, but hurricane-force winds prevented aerial crews from conducting water drops.
Palakiko said he immediately allowed the developer to use his stream after a company employee called and texted him on Aug. 8 around 3 p.m., two hours after West Maui Land had contacted the water commission, according to Tremble. 
Palakiko said he is unaware of any earlier attempts by the company to contact him, even though Tremble said in his letter that "we had already made a concerted effort to contact the one downstream user."
Palakiko said he agreed to the water diversion with the understanding that the company return the water flow after the fire was contained. More than two weeks later, his water allotment remains below its usual levels, he said, adding that a West Maui Land Co. employee told him this week that the developer was still drawing water from the stream.
In a text message to NBC News, Tremble said that the request for more water was purely for fire prevention. "Green fields and wet perimeters help with fire prevention," he said, including a photo of a burned portion of developed land with a singular saved home that he said used his company's irrigation system during the fires.
Tremble said there was precedence for the Maui Fire Department drawing from their reservoir, and that the fire department used water from them in 2022.
Residents demand water official get his former job back
West Maui Land Co. and its subsidiaries have a history of conflicts with Manuel and the water commission, which in 2018 fined a water company tied to the organization the maximum penalty of $1,500 for building a concrete dam on the Olowalu stream without permission, local media reported. In 2021, the Environmental Protection Agency fined the company $96,221 for cesspool violations.
In March 2022, Manuel wrote to Tremble saying the company was in violation of water usage regulations and had drawn stream water beyond the set limits. The commission recommended a $470,000 fine before a settlement was reached, according to the local newsletter Environment Hawaii. 
"There was no intent to violate the law," Tremble said at the time, according to Environment Hawaii. "We apologize." 
Manuel, who assumed his appointed position in 2019, was an important connection between developers and the native community, Lauren Palakiko said. 
"Right now, we're back to square one," she said. "We're at their mercy. They're playing God with us."
Two Maui residents sued the Commission on Water Resource Management and its chairperson, Chang, on Monday, asking that Manuel's reassignment be reversed and saying they believe the move violated state law mandating a public comment and meeting process. 
The plaintiffs' attorney, Lance Collins, said he believes the developer is using the aftermath of the fires opportunistically.
"West Maui Land has finally found its opportunity to get everything it ever wanted," he said. "And they're threading it very carefully to do it. And at least at this moment, they seem to be successful, even though all of these actions are not actually based on law."
In a text message to NBC News, Tremble said, "We have worked with Kaleo Manuel for years, and we respect his commitment and integrity." Tremble added, "The Attorney General recently announced that she is investigating all matters leading up to and during the fires. We leave the investigation to the Attorney General." 
Diverted stream feeds an ancestral taro farm
Charles Palakiko, who also grows other native crops on his small, ancestral farm in Lahaina, said his family has been working for generations to restore the land and the streams after they turned dry and fallow when sugar plantations shut down.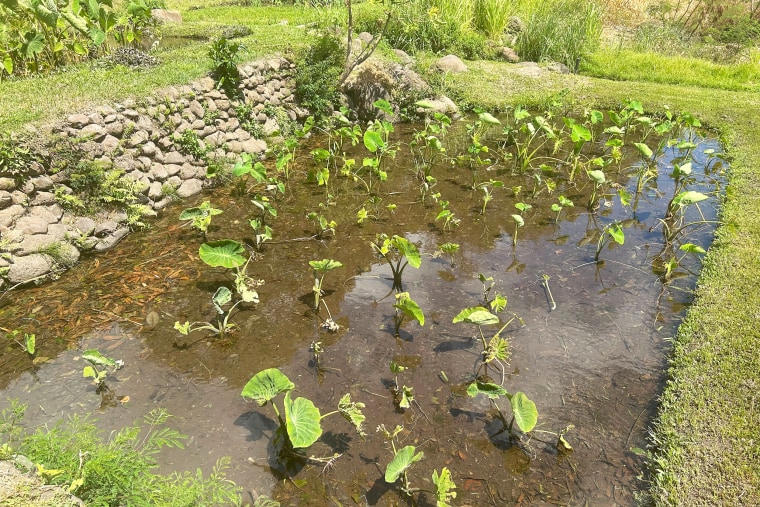 Palakiko's farm, a lush oasis brimming with fruit trees and taro plants swimming in cool water, is surrounded by property owned by West Maui Land. His family has stewarded the plot for generations, having acquired control of it under terms of the Kuleana Act, which provided land parcels to Indigenous families and their descendants starting in the mid-1800s. 
"Taro connects us, as people, to the land," he said. "We look at it like an older brother that sustains and feeds us."
The taro on Palakiko's farm is descended from plants his father grew when the family moved back to its ancestral land in the late 1980s. Since then, Palakiko and his relatives have built a traditional irrigation system that winds through the taro patches and keeps water constantly flowing through their property. Taro requires constant running water, and if it dries out or stagnates, root rot sets in, and the plants will die.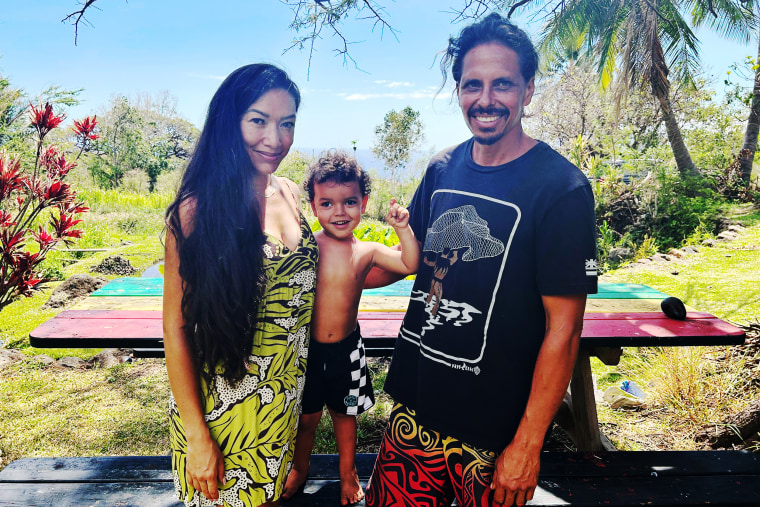 Hawaii's water wars intensified after sugar plantations, which kept the land fertile, started to close in the 1990s and the 2000s. 
David Jung, a tour boat captain who has lived and worked in Lahaina since 1970, said the decline of the sugar cane industry on Maui has led to dryer upland fields. As sugar cane mills closed, the once-highly irrigated land has been built over with subdivisions or overrun by invasive grasses prone to drying out, he said.
"Lahaina had sugar cane for close to 100 years," said Jung, whose home and office burned down as he escaped Lahaina on one of his boats. "Those fields were managed and irrigated, and sugar cane that is irrigated does not burn. When they took out sugar cane, they let all that wild grass grow, and it's not irrigated. It's an incredible tinderbox now — and that's your tinder for wildfire." 
Mana Shim, an advocate for Native Hawaiian rights, has seen the state's water woes grow more complex as developers and wealthy people from the continental U.S. gobbled up beachfront property. The tangled system that has evolved must balance the interests of Indigenous communities, business owners, residents and tourism.
"The complexity of it really serves the developers," she said of efforts to fast-track water allocations. "Blaming Manuel is very strategic."
Lozano reported from Lahaina and Goggin from New York City.