LAHAINA, Hawaii — Life continues amid the smoky ruins of this historic seaside town, which was destroyed by wildfire.
The massive firestorms that tore through Lahaina gutted entire neighborhoods and housing tracts, but some structures survived relatively unscathed, whether through a glitch of nature or through fate.
Now, more than two weeks after three wildfires on Maui killed at least 115 people and left 1,100 more unaccounted-for, some residents of still-standing buildings have returned, making do without running water and electricity and with limited access to food.
Most streets in Lahaina are closed, guarded by Army and National Guard members tasked with keeping residents and tourists at bay while crews sift through the toxic ash in a painstaking search for the dead.
But four residents of South Nahale Place said they had no problem gaining access to their homes standing amid the devastation.
"I'm one of the last guys in town," said Jarlo Lunes, 56, a now-jobless construction worker whose only meal Tuesday came from a nearby shopping center where volunteers handed out food. "It's very isolating."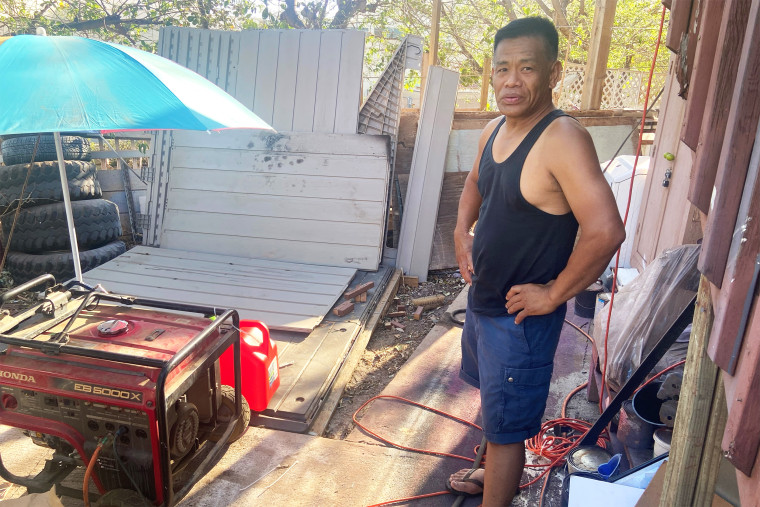 Lunes said that he was evacuated by police on Aug. 8, the day the fire raged through Lahaina, and that he returned the next day to the 13-room home he built himself, which he shares with his brother. He said it was important to get back to protect the property from looters and burglars.
Those who chose to return not only breathe thick air laden with soot and smoke but also live amid the stench of uncollected trash piling up outdoors, and many cannot flush their toilets without filling the bowls with bottled water.
Despite the death and destruction all around him, Lunes said he has to move forward. This week, he poured gasoline into a generator that would provide electricity to his home for a while.
He said having some lights on inside would prevent him from falling down the stairs or otherwise getting hurt.
Todd Durrell, 48, a former caregiver, said he and his girlfriend slept in his truck after they were evacuated by police. They returned to their house the next day, when they learned it was untouched.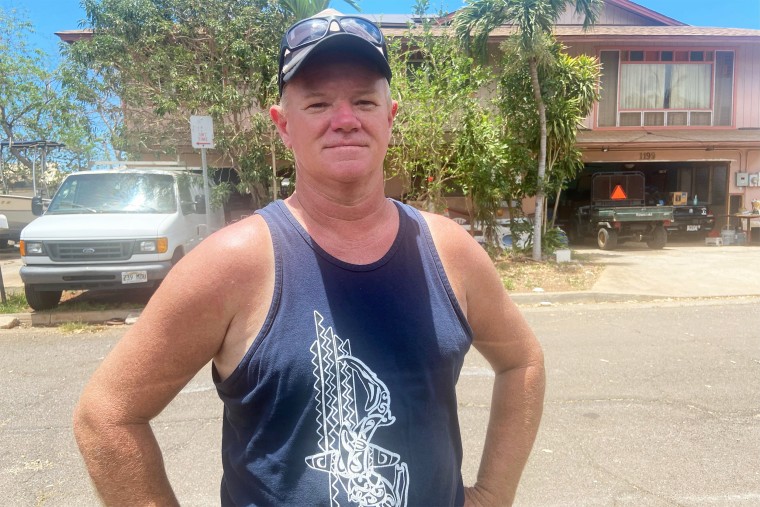 "There's been some looting that's been happening, so we're just trying to keep the house protected," Durrell said. "We're armed just in case. We don't want to be victimized any further.
"I don't want to go live in a hotel. If I still have a roof, I want to be here."
Laura Hussey, 44, said she has been relying on donations from food trucks for her meals, and she finds it difficult not being able to wash clothes or dishes. But after having stayed at a private school the night of the wildfire, she prefers the comfort of her two-level home.
"I'm staying here," she said.
Lilia Vicera, 73, said that she initially sought assistance from nonprofit agencies but that the application process became so cumbersome and complicated that she threw up her hands.
"We don't have electricity, running water or nothing," said Vicera, who lives with her husband in their multilevel home.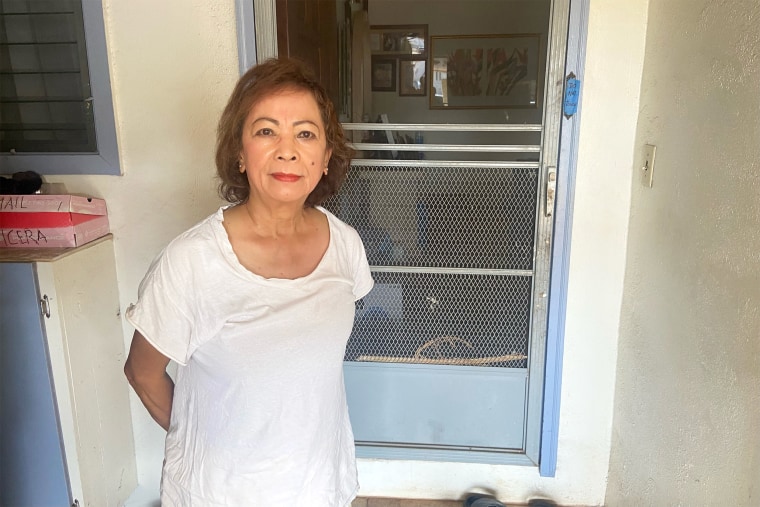 She said they will stick it out without air conditioning, keeping the front door open to cool the house, and use bottled water to bathe.
"It's a tough way to live," Vicera said. "We'd rather stay here, but we have to sacrifice."