A total of 850 people are missing in connection with the deadly wildfires that devastated Maui earlier this month, the county's mayor announced.
In an overnight update posted to Facebook, Maui County Mayor Richard Bissen said there were now 850 people officially believed to be missing.
At least 114 people died in the wildfires, the deadliest in modern U.S. history, he noted. He said 27 victims have so far been identified, with 11 of the victims' families notified.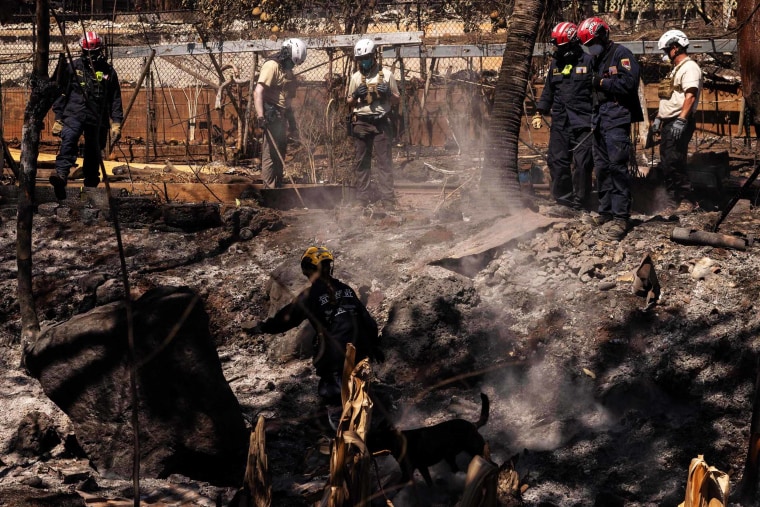 Bissen said the number of missing people was the result of the FBI combining and refining various lists of missing people.
"We are both saddened and relieved about these numbers," he said.
"There is positive news in this number, because when this process began, the missing person list contained over 2,000 names," he said, noting that more than 1,285 people have been located safe.
While the number of people initially feared missing was more than 2,000, as Bissen noted, it dropped as cellphone communications were restored and people were able to make contact with their loved ones.
Arriving at an accurate count in a mass casualty disaster can in some cases take months or even years, researchers and forensic anthropologists said.
"We're still trying to take stock of who was in the area during the fire, who is missing," Lynn Goldman, an epidemiologist and the dean of the Milken Institute School of Public Health at George Washington University, which studied the death toll after Hurricane Maria struck Puerto Rico in 2017, previously told NBC News. "We're talking about people who lived in Lahaina, tourists, transients."
"The death toll number is always provisional, in a way," she said. "I assume people won't stop trying to find remains and the work will take a very, very long time."
On Friday, the FBI announced the opening of a site where people could provide DNA samples that would be matched with the remains that have already been found, in a bid to help expedite the process of identifying victims.