Monstrous, windswept wildfires ripped through the Hawaiian island of Maui last week, charring communities and killing at least 100 people. NBC News reconstructed a timeline of events based on public advisories, state government warnings, eyewitness accounts and videos posted on social media. Note: All times are local.
Monday, Aug. 7
9:52 a.m.: Hawaii's Emergency Management Agency (EMA) warns residents about winds whipped up by Hurricane Dora and other potentially dangerous conditions. "Red Flag Warning is in effect for leeward areas of Hawai'i," the agency says in a post on X, the platform formerly known as Twitter, "with low humidity, gusty winds and dry fuels creating risk of extreme fire behavior."
Tuesday, Aug. 8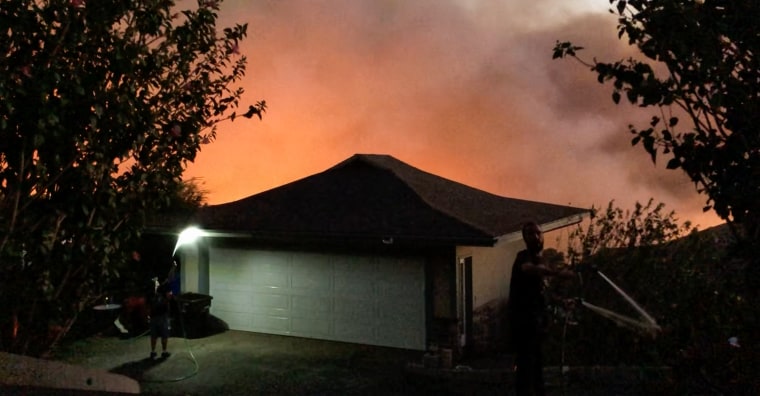 3:45 a.m.: Maui officials announce in a news release that a brush fire was reported in the Olinda Road area of Kula, an area in central Maui. The blaze would come to be known as the Upcountry Fire.
6:37 a.m.: Dora-fueled winds help create conditions for a 3-acre brush fire that breaks out in the area of Lahainaluna Road, east of the historic seaside town of Lahaina.
9 a.m.: The brush fire in Lahaina is declared "100% contained" shortly before 9 a.m., according to the Maui officials. But that does not mean the blaze is fully extinguished. In a news release, Maui officials say "power outages are impacting the ability to pump water."
11 a.m.: Gayle and Ross Hart, a couple in their 70s, see the fire cross a gulch near their neighborhood in Kula. Eventually, their water pressure gives out and they are forced to leave. The blaze consumed their house. "The only thing standing is our mailbox," Gayle later said.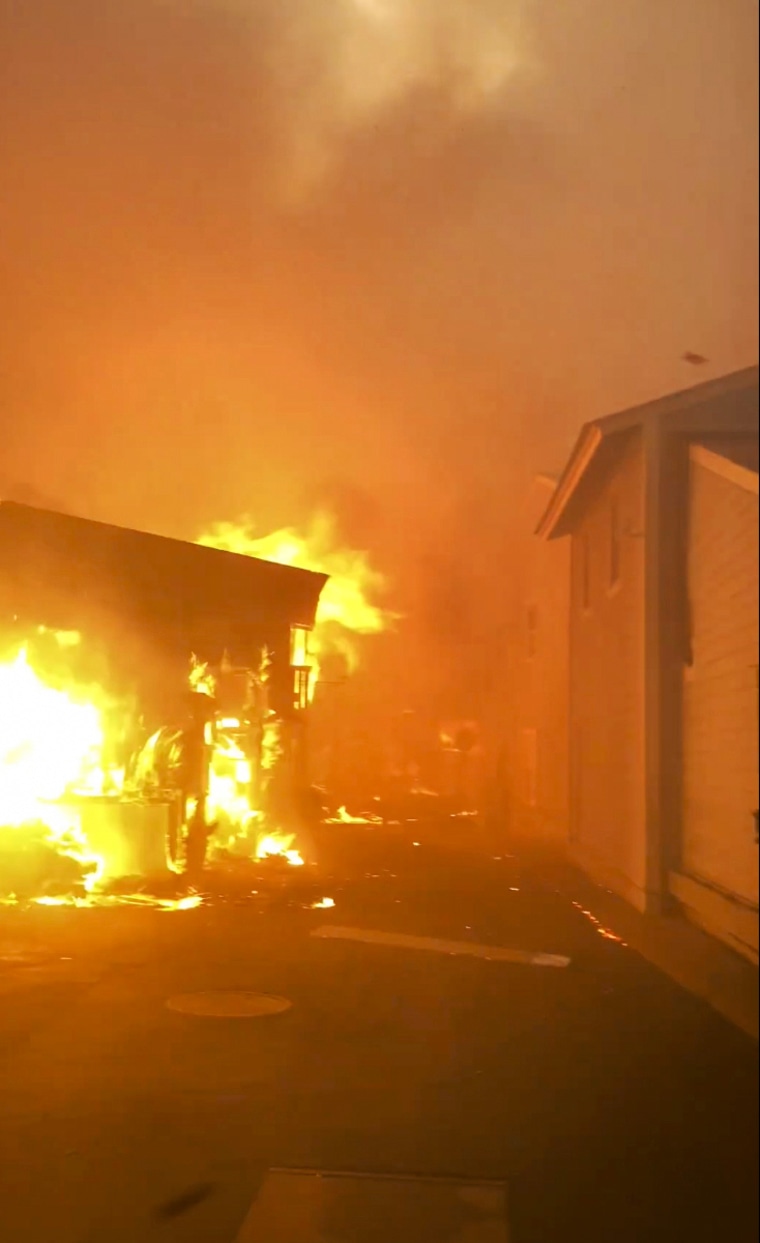 3 p.m.: Explosions are heard by one Lahaina resident, who describes a series of "boom, boom, boom" sounds on his street and later posts a video to Instagram.
3:30 p.m.: The fire in Lahaina flares up, forcing the closure of the Lahaina Bypass. Fire crews spend the afternoon battling blazes in both Kula and Lahaina, and officials urge evacuations.
3:43 p.m.: The EMA posts on X that Hawaii Lt. Gov. Sylvia Luke — serving as acting governor while Gov. Josh Green travels out of state — has issued an emergency proclamation.
5:38 p.m.: Smoke surrounds boats at Lahaina Mooring Field, according to a video later uploaded to Instagram. "People are trapped — boats, cars & gas stations are exploding. Everything is burning," the Instagram user writes. "Please just pray."
5:41 p.m.: The fire encroaches on a retail area in Lahaina as jet-black plumes of smoke billow in the air, according to video recorded at the scene by Lahaina resident Alan Dickar. "The smoke was thick [and] blocked out the clear, blue sky," Dickar would later say in a Facebook post.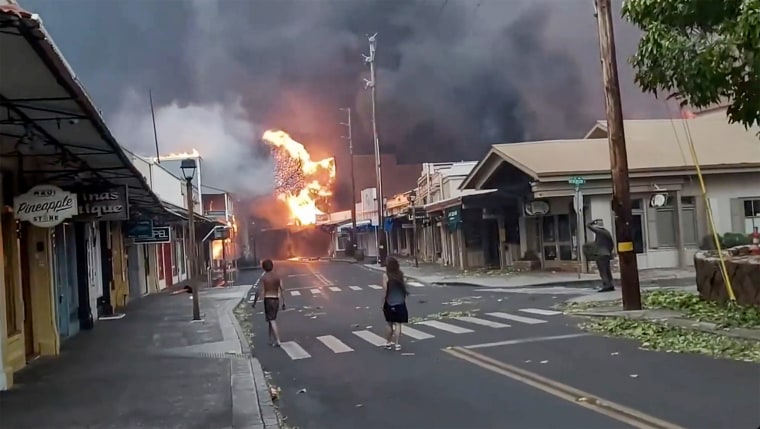 6:30 p.m.: At the Aina Nalu condos in Lahaina, a group of people in a swimming pool watch as massive flames annihilate the surrounding buildings, according to video recorded at the scene.
7:03 p.m.: Flames ravage the Lahaina harbor and explosions are heard every few seconds amid the rush of fierce winds, according to video recorded by Lahaina resident Bryan Sizemore. "I saw at least a dozen bodies floating in the water," Sizemore later tells NBC News.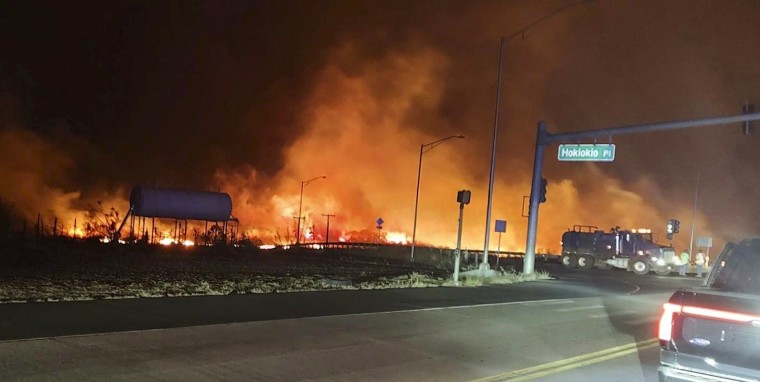 9:45 p.m.: Maui County Mayor Richard Bissen's office says he's issued an emergency proclamation in response to the fires.
In a Facebook post late Tuesday, Maj. Gen. Kenneth Hara, adjutant general of the Hawaii National Guard, announces that his military force has been activated. "This support was accelerated because of the rapidly changing conditions tonight," Hara wrote.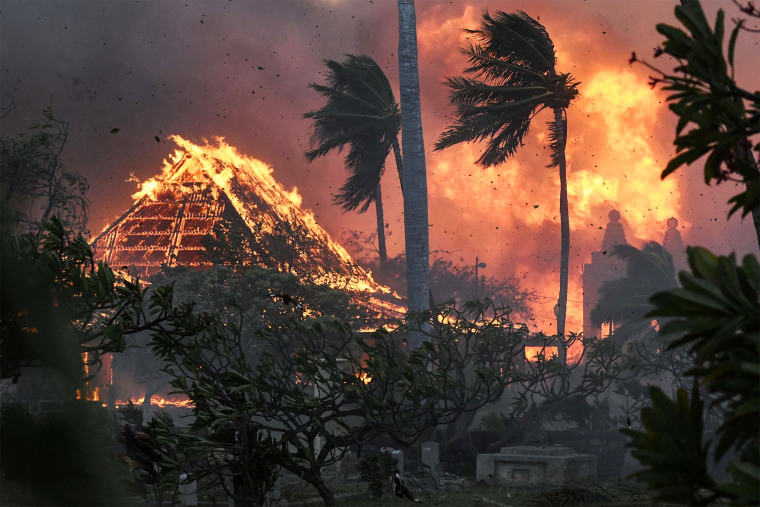 Wednesday, Aug. 9
9:25 a.m.: Maui officials say in a news release that four helicopters are assisting firefighters in Lahaina.
The same day, the County of Maui announces that six people have been found dead.
Charlie Newman, a student at the University of Chicago who has been visiting his parents in Maui, tries to get out of the area but encounters "just a mass exodus of people, just inching along the highway, parked on the side of the road." (He eventually makes it to the airport.)
The Federal Emergency Management Agency, meanwhile, approves fire assistance grants for the Lahaina fire, the Upcountry fire and other blazes on the island.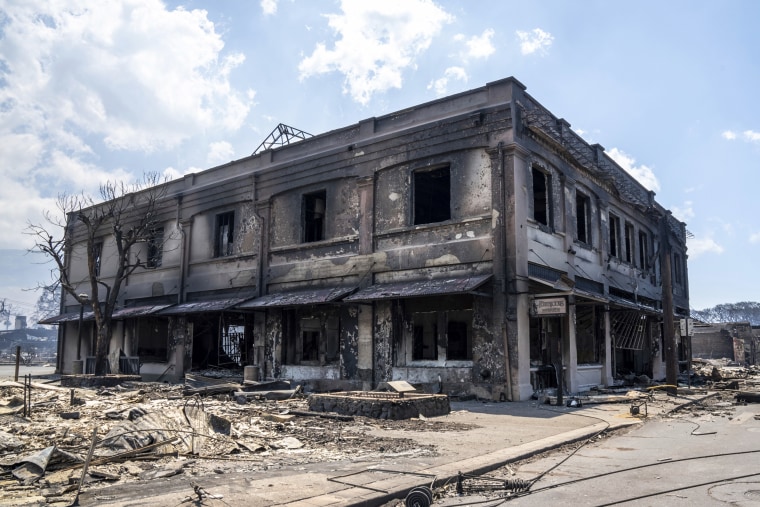 3:30 p.m.: Maui officials confirm that a federal team arrived on the island to "assist with search and rescue efforts."
Officials later announce that "36 total fatalities" have been discovered amid the Lahaina blaze.
President Joe Biden says in a statement that he has "ordered all available Federal assets on the Islands to help with response."
Dr. Reza Danesh, an emergency doctor, spends 14 hours driving people to evacuation shelters, treating them in a mobile medical clinic and helping triage evacuees. He treats a woman who was covered in burns. She tells him that she had jumped into the ocean to avoid the flames.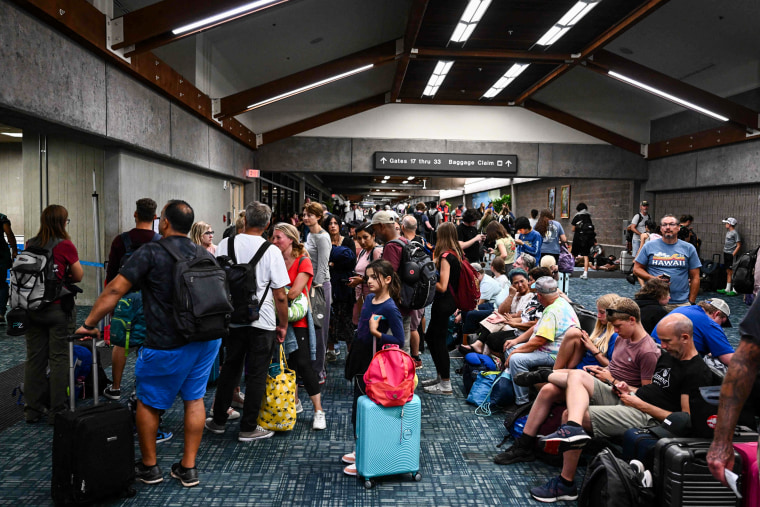 Thursday, Aug. 10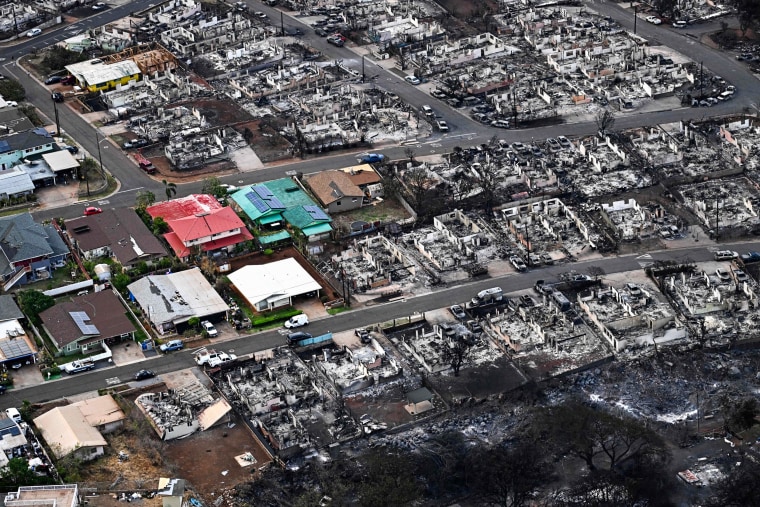 7:30 a.m.: Drone video later uploaded to Facebook captures the utter devastation in Maui: charred buildings, scorched palm trees, ash-strewn streets, the waterfront bathed in a sickly haze.
10:30 a.m.: The fire in Lahaina is reported to be 80% contained, and another fire in the Pulehu/Kīhei area is said to be 70% contained. Officials do not say how much of the Upcountry blaze has been contained.
1:10 p.m.: Maui officials announce in a news release that 17 additional fatalities have been discovered, bringing the death toll to 53.
9:15 p.m.: The death toll rises to 55 people as officials say that two additional fatalities were found.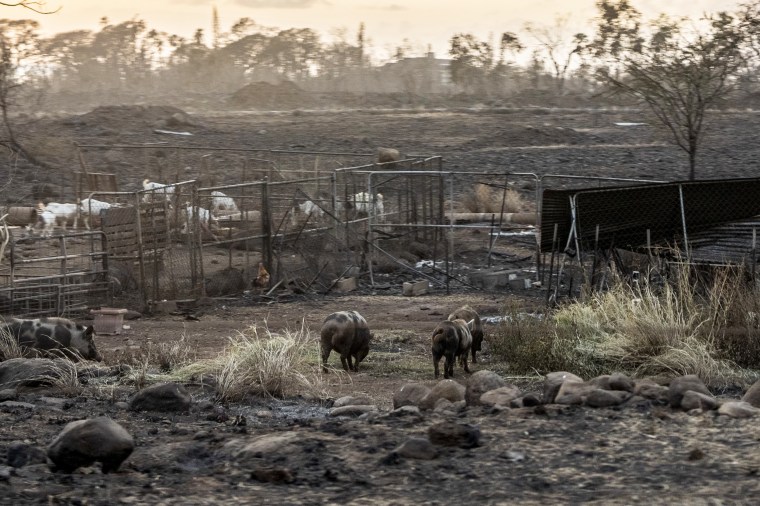 Friday, Aug. 11
1 p.m.: Maui officials confirm 12 additional fatalities were discovered. The death toll rises to 67 people.
In a statement that day, the EMA confirms that "neither Maui nor HI-EMA activated warning sirens on Maui during the wildfire incident."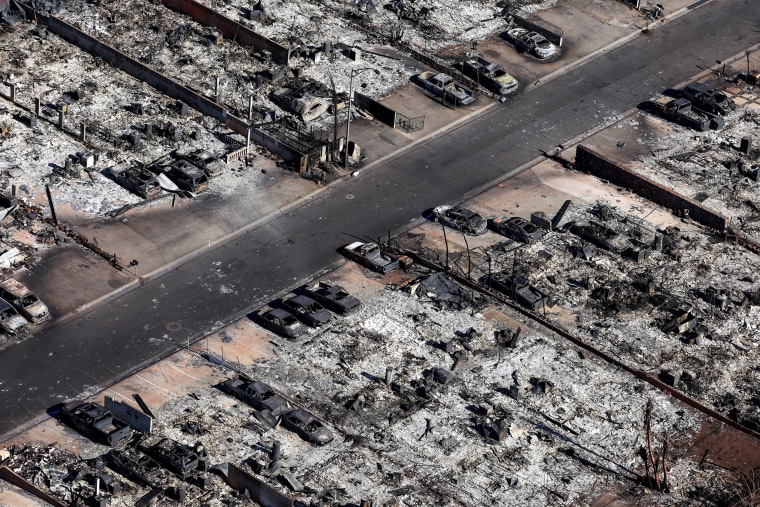 3 p.m.: The Lahaina fire is 85% contained, the Pulehu/Kihei fire is 80% contained, and the Upcountry fire is 50% contained. "Firefighters continue battling flare-ups in all three fires," Maui officials say in a news release.
Saturday, Aug. 12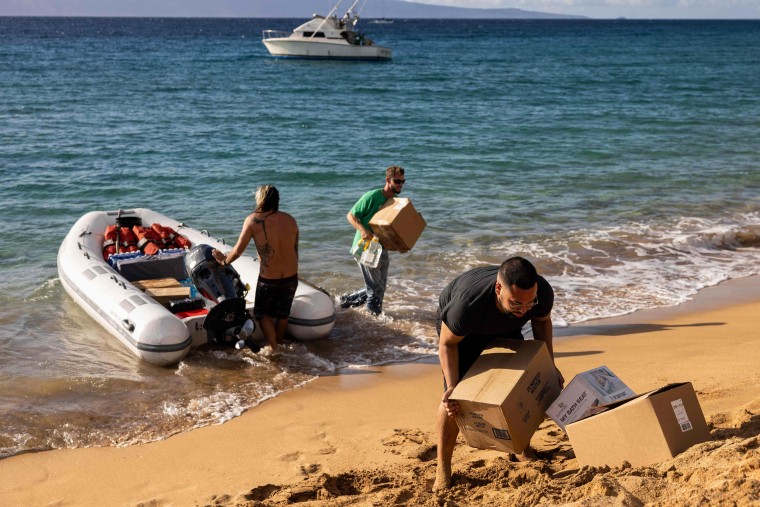 The Pulehu/Kīhei fire is declared "100% contained."
2:05 a.m.: Maui officials say the death toll stands at 80 people.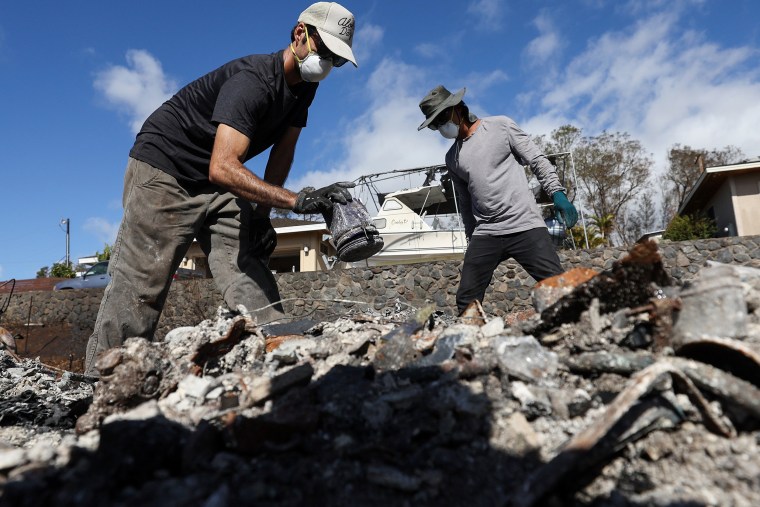 Sunday, Aug. 13
9 p.m.: The Maui Police Department says there are 96 confirmed fatalities.
Monday, Aug. 14
10 p.m.: Police say there are 99 confirmed fatalities. Maui officials say about 25% of the area has been searched.