Navy pilot. War hero. Senator. Presidential candidate. Elder statesman. John McCain's eight-decade journey as a servant of his country came to its final resting place on Sunday as he was buried at the U.S. Naval Academy cemetery in Annapolis, Maryland.
The interment came after a five-day procession that served as last good-bye for a nation he warned could lose its civility and sense of shared purpose.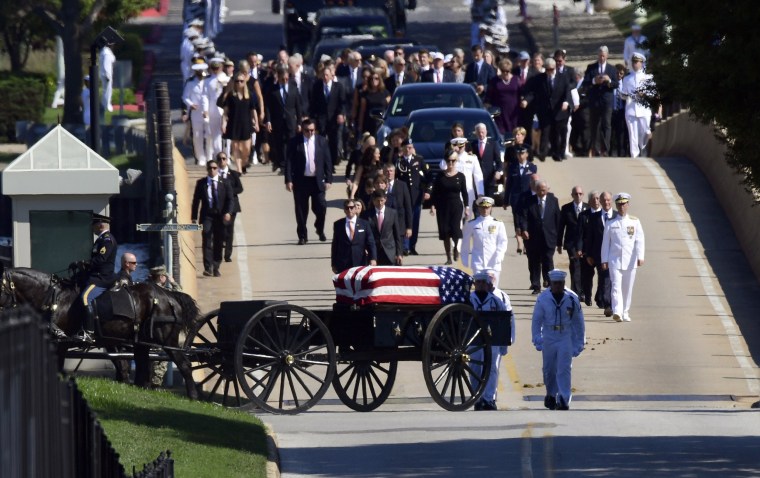 Supporters lined the streets outside the Naval Academy with some waving American flags as the late Arizona senator's procession arrived ahead of the private ceremony at 2 p.m. The ceremony was as carefully planned as the rest of McCain's farewell tour, which began in Arizona after he died Aug. 25 from brain cancer and stretched to Washington.
"God bless the USA!" one woman said and people clapped and cheered.
A horse-drawn caisson carrying the senator's casket led a procession of mourners from the academy's chapel to its cemetery following a private service. The senator's widow, Cindy, and his children were among those who walked behind the caisson. Joining them were family and friends as well as members of McCain's Class of 1958, military leaders and academy midshipmen.
After the ceremony, McCain was honored with an aerial salute in the missing man flyover formation.
On Saturday, speeches by his daughter Meghan and two former presidents — Republican George W. Bush and Democrat Barack Obama — remembered McCain as a patriot who could bridge painful rivalries. But even as their remarks made clear their admiration for him, they represented a repudiation of President Donald Trump's brand of tough-talking, divisive politics.
"So much of our politics, our public life, our public discourse can seem small and mean and petty, trafficking in bombast and insult and phony controversies and manufactured outrage," Obama said. "It's a politics that pretends to be brave and tough but in fact is born in fear. John called on us to be bigger than that. He called on us to be better than that."
McCain was gone, said Bush, who called his 2000 rival for the GOP presidential nomination a friend.
"John's voice will always come as a whisper over our shoulder — we are better than this, America is better than this," Bush said.
But it was Meghan McCain's emotional remarks that most bluntly rebuked Trump, who had mocked her father for getting captured in Vietnam. At the pulpit of the spectacular cathedral, with Trump's daughter Ivanka in the audience, McCain's daughter delivered a broadside against the uninvited president.
"The America of John McCain," she declared with a steely stare, "has no need to be made great again because America was always great."
The audience of Washington's military, civilian and other leaders burst into applause.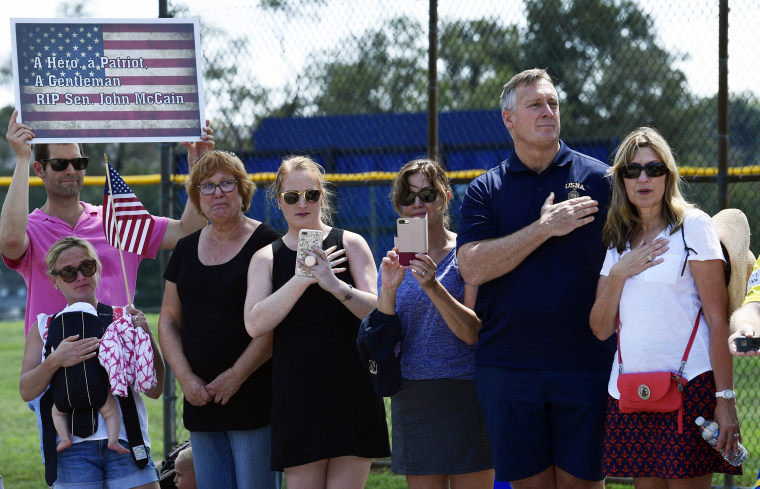 With that, McCain's family, including his 106-year-old mother, Roberta, is escorting his remains to Annapolis on Sunday.
McCain's motorcade arrived at the U.S. Naval Academy at around 1:30 p.m. He will then be received with ceremony, carried into the chapel by Navy casket bearers and placed on a bier ahead of the ceremony, according to a statement from McCain's office.
McCain's choice of burial location was as deliberate as the other details of his procession. He picked the historic site overlooking the Severn River over the grandeur of Arlington National Cemetery, where his father and grandfather, both admirals, are buried. Larson, McCain's beloved friend from their Class of 1958, had reserved four plots at the storied cemetery — two for McCain and himself, and two for their wives, now widows.
Larson died in 2014, and McCain wrote in his recent memoir that he wanted to be buried next to his friend, "near where it began."
Trump was to remain in Washington. He spent Saturday tweeting and golfing in Virginia.