Republican Sens. John McCain and Lindsey Graham said Sunday they would vote for President Donald Trump's secretary of state nominee, though they had been concerned over his Russian ties for weeks.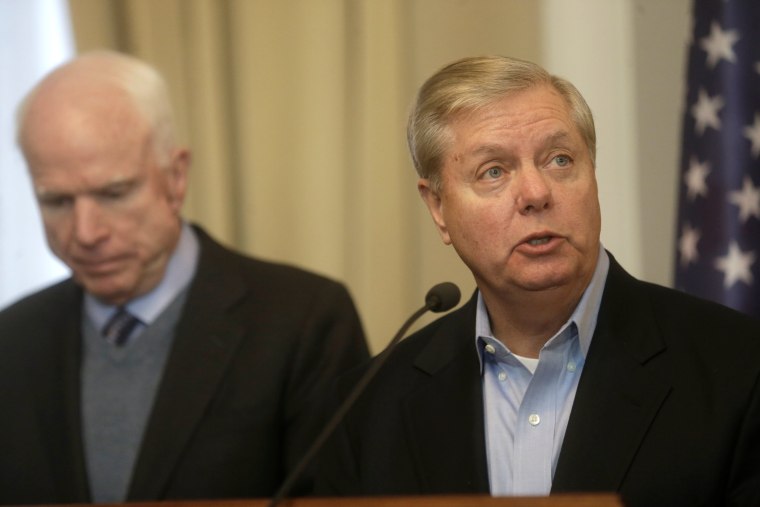 Rex Tillerson, the former ExxonMobil CEO who was given the Order of Friendship award from Russian President Vladimir Putin, is Trump's pick to lead the State Department and will likely receive the position with McCain's and Graham's support.
McCain said on ABC's "This Week" that he was "very cautious" about the decision to vote for Tillerson. The Arizona senator said he was reassured after having several conversations with Tillerson about his views on Russia and what his duties would be as secretary of state.
"Listen, this wasn't an easy call, but I believe when there's doubt, the incoming president gets the benefit of the doubt," McCain said.
Related: Opposition Comes From Different Quarters For Sessions and Tillerson
After McCain's appearance, he and Graham released a joint statement sharing their support for Tillerson's nomination.
"Though we still have concerns about his past dealings with the Russian government and President Vladimir Putin, we believe that Mr. Tillerson can be an effective advocate for U.S. interests," they wrote. "The views that Mr. Tillerson has expressed, both privately and publicly during the confirmation process, give us confidence that he will be a champion for a strong and engaged role for America in the world."
Graham appeared on CBS's "Face the Nation" on Sunday and shared his support for Tillerson as well.
The South Carolina senator said that Tillerson earned his support after the nominee visited his office and showed his understanding of America's need to use "soft power," which includes the use of foreign aid and regional partnerships.
"This is why I am voting for him," Graham said.
Related: Secretary of State Nominee Rex Tillerson: Russian Hacking 'Clearly is Troubling'
"In my office visit, [Tillerson] said that, when America doesn't lead, other people will, and the vacuum is always filled by bad actors," Graham said. "He said that we have to have a foreign policy that engages the world. We need to lead from the front."
The support of McCain and Graham nearly seals the approval of Tillerson's nomination and will allow Trump to feel confident that he will earn a simple majority on the Senate floor. However, the Foreign Relations Committee still has to vote on Monday and there is one Republican hold out who could scuttle the proceedings.
Florida senator and former presidential candidate Marco Rubio shared his lack of confidence in Tillerson during the oil company CEO's confirmation hearing. Nevertheless, Rubio's hold out is unlikely to stop Tillerson from earning Senate approval.