The Oklahoma sheriff who was secretly recorded reportedly talking about killing reporters and lynching Black people also boasted about physically confronting the local district attorney and threatening to "whoop his ass," newly released audio revealed.
McCurtain County Sheriff Kevin Clardy said he went to District Attorney Mark Matloff's office and told him "I ain't no f-----g liar," according to the McCurtain Gazette-News, which released the full 3-hour, 37-minute audio late Wednesday. NBC News has listened to the recording in full but has not independently verified its authenticity.
"I shouldn't have said what I did," Clardy could be heard saying. "He was looking for a place to get out of his damn door."
But Clardy said he was "pissed."
"He said you have a seat I said I think I'll stand," Clardy said on the recording. "I was standing right in the middle of his door. I went over there to whoop his ass. I got pissed off, I got pissed off."
The sheriff can also be heard repeatedly making comments about newspaper reporter Christopher Lee Willingham, saying he was "gonna bounce his ass."
Neither Clardy nor Matloff have responded to requests for comment about their alleged confrontation — or about the recording that Willingham's father and fellow reporter, Bruce Willingham, said they secretly made on March 6 to gather evidence that the McCurtain County commissioners were illegally engaging in county business after the public meetings were over.
The first excerpts, which the McCurtain Gazette-News published over the weekend, sparked outrage in the town of Idabel and brought unwanted national attention to a county that is home to a little over 20,000 people and located in the southeastern corner of Oklahoma, an area known as "Little Dixie."
The report in the print-only McCurtain Gazette-News also prompted Oklahoma Gov. Kevin Stitt to call for the resignations of Clardy; Alicia Manning and Larry Hendrix, who are two other sheriff's department workers; as well as county Commissioner Mark Jennings.
Jennings resigned on Wednesday. It was Jennings who was heard talking with Clardy and the others on the recording about lynching Black people.
In the full recording that was released on Thursday, Jennings can be heard talking about punishing the McCurtain Gazette-News for its reporting on the county by buying an old military tank to drive into the newspaper building.
In the recording he's asked how he'd explain what happened, Jenning replied, "Sorry, I couldn't stop this motherf-----." 
Jennings, in his handwritten resignation letter, said he would "release a formal statement in the near future regarding the recent events in our county." So far he hasn't.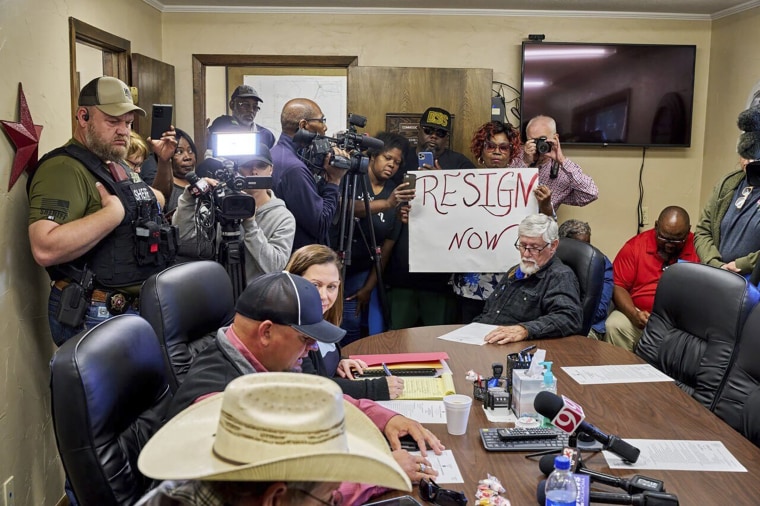 Clardy, Manning and Hendrix have not made any public statements about the recording and have not responded to repeated requests for comment. But on Monday, the sheriff's office claimed that the recording had been "illegally obtained," and that it appeared to have been altered and may have violated a state law prohibiting secret recordings by third parties.
Christin Jones, of the law firm Kilpatrick Townsend, which represents the newspaper, insisted the recording had not been tampered with and that Bruce Willingham, whose family has owned the newspaper for 40 years, did not break the law in making it.
"It is an accurate recording and does not violate the Oklahoma Security of Communications Act," Jones said by email Tuesday, following the partial release of the audio. "The full audio is planned to be released on Thursday."
The Willinghams have already turned the audio over to the FBI and the Oklahoma State Bureau of Investigation, Jones said earlier.
Asked why the foursome was so angry at the newspaper, Bruce Willingham told The Associated Press this week he believes they were upset by "stories we've run that cast the sheriff's office in an unfavorable light."
Those stories include the McCurtain Gazette-News investigation into the death of Bobby Barrick, who lives in the town of Broken Bow and who died in March 2022 after McCurtain County deputies shot him with a stun gun.
The McCurtain Gazette-News has filed a lawsuit against the sheriff's office seeking body camera footage and other records connected to Barrick's death. And on Thursday, lawyers for Barrick's widow, Barbara Barrick, announced she has filed a wrongful death suit against Clardy, several sheriff's deputies and the county commissioners.
In the recording released by the newspaper, the quartet can also be heard trading gossip about county residents and engaging in some bawdy jokes, with Jennings suggesting stitching together some face masks to make Manning a bikini.
The recording also appears to reveal that the county officials were talking about how to spend taxpayer money after the public meeting was over.
"They gonna give us elected officials a raise anytime soon? In the next two years, three years, four years?" Clardy asked at one point.
"That's one thing I'm trying to wait to get our numbers in," Jennings replied.