Larry Nassar had done "the treatment" on gymnast McKayla Maroney before, but nothing prepared her for what happened in a Tokyo hotel room in October 2011.
"That was the scariest night," Maroney told NBC News in her first-ever interview about the abuse she suffered at the hands of Nassar, the former Olympic doctor now at the center of an ever-widening scandal.
"He went, like, overboard that night."
Maroney is one of more than 265 girls and women — including a half-dozen Olympians — who say Nassar molested them under the guise of medical procedures.
She told her story as part of a months-long Dateline investigation, airing Sunday night at 7 p.m. ET, into allegations that USA Gymnastics could have stopped Nassar earlier and tried to silence his victims when they finally spoke up — accusations the organization denies.
Read USA Gymnastics' full statement
For two years, Maroney said, she believed Nassar when he said his uncomfortable, invasive pelvic treatments — performed at the ranch owned by legendary coaches Bela and Martha Karolyi and at competitions around the world — were legitimate.
But after that night in Tokyo, she knew that something was wrong.
Nassar, she said, had given her a sleeping aid on the long-haul flight to Japan for the world championships. By the time she got to his hotel room that night, she wasn't feeling like herself.
She wasn't alone with the doctor — at first. Maroney says two-time Olympian Aly Raisman was getting worked on, Jordyn Wieber had her foot in an ice bath, and a trainer was fighting off sleep.
One by one, Nassar dismissed them until only Maroney, then 15 years old and not yet an Olympic champion, was left.
"And then I got worked on," she said.
"[It] was very, very hard for me not to acknowledge the fact that … this was not treatment. I was being abused," she said. "I was bawling, naked on a bed, him on top of me, like fingering me.
"I thought I was going to die," she said. "It was escalating."
Maroney barely recognized Nassar.
"I didn't feel like it was him anymore," she explained. "It was this other thing that took over. The dark part of him."
"When he was done, I was so happy that I could walk away from that. I felt like I just escaped something."
In fact, as she hurried to her own hotel room, her main worry was that her coaches would be angry she was up so late.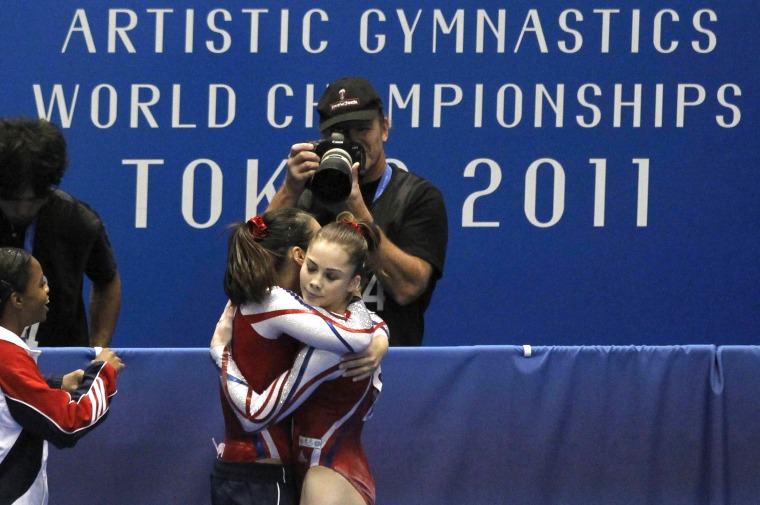 "I remember waking up the next day and wanting to tell someone — and hoping that someone would see it in my eyes that something really bad just happened to me, that they would ask me."
No one asked.
And after a long day of training, while being driven back to the hotel with other gymnasts and USA Gymnastics coach John Geddert, Maroney couldn't hold in the secret any longer.
"I just said, 'Last night, it was like Larry was fingering me,'" she said. "I said this loud."
Three other people who were there told NBC News they remember the conversation.
In Maroney's telling, gasps filled the car. She said Geddert didn't react, but a gymnast she looked up to rebuked her.
"She was probably as confused as me," Maroney said.
That gymnast told NBC News this never happened.
Geddert, who was suspended by USA Gymnastics in January after gymnasts accused him of physical and verbal abuse, did not respond to NBC News' requests for comment. The coach, who is also the subject of an unspecified criminal investigation in Michigan, said in a recent court filing for a Nassar-related lawsuit that he was "fooled" by Nassar, a longtime friend.
USA Gymnastics said it had no knowledge of the car conversation. It said it first learned of Nassar's "treatment" in the summer of 2015 when a coach heard gymnast Maggie Nichols talking about it with Raisman.
But elite gymnasts say the abuse goes back to the late 1990s. Allegations that USA Gymnastics figures, including legendary coaches Bela and Marta Karolyi, should have known young athletes were at risk will be explored in Sunday's Dateline investigation, which includes an exclusive interview with the Karolyis.
The Karolyis say there is no way they could have known Nassar was molesting the gymnasts they trained. In a statement, USA Gymnastics said it "denies any allegation that it had wide-ranging knowledge of abuse by Nassar or that it concealed or ignored his abuse."
Maroney was just 13 when she first met Nassar during a national training camp at the Karolyi ranch in a forest an hour outside Houston. He was the national team doctor, a volunteer position he had held since 1996.
Maroney knew his name; he was the doctor who kept gold medalists healthy enough to compete. In fact, he was working on an Olympian when he spoke to her for the first time.
"He told me he was going to do a checkup on me, and that was the first day I was abused," she said.
Nassar told her to go put on shorts with no underwear — an instruction that many of his victims have since recounted. Maroney got on a massage table "and that's when he did what he would call 'his treatment,'" she said.
I wished my mom was with me.
That first time, it lasted a minute.
"I didn't know how to understand what was happening because I felt so lucky to be with him, so it was obviously a very confusing moment," she said. "I wished my mom was with me."
Nassar apparently sensed her unease because he told her she shouldn't mention his technique to anyone and dangled her childhood dream in front of her.
"He said nobody would understand this and the sacrifice that it takes to get to the Olympics," Maroney recalled.
Maroney said she got "the treatment" whenever Nassar saw her. How many times all told? "Hundreds," she said.
"I always felt like Nassar was obsessed with her," Raisman said.
At the time, she and the others didn't realize that attention was part of the grooming process. And Maroney said what she saw as small kindnesses helped sustain her during the demanding camps, where she was often hungry and aching.
Once, she remembered, Nassar bought her a loaf of bread. "It made me so happy," she said. "I was just like, 'Wow, he really likes me and cares about me. And is trying to make sure that I get to the Olympics.'"
McKayla says Nassar's abuse often took place in a space Karolyi camp attendees called "the end room." Nassar would put Maroney's name last on the signup list for post-workout sessions so the other girls would already be back in their rooms, she said.
"He would work on me for like an hour and a half. And just like full abuse… And I'd be crying," she said.
Privately, she and Raisman and Wieber would mention "the treatment" to each other — including the burning they felt from lotion that Nassar, who didn't wear gloves, used on them.
The rest of the time, she said, she put on the brave face familiar to competitive athletes. Even after that that horrific night in Tokyo, Maroney turned in one of the best performances of her life, winning gold on the vault at the world championships.
And then, she was on the road to the Olympics. All she had to do was stay healthy and for that she relied on one person: Larry Nassar.
At the ranch training camp before the 2012 Games, Nassar molested her at least twice a day, she said, and the abuse continued even after the team got to London.
On the first day of practice, she injured her foot on a vault, she said. The outcome of an X-ray was to determine if she would be part of the Fierce Five when the competition started or if an alternate would take her place.
Nassar, she said, told team coordinator Marta Karolyi that the X-ray showed it was just an old break that had been aggravated. "He lied so I could stay on the team," she said. "He saved me."
Maroney went on to help Team USA win gold with a near-perfect vault but took silver in the individual because of a fall — a moment that spawned her disappointed smirk on the podium and a viral meme that even President Obama imitated.
A year later, she vindicated herself with a gold medal on vault at the world championships in Antwerp, Belgium. It was the last time she saw Nassar at a major competition.
"I was mad at that point. He was still abusing me and it still wasn't clicking in my head to really understand what was happening. But I was so done with it," she said. "There were younger girls and I knew that he was doing it to them, as well."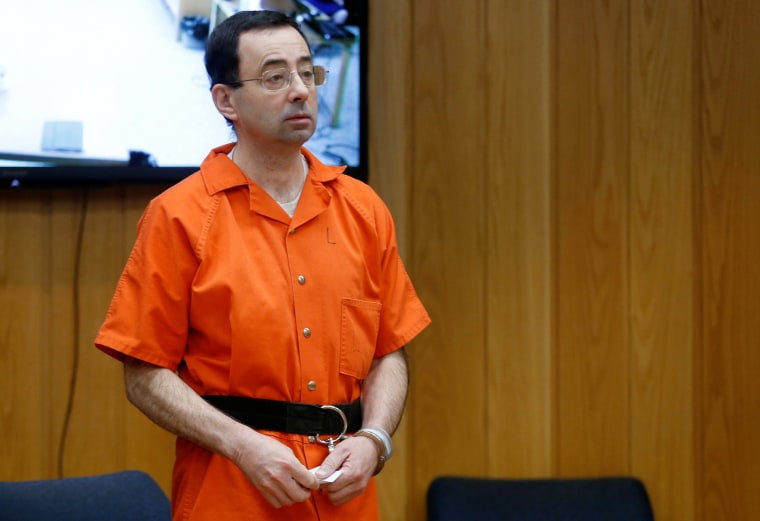 In the summer of 2015, Maroney got a much clearer understanding of what Nassar had been doing. USA Gymnastics, alerted to Nassar's behavior by a coach, sent a consultant with experience dealing with child sex abuse victims to talk to her.
"And I told her my story," Maroney said.
Maroney then spoke to the FBI by phone, but he was not arrested for more than a year — a period in which he continued molesting patients at his clinic in Michigan.
Maroney, meanwhile, was an emotional wreck, suffering from anxiety and depression. "I was so sick," she said. "I was having panic attacks. I was suicidal." Her mother, Erin, has said there were times she feared opening the door to McKayla's room because of what she might find.
The family hired an attorney because, they said, they needed money to pay for mental-health treatment. USA Gymnastics settled but included a confidentiality clause in the agreement. Maroney later sued to invalidate the clause and, amid public outrage, USA Gymnastics announced it would not enforce it.
After Nassar was unmasked as a predator in September 2016 by the Indianapolis Star, new victims came forward every week. Maroney, though, would not be ready to go public for more than a year. When she did, she posted a searing statement on Twitter and went quiet again.
Maroney, 22, said she is speaking now because she doesn't believe the whole story has been told.
She wants the world to know that when Nassar was abusing her, no one was watching and that when she tried to tell someone about him six years ago, no action was taken.
"I'm appalled, I'm disgusted. I'm so upset that this happened for so long when there were so many signs and red flags," she said.
Maroney is retired from gymnastics now and pursuing a singing career. She quit the sport in February 2016, abandoning her goal of a second Olympics. She said that if it weren't for the trauma caused by Nassar, she might have joined her Fierce Five teammates Raisman and Gabby Douglas on the 2016 Final Five squad and won gold again.
"I lost my dream," she said. "That was what I loved to do and what I still would have loved to do. And it was taken away from me."