A police officer in McKinney, Texas, has been placed on administrative leave after a video surfaced showing him wrestling a bikini-clad 14-year-old girl to the ground and aggressively confronting other teens at a pool party, police said.
A senior police official identified him as Eric Casebolt. He was being interviewed Monday by an internal police investigator.
Police officers were first called to the scene about 7:15 p.m. (8:15 p.m. ET) Friday to respond to a disturbance at the Craig Ranch Community North Pool in the Dallas area. Several more calls came in reporting that juveniles at the pool were "actively fighting," police said.
McKinney Police Chief Greg Conley said officers at the scene "encountered a large crowd that refused to comply with police commands." Eventually, 12 officers converged on the party, he said. No one was injured, he said.
A video recorded by one attendee at the party showed an officer wrestling the 14-year-old girl to the ground. In another part of the video, the officer pulls his gun on a group of teenagers.
Brandon Brooks, who shot the video on his phone, said he found out about the pool party on Twitter. He was leaving the pool with his friend when he heard of a fight outside. Brooks said that the fight was over when cops arrived but that they started chasing people and throwing them on the ground.
"When I started the video was right after all the kids who got put on the ground had gotten up and ran away. The cop was chasing after all those kids just putting every black person he saw on the ground," Brooks said in an email to NBC News.
The camera wasn't rolling during the events leading up to the encounter with police.
The NAACP said it would be meeting Monday with Conley, who promised a "complete and thorough investigation."
"The excessive force on an unarmed 14-year-old girl clad only in a bikini by an officer wearing a uniform and a gun was particularly troubling," said Cornell William Brooks, president of the NAACP. "These teens appeared to be simply attending a pool party and deserved respectful treatment under the law.
"We are calling for a full investigation of the McKinney Police Department officers and that they be held accountable to the full extent of the law," Cornell Brooks said.
Casebolt, who has been on the force about 10 years, was placed on paid administrative leave. He has five days to respond, and the police chief has three days after that to issue his own response.
"Virtually, we're talking to everyone we've come in contact with, everyone who was out there or involved in this incident," said Conley, the police chief.
The girl in the bikini who was tackled by the officer was detained and released.
"Ultimately, everyone was freed. Other than the person who was arrested, everyone was released to a parent or guardian or to a responsible adult," Conley said.
"Any time you confront a large group of people, it's a very dynamic situation and tensions can rise very quickly," he added.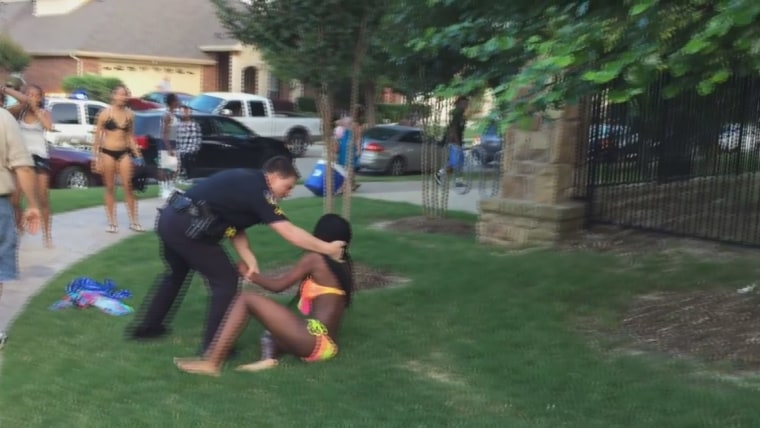 McKinney Mayor Brian Loughmiller said in a statement Sunday night that he was "disturbed and concerned."
"Our expectation ... is that our police department and other departments will act professionally and with appropriate restraint relative to the situation they are faced with," Loughmiller said.