Supporters of Meals on Wheels showered the nonprofit organization in online donations — over $100,000 over a two-day period — in response to the White House's budget proposal to defund dozens of social programs, the nonprofit organization said Saturday.
On a typical day, Meals on Wheels America says it receives about $1,000 in unsolicited online donations.
"One would assume that concerned individuals who see the value in Meals on Wheels want it [to continue] to serve seniors in need," spokeswoman Jenny Bertolette told NBC News.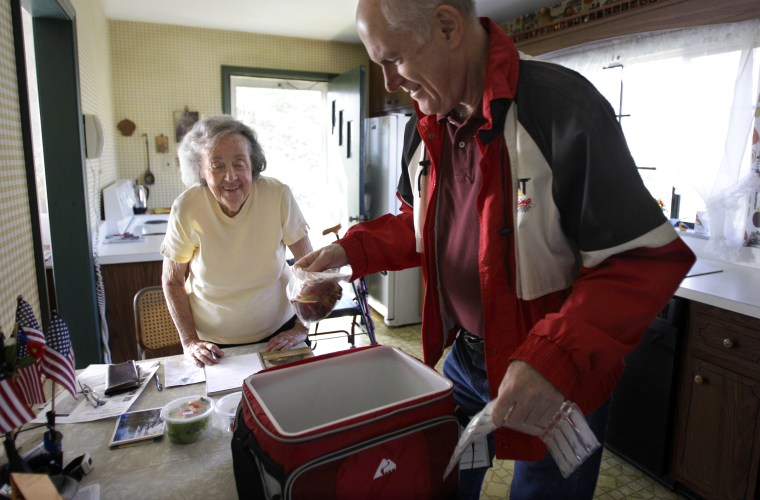 Bertolette said money was still pouring in and would help support existing advocacy efforts, such as researching of nutritional meals benefiting seniors and convincing Congress that access for seniors to federal nutrition programs must be improved.
Meals on Wheels, a public-private partnership, has more than 5,000 local and state delivery programs that provide food to isolated, disabled or poor seniors while also offering safety and medical checks. The program served about 2.4 million seniors last year, including more than 500,000 veterans.
The organization says it spends $1.43 billion for its total nutritional programs, while saving the federal government $34 billion in Medicare and Medicaid costs.
Related: Trump's Budget: A Visual Guide to the Biggest Winners and Losers
While Meals on Wheels relies heavily on donations, that's offset by federal funding from the Older Americans Act, which is administered by the Department of Health and Human Services and accounts for 35 percent of the program's total funding. In addition, about 3 percent comes from federal Community Development Block Grants and Community Services Block Grants, which provide money to state- and local-level Meals on Wheels to cover net losses.
The organization said its program is even more crucial now with the U.S. population aging and the numbers of seniors who are benefiting from the Older Americans Act declining.
The Trump administration's proposed budget, which was unveiled Thursday, would increase defense spending by $54 billion, while taking money out of domestic programs and discretionary spending.
Health and Human Services would lose hundreds of millions of dollars under the budget. The Community Development Block Grants provided by the Department of Housing and Urban Development would be eliminated completely.
"We can't spend money on programs just because they sound good and great," Mick Mulvaney, director of the White House Office of Management and Budget, told reporters Thursday. "Meals on Wheels sounds great. Again that's a state decision to fund that particular portion to it. To take the federal money and give it to the states and say, 'Look, we want to give you money for programs that don't work.' I can't defend that anymore."
Congress must still sign off on the Trump administration's budget, but there is already push back from both Republicans and Democrats. Some lawmakers slammed Mulvaney's remarks and lauded the work that groups such as Meals on Wheels do.
Despite the potential cuts, Bertolette said the budget doesn't yet provide enough information to determine how much Meals on Wheels would be affected financially.
Still, the organization said it will team up with fellow supporters and members of Congress to defend its need for funding.
"We know that this budget proposal is only the beginning and we have our work cut out for us in the coming months," Bertolette said.