Army Capt. Florent Groberg said his "instincts kicked in" when, while serving on a tour of duty in Afghanistan, he tackled a suicide bomber, saved the lives of other soldiers and sustained a serious leg injury in the process.
He might attribute those actions to a gut reaction, but the military considers it heroism. President Barack Obama presented Groberg with the Medal of Honor on Thursday.
"These actions were demanded among some of the most dreadful moments of war," the president said. "That's precisely why we honor heroes like 'Flo'. On his very worst day he managed to summon his very best."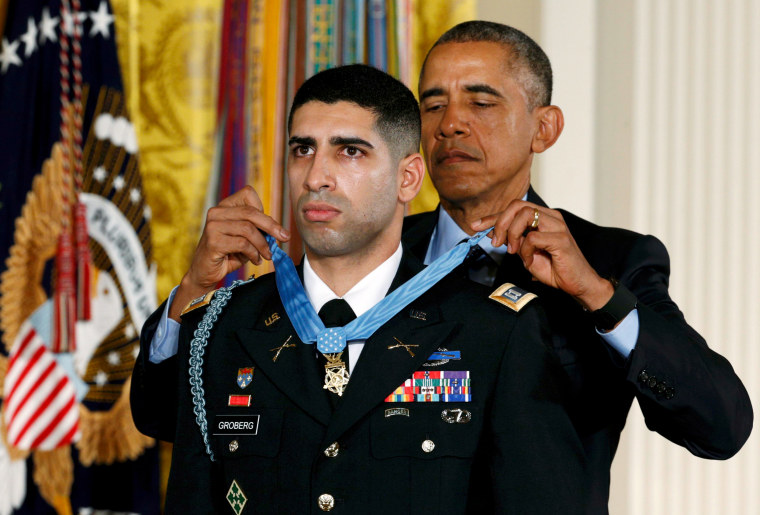 Groberg breathed deeply and blinked back tears as Obama placed the country's highest military award around the soldier's neck during the ceremony. He stood before the family members of those who served with him and ultimately died on that fateful day.
For Groberg, whose friends call him "Flo", heroism came with a price—both physical and emotional.
Groberg's mission on Aug. 8, 2012, seemed clear cut: escort then-Col. James Mingus, who is now a brigadier general, as well as some high ranking Afghanistan leaders to attend a Kunar province security meeting with an Afghan provincial governor.
He'd done these kinds of escort missions before, usually without a hitch.
But that day was different. Things felt "eerie" and "odd".
He and Sgt. 1st Class Brian Brink, who was also part of the escort mission, shared that sense of foreboding.
Their hunch proved right when several motorcycles whipped around a corner. The riders approached in the direction of the unit then got off the bikes and seemed to leave.
Then Groberg saw a man on his left walking backwards toward them. When the man turned around, Groberg noticed he was wearing a vest.
Groberg quickly assessed the situation and realized "he's the threat." He couldn't shoot the man because he didn't know the full scope of the situation, plus the man was armed.
"So I hit him," Groberg said adding that he pushed the man further away and grabbed the man by the vest. He and Sgt. Andrew Mahoney tackled him as well in an attempt to get him away from the rest of the detail.
Sometime during this skirmish, the man's vest detonated. Command Sgt. Maj. Kevin J. Griffin, Maj. Thomas E. Kennedy, Air Force Maj. Walter D. Gray and Ragaei Abdelfattah, a U.S. Agency for International Development foreign service officer, were all killed in the blast.
Groberg considers that moment as "the worst day of my life". He still mourns their deaths and thinks often of their "courage and professionalism" on that day.
"Unfortunately we still lost four individuals," Groberg said. "If I could go back and do a little more, make sure all of our boys come home safely."
Gorberg was knocked unconscious by the explosion. He awoke with a badly shredded leg.
Brink helped get Groberg to a medic. His injuries would later require three years of recovery and more than 30 surgeries at Walter Reed National Military Medical Center.
It was a difficult recovery for someone who once ran track at Walter Johnson High School in Bethesda, Md., and at the University of Maryland-College Park. He lives with chronic pain and a limp and has wondered whether it might not be better to have his leg amputated.
But coping with the events of that day would take much longer.
He wears the names of the fallen on a bracelet and his has vowed to live his life not just for himself, "but for my brothers.
"I carry them in my heart and in my actions and I try to do the best to honor their lives and their families."