A Turkish chef named Nusret Gökçe has become an Internet phenomenon after he posted an Instagram video of himself stripping and slicing a steak and then fancifully throwing salt onto it.
Since then, he's been dubbed "Salt Bae" and video of him dusting the cut of meat has been transformed into gifs. More than 10 million people have watched his Instagram video.
"I'm the happiest man in the world," Gökçe told NBC News from Dubai. "So far, we've been the conversation."
He's even caught the attention of Leonardo DiCaprio.
"He was impressed with Mr. Nusret," Gökçe's manager Noyan Ersolmaz told NBC News.
Ersolmaz said Gökçe performed a cutting show for DiCaprio and provided him with a personalized menu.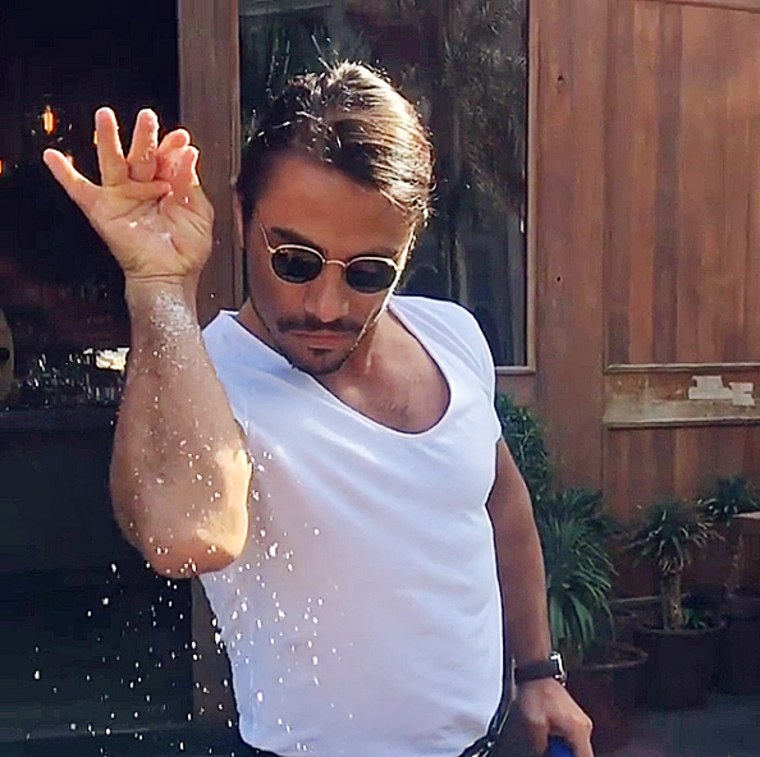 Gökçe explains that what's attracted so many people to his restaurants is how he prepares his meal. And that was what he captured in his Instagram food post.
"The shape of the meat and the taste of it starting from the top down is a part of me," he explains. "All of my feelings are coming from inside of the meat down to when I put the salt onto the meat."
Gökçe, 34, owns a chain of steakhouses called Nusr-et in Turkey and in the cities of Dubai and Abu Dhabi. He has also started construction in Riyadh, and plans to open up more locations in London, Berlin and New York.
He said he purposely put the hyphen in his name for "et" to highlight the word for "meat" in Turkish. "Nusret" means victory.
Gökçe credits his work ethic for his success. He only went primary school up until he was 5 years old — he didn't have the financial means to continue school, and said he grew up in poverty.
"Since I was 14, I worked more than 13 hours a day as a kitchen runner for a butcher," he said. "My life hasn't changed now. I still keep going to work from the morning until midnight."
At age 27, he saved up and opened up his first restaurant in Istanbul with just 8 tables and 10 employees, and traveled to meat-exporting countries.
"I was always wishing and wishing to open up a restaurant," he said.
"Without much money, I traveled to Argentina to see the meat industry and after that, I wanted to travel to the United States, but I was refused a visa five or six times, but I never gave up," he said.
Nusret said he ended up receiving a three-month visa to the U.S. back in late 2009.
Flash forward to 2017, and Gökçe says he now has nine businesses and 600 employees, and employed his four brothers.
"I get all of my motivation from my customers," he said.
Gökçe said expanding to New York will mean whether or not he's truly made it.
"It shows that I'm an international brand if I open up in New York," Gökçe said.
"In New York, there are many steakhouses. We would like to show that Nusr-et is different than the others in service, meat quality and connection with the customers," he added.
If his presence online is any indication of his status, he's on top of the world: His video has gone viral on social media.
Not to mention, "everybody is doing the same move," he said.