The University of Missouri professor fired for threatening journalists at a campus protest defended herself in an op-ed in the Washington Post on Thursday, arguing that her case exposed the risks of making momentary mistakes in an age when they can be filmed, uploaded and shared with the world.
Melissa Click, who taught media studies in Mizzou's school of communications, said she was aware of the power of "increased surveillance," and how someone's actions could be exposed to public scrutiny "without context or rebuttal."
But she said she didn't understand the "widespread impulse to shame" people, even those with good intentions.
"What would our world be like if no one ever took a chance?" she wrote. "What if everyone played it safe?"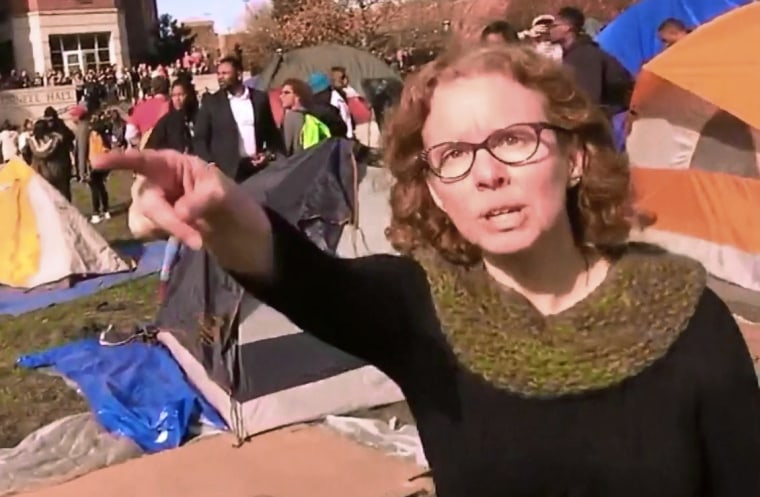 The essay appeared two days after the university's Board of Curators denied an appeal of her firing, which she said didn't follow proper procedures.
Click, 45, became an object of scorn after she was caught on video in November trying to block a student journalist from filming activists gathered on a campus lawn following the resignation of Mizzou's president. The moment marked the culmination of months of protests over President Tim Wolfe's handling of a series of racist incidents.
Her case sparked a nationwide debate over the limits of freedom of speech. She was charged with assault, apologized, and cut a deal with prosecutors that kept her out of jail.
In her essay, Click lamented that, thanks to social media, the online "excoriation" once limited to politicians and celebrities had expanded to everyday people. She counted herself among the victims.
She also argued that the University of Missouri had disregarded her past contributions to the school — positive student evaluations from students, teaching awards, research and papers. She vowed to keep fighting to get her job back.
But she also called for more public discussion of "broader cultural, ethical, and legal questions about how surveillance and social media significantly impact the terrain of public engagement."