Amid an uptick in reported hate crimes across the country following the presidential election, a New York City playground named for late Beastie Boys star Adam Yauch was vandalized Friday with swastikas and the words "Go Trump."
Photos show the swastika and words were spray-painted on playground equipment in the Brooklyn Heights neighborhood.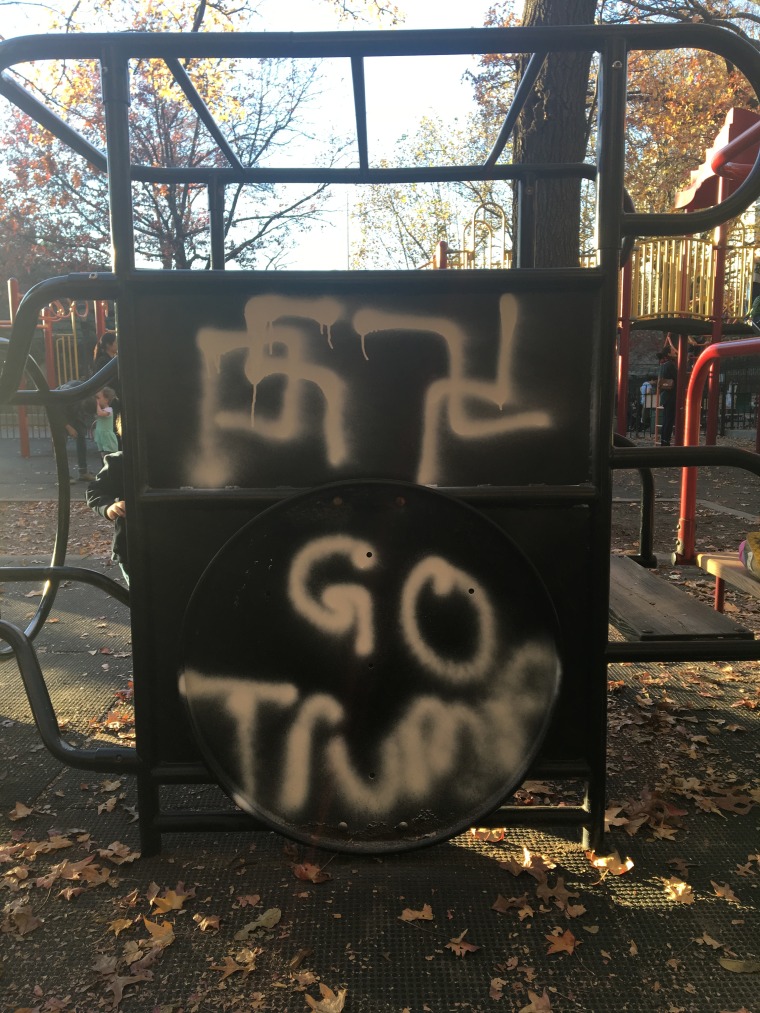 "Adam Yauch Park in Brooklyn Heights was left defaced with ugly symbols of hate today. This cannot be the new normal!" Karen Wang, a Tribeca Film Institute programming associate, tweeted with a photo.
The city named the park after the late rapper, who was Jewish, in 2013. He died of cancer in 2012 at the age of 47.
New York City Councilman Brad Lander said police were investigating and the city parks department would remove the messages.
Lander also attacked Trump on Twitter for refusing to acknowledge the hate crimes incited by his supporters, and focusing instead on asking the hit Broadway musical, "Hamilton," for an apology for Friday night's incident in which Vice President-elect Mike Pence was booed by the audience.
"Trump took time to condemn the thoughtful plea of the @Hamilton cast. But not the swastikas in his name in a Brooklyn playground," Lander tweeted.
Police are still looking for a suspect in connection with the incident after a local resident filed a complaint, the NYPD told NBC News.
"There is zero tolerance for hate crimes in our beautifully diverse city. The NYPD takes these reprehensible crimes very seriously and the mayor's office closely monitors them," said a spokesman for the Office of the Mayor.
The vandalism was removed and painted over Friday night after the offices of New York Sen. Daniel Squadron and Lander informed the city parks department, a spokesman confirmed.
Residents also filled the playground space with flowers and love hearts in show of their support.
The graffiti is one of several recent instances of the Nazi symbol being found around New York and in other parts of the country. Thirteen swastika incidents have been reported citywide since the Nov. 8 election.
Squadron, Congresswoman Nydia Velazquez, city council members Lander and Stephen Levin, alongside other community leaders, plan to hold an event Sunday to condemn the incident.