MILFORD, Conn. — People dropped off flowers and paused for quiet reflection at a memorial outside the school of a slain Connecticut teenager Monday, while prosecutors and lawyers for the 16-year-old suspect declined to provide information about a preliminary hearing that was expected to take place in juvenile court.
Maren Sanchez, 16, was stabbed to death Friday morning inside Jonathan Law High School, just hours before she was to attend her junior prom with her boyfriend.
A memorial for Sanchez in front of the school started with a large rock spray-painted purple, her favorite color, with her first name, birth date and a heart painted in white. It grew to include flowers, stuffed animals, balloons, candles and notes. Purple ribbons were tied around trees by the school. People also were dressed in purple as they visited the site.
"It's just really heartbreaking to see something Iike this happen in your hometown, especially to a place you loved," said Amanda Awwad, 19, of Milford, who graduated from the school two years ago and dropped off flowers at the memorial Monday.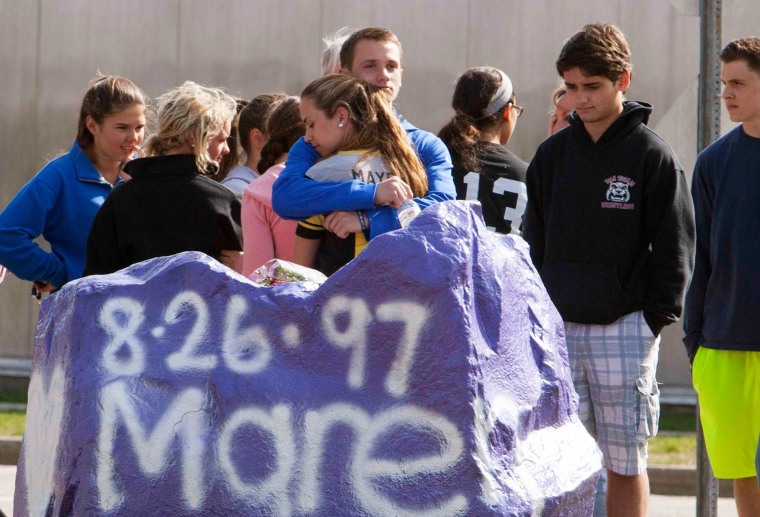 Family, friends and others including Gov. Dannel P. Malloy were expected to attend a community candlelight vigil at the high school's football field Monday evening.
Police and the suspect's defense attorneys have declined to identify the teen charged with murder, but people who saw him taken into custody said he was Sanchez's friend, Chris Plaskon, who also was a junior at the school.
The case was expected to go before a Juvenile Court judge in New Haven on Monday, but it's not clear whether that happened. Ansonia-Milford State's Attorney Kevin Lawlor, Plaskon's lawyers, and a spokesman for the Chief State's Attorney's Office all said they wouldn't be releasing any information about the case Monday.
Under state law, murder cases involving 16- and 17-year-old defendants are automatically transferred from Juvenile Court to adult Superior Court. It's not clear when that will happen.
One of Plaskon's lawyers, Richard Meehan, said his client is being held in a hospital under psychiatric evaluation.
— The Associated Press