Video from the traffic stop that sent a Memphis, Tennessee, man to the hospital won't be released until an internal investigation concludes, city officials said Tuesday after a weekend of protest from the man's family.
Tyre Nichols was taken to the hospital in critical condition after Memphis police officers stopped him Jan. 7 for reckless driving, the police department said in a statement the next day. Nichols died in the hospital three days later.
Civil rights attorney Benjamin Crump, who is representing the family, demanded the release of the video from the stop, saying Monday that "all of the available information tells us that this was the tragic and preventable death of a young man."
Memphis Mayor Jim Strickland and Police Chief C.J. Davis said in a joint statement Tuesday that transparency "is critically important."
"The video will be released publicly after the completion of the internal investigation into the actions of the officers and after the family of Mr. Nichols has had the opportunity to review the video privately," their statement said.
Police have said they expect the investigation to be closed by the end of the week.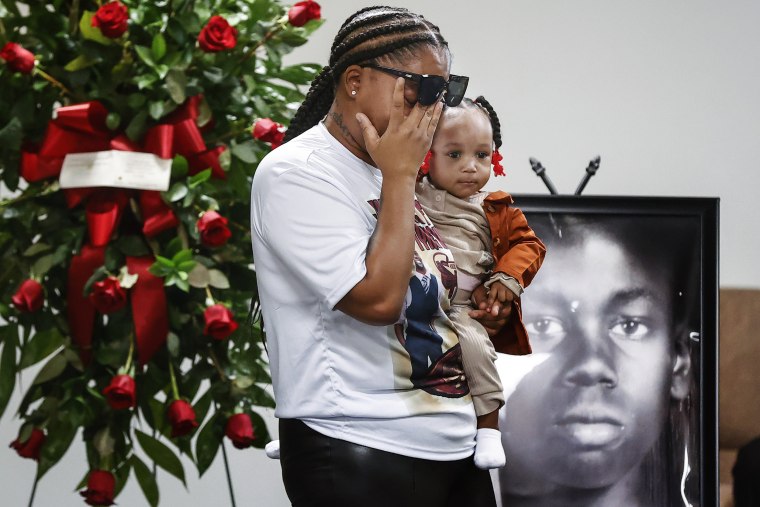 The Shelby County District Attorney's Office said it must abide by the law to avoid jeopardizing an investigation or a potential prosecution.
"We're working with the appropriate agencies to determine how quickly we can release the video and will do so as soon as we can," the office said in a statement.
Police said a "confrontation" occurred when officers approached Nichols' car Jan. 7. He ran away, and the officers pursued, police said.
A second "confrontation" occurred while officers tried to take Nichols into custody, and he complained of shortness of breath afterward, police said.
He was taken by ambulance to the hospital in critical condition.
Police gave no details about the confrontation. A photo provided by his stepfather, Rodney Wells, showed Nichols in the hospital with blood on his face and what appeared to be a swollen eye.
Officers involved in the stop were not publicly identified. Police said they have been relieved of duty pending the outcome, a routine practice. The Tennessee Bureau of Investigations was asked to take over the case after Nichols was hospitalized.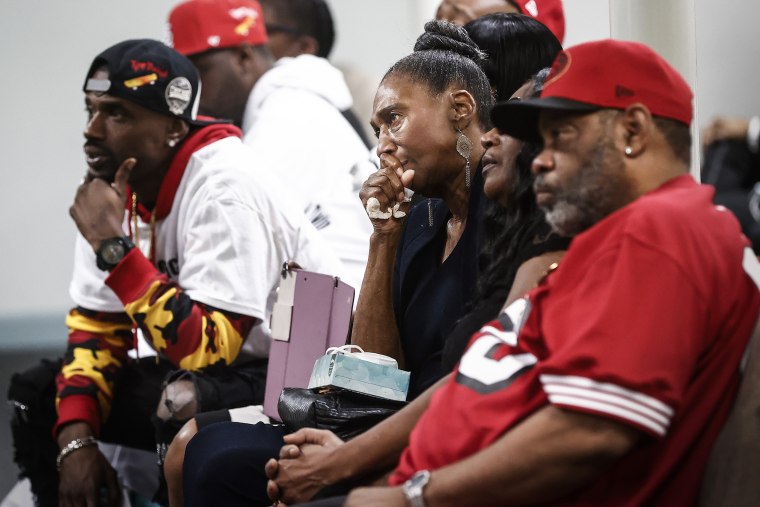 Nichols' family spoke out against the department over the weekend, joining protesters in calling for transparency. Wells told NBC affiliate WMC that his stepson was placed on a dialysis machine after the stop.
Wells spoke at Nichols' memorial service Tuesday, talking about their instant connection.
"From the first day that I met Tyre, I was Pops. I was Dad," Wells said. "He embraced me. The first Father's Day, he brought me a Father's Day present, and he was so happy. ... Tyre is a great person."
LaToya Yiza, whose mother was Nichols' godmother, remembered Nichols as a baby. She said they grew up like siblings, walking to school together when she was in high school and Nichols was in elementary school.
"He was just a happy kid, just so goofy," Yiza said at the memorial, getting emotional. "You'd walk in and he'd just be saying the craziest thing. ... I'm gonna miss him. To see the man he turned out to be — he was a good man. He did not deserve this."
She began crying, expressing anger that she and her family weren't there when he died.
"I'm just so mad, because we would have fought for him," Yiza said. "We miss him."
Angelina Paxton, who traveled from California for the service, joked that Nichols was known to clean out his friends' refrigerators.
"The way to this man's heart was through his stomach, I swear," Paxton said. "I just want to say on behalf of everyone in California who loved Tyre ... we all stand behind you."
She added that "everyone is a friend of Tyre."
"This man walked into a room, and everyone loved him."