Wednesday marked a bleak achievement for Merrick Garland.
He passed Louis Brandeis as the Supreme Court nominee with the longest wait for a Senate hearing.
And while Brandeis' saga ended with his 1916 confirmation Garland's prospects remain, at best, unclear.
Republicans who control the Senate — currently on summer break — still refuse to grant Garland a hearing, saying it should be up to President Obama's successor to pick a replacement for Justice Antonin Scalia, who died in February.
Obama, who nominated Garland on March 16, says he is legally and historically empowered to nominate a new justice, and that the Senate is shirking its duties by ignoring it.
The impasse has left the high court with eight justices divided roughly along ideological lines. When they tie, the court leaves in place the lower court decision.
The most impactful example came last month, when the Supreme Court deadlocked over Obama's immigration reform plan, effectively ending his attempts to spare from deportation millions of undocumented parents whose children are citizens.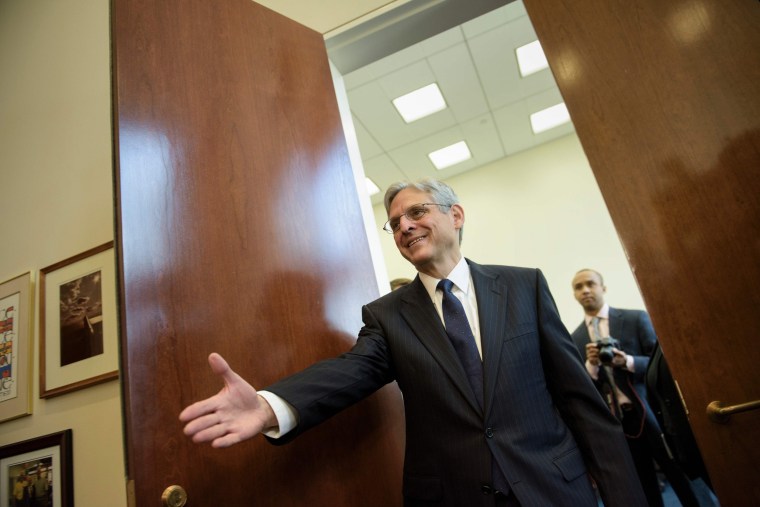 Obama warned in an op-ed in the Wall Street Journal this week that Republicans risk setting a dangerous precedent that could make it impossible for vacancies to be filled when the White House and Senate are controlled by opposing parties.
"Court backlogs would grow. An entire branch of government would be unable to fulfill its constitutional role. And some of the most important questions of our time would go unanswered," the president wrote.
The delay has little to do with Garland's record — he is seen as a centrist, and few Republicans have argued with his record as chief judge of the U.S. Court of Appeals for the District of Columbia Circuit. Opponents have framed it as a battle against presidential overreach.
And there is no end in sight.