Alyssa Milano is no stranger to stardom.
But in the last couple of months, the actress and activist has received attention for being a driver of change — literally, this week, as she chauffeured voters to the polls in Alabama's special Senate election.
Her recent moment began with her response to the sexual misconduct allegations against Hollywood producer Harvey Weinstein: In October, Milano sent a tweet that turned the hashtag #MeToo into a rallying cry against sexual assault and harassment. This month, Milano and the creator of the original Me Too movement back in 2006, Tarana Burke, were recognized among Time magazine's "Silence Breakers" as the person of the year.
Then this past week, Milano — whose success began in the 1980s with her breakout role as Samantha on the sitcom "Who's the Boss?" and spanned decades with parts on hits "Melrose Place" and "Charmed" — was in the thick of another movement: campaigning for a Democrat in crimson-red Alabama.
Determined to increase voter turnout for Democrat Doug Jones in his bid to defeat Republican Roy Moore, the accused child molester whose bid gained national attention, Milano spent Tuesday in Alabama, driving voters to polling stations.
"Roy Moore represented the history and heartache of the past, and Doug Jones represented the inspiration and hope for the future," she told NBC News on Wednesday, a day after Jones pulled off a stunning upset. "And it truly, to me, came down to being a part of and being on the right side of history."
Those who know Milano well say it's no surprise she traveled to Alabama. They describe her as a committed activist whose star power is amplified by the various generations she appeals to.
"Any time we ask her to do anything," said Caryl Stern, the president and CEO of UNICEF USA, who has known Milano for more than a decade, "she's there with a generous heart, with no expectation of a thank you, no glory. It's just about 'What do you need done?'"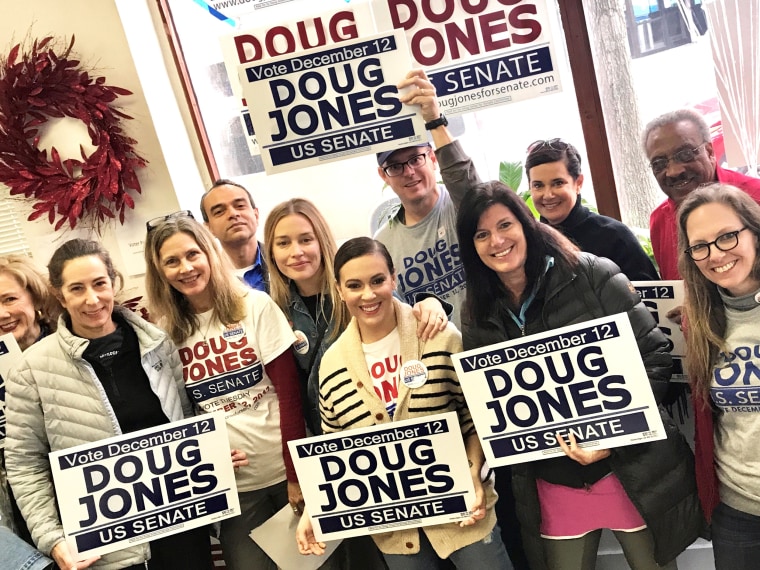 Stern said Milano has several followings, and is savvy in using them to push a particular cause. "She's got male and female followers from her celebrity status of many years," Stern said, "and then she's got this whole following of moms because she's a genuine mom, and then she has this following of activists."
Milano says her dedication to activism started with a kiss on daytime television.
While starring on "Who's the Boss?", the actress appeared on "The Phil Donahue Show." Alongside her was Ryan White, a boy who had contracted AIDS at 13 through a contaminated blood transfusion. It was the 1980s, and stigma around the virus was at a peak: White was so ostracized that his Indiana middle school wouldn't let him attend class.
Milano, a teenager at the time, stunned audiences by giving the boy a peck on the cheek — her way of showing that AIDS couldn't be transmitted through casual contact.
White went on to become a poster child for compassion towards HIV/AIDS carriers, and died when he was 18. He left a searing impact on Milano, who three decades later, says "there is nothing about my activism that isn't directly motivated by my love for Ryan White."
"He taught me that I had a power as a celebrity to change things and to stand up for what's right, and he gave me the courage to do that," Milano, now 44, told NBC News, her voice breaking. "My activism today is a direct reflection of that little boy."
Asked whether she would ever consider a political run herself, Milano, a mother of a 6- and 3-year-old, replied, "I think so, yes. But I need my kids to be grown before that happens."
Milano has canvassed for local, state, and national candidates since 2004, but asked if she would ever consider a political run herself, the mother of a 6- and a 3-year-old replied: "I think so, yes. But I need my kids to be grown before that happens."
"I have great hopes for the future of our country, and I've never lost hope," she added. "I'm fascinated by the political process and watching it crumble from the corruption, but also how there has been so much that has risen from the ashes of that crumble."
Marvet Britto, a public relations expert and brand strategist, said Milano's activism can only help her professionally.
"Consumers no longer want to be told what to do," she said. "You have to show them by engagement, you have to be involved as well, so showing and leading by example is the greatest, most significant way that a celebrity can use their star power and their influence."
Outside of politics, Milano is vocal about everything from normalizing breastfeeding (she went head-to-head with TV host Wendy Williams about nursing in public last year) to animal rights (in 2007 she wore a dress made of vegetables to promote vegetarianism for People for the Ethical Treatment of Animals) to preventing the spread of disease in developing countries. She has served as an ambassador for UNICEF since 2003.
Milano says she isn't sure what cause she'll focus on next. But one thing she is certain of: She doesn't plan on being quiet.
"I think in the last year, we have watched many of our rights be stripped away, whether it be women's rights or decisions for corporations but not for the American people. And I think everyone has found their voice to say no, we're not going to be able to do this anymore," she said.
"I feel blessed that I am able to use my platform to amplify what is going on in the country."