/ Source: Associated Press
DENVER — A Mexican man who once sought sanctuary from deportation in a Colorado church was detained by federal immigration agents Wednesday morning as he went to a warehouse to get tile to install on a job, his wife said Wednesday.
Arturo Hernandez has one daughter who is a U.S. citizen and a second protected from deportation under an Obama administration program for people brought to the country illegally as children. His detention comes as the Trump administration charts a more aggressive approach to deportation than its predecessor.
Hernandez spent nine months living in the basement of Denver's First Unitarian Church starting in October of 2014 after the Obama administration tried to deport him.
He had come to attention of immigration agents after being charged with assault for a workplace incident, even though he was acquitted at trial of criminal wrongdoing. Hernandez left the church and resumed working after the Obama administration assured him his case would no longer be a deportation priority.
Ana Sauzameda, Hernandez's wife, said her husband went to a warehouse in suburban Denver Wednesday morning to pick up tile for a job. He was met by two plainclothes agents. She said he reached out his hand to shake theirs and the men identified themselves as federal immigration agents and detained him.
Related: On the Ground With ICE: Where Marching Orders Meet Immigrant Reality
Sauzameda said her brother witnessed the detention but that he could not film it because agents took his phone.
In an interview, she called Hernandez "the pillar of our family."
"His oldest daughter is about to graduate. She has plans to go to university," she said. "If he were to be deported our world would fall apart. Living apart would be very difficult. All our dreams would be gone."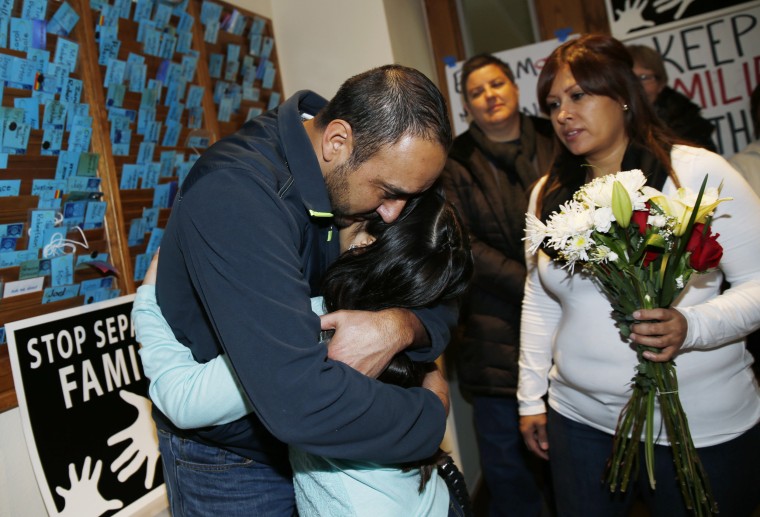 U.S. Immigration and Customs Enforcement spokesman Carl Rusnok declined to comment on the case.
Hernandez, his wife and their then 3-month-old daughter came legally from the Mexican city of Chihuahua to the U.S. on visas in 1999.
They opted to stay past the visas' expiration. Hernandez's oldest daughter Mariana, now 17, is due to graduate from high school next month. His youngest daughter Andrea, 11 was born in the United States.
Related: Court Blunts Trump's Sanctuary Cities Crackdown
Another immigrant in the country illegally, Jeanette Vizguerra, is currently seeking refuge from deportation in the same Denver church basement. She was recently named one of Time Magazine's 100 most influential people of the year.
Activists held a demonstration in support for Hernandez outside the local federal immigration office after Hernandez' detention. Sauzameda said Hernandez's immigration attorney will try to get the deportation order thrown out.