TIJUANA, Mexico — Mexican federal authorities surrounded a shelter here holding members of a caravan of Central American migrants and refugees Monday as the country said it was deporting anyone who crossed illegally the day before.
More than 100 federal police officers, some with riot gear, circled the Benito Juarez shelter, where many migrants making their way to the U.S. are staying.
It was unclear why the police were lined up around the shelter and what their role would be as some of the migrants wait for a chance to claim asylum in the United States. The authorities could be there to prevent a confrontation similar to Sunday's incident at the border.
Migrants inside the camp were concerned police would search for anyone involve in a march at the U.S. border on Sunday and apprehend them.
Schools in the area of the shelter were also shut down and children were sent home and a long line of hundreds of migrants waited outside the shelter for food Monday morning.
Meanwhile, Mexico's Ministry of the Interior said Monday that 98 migrants were apprehended and turned over to the authorities in order to be deported to their countries of origin because of the "violent behavior of a group of migrants who tried to attack and injure" officials who were guarding the border.
The agency also said it was working with authorities to find other individuals involved in Sunday's incident and "carry out their immediate deportation" if appropriate.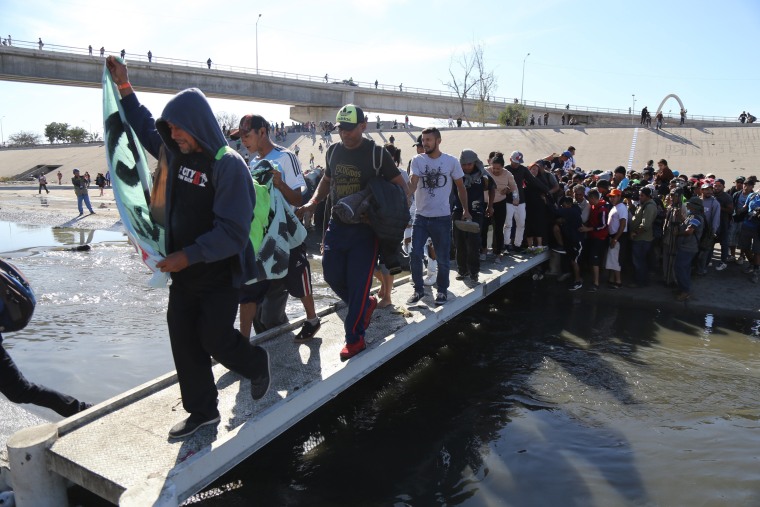 U.S. Customs and Border Protection officials fired tear gas on hundreds of migrants who sought to enter the U.S. on Sunday near San Diego, leading to U.S. officials shutting down the San Ysidro Port of Entry between San Diego and Tijuana for more than six hours.
That shutdown happened after hundreds of migrants and refugees assembled Sunday morning on Mexican side of the border for a peaceful protest before some tried to cross the border illegally.
Sunday's events left many inside Benito Juarez feeling scared and unsettled.
The photograph of one mother, with fear in her eyes, running from where the tear gas was being deployed in an embankment with her children went viral and drew outrage at the U.S.'s use of the chemical agent.
The woman in the photo name is Maria Mesa, from Honduras. On Monday, she spoke to NBC News from inside her tent at the Benito Juarez shelter.
"One of them could have died," Mesa said. "He fainted," she said, pointing to her three-year-old son, James.
After they threw the tear gas, Mesa said her son fell and inhaled the gas before he had a chance to run away from it.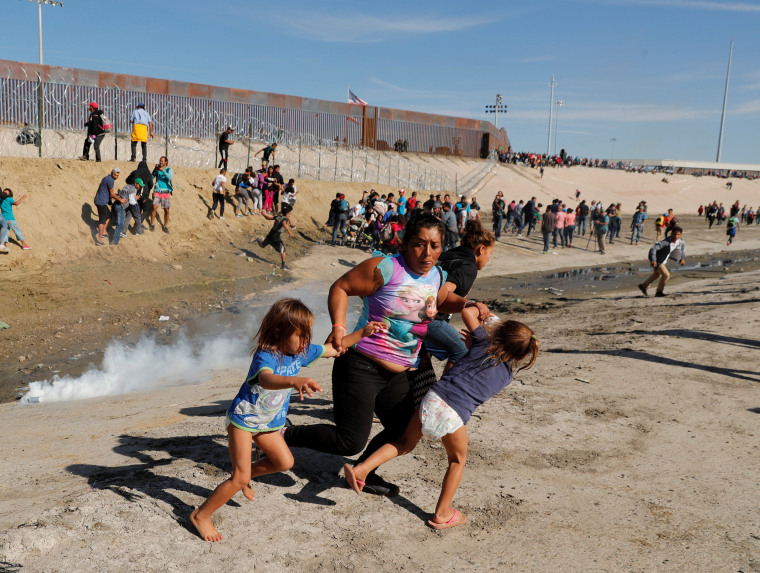 Mesa has seen the photo of her from Sunday and said she wanted to cry remembering the moment "I grabbed my children and ran."
Her twin girls, Saira and Sheilly, who can be seen running beside Mesa, are five years old.
Mesa said she didn't know if she would survive Sunday's march to the border — she was trying to get to the U.S. border to surrender and legally seek asylum. The family, from Honduras, said they are coming to the United States for work because there aren't any jobs in their home country.
As the tear gas filtered through the crowd, Mesa said she witnessed multiple migrants who were injured Sunday.
"There was a girl with blood coming out of her mouth and nose," she said.
Sara Ramos, another mother from Honduras, said she still had a headache after she and her three sons were hit with tear gas during Sunday's march.
"I thought it would be a peaceful protest to the border," said Ramos, who said once Sunday's events turned chaotic, she didn't know if she and her sons would make it to the U.S. border.
Then, Ramos said the tear gas began to engulf them.
"With the bombs, they [her sons] also could not breathe," said Ramos.
On Monday, Ramos says she is staying inside the camp, "I won't risk my children."
The American Academy of Pediatrics issued a statement Monday that said images of tear gas being used on migrant families and children "have stunned and shaken pediatricians just as they have so many others across the country."
"Children who are displaced and fleeing violence should be given special protection and humanitarian assistance and allowed to petition for asylum," the doctors group said. "The use of tear gas on children —including infants and toddlers in diapers — goes against evidence-based recommendations, and threatens their short and long-term health."
U.S. Customs and Border Protection Commissioner Kevin McAleenan said on a call with reporters that 69 migrants who tried to cross the border illegally were arrested on the California side, according to The Associated Press.
Mexico's National Institute of Migration had said Sunday it was working with authorities to deport any migrants who "violated the Mexico border" in order to cross into the United States to their home countries.
Border Patrol said in a previous statement that it had used tear gas and pepper spray on the migrants after several struck agents with rocks. No injuries were reported.
Some migrants said they had sought to cross after being denied access at the port of entry where they were planning on seeking asylum.
Under U.S. and international law, a person may seek asylum based on persecution or a well-founded fear of future persecution because of race, religion, nationality, political opinion or membership in a particular social group.
Meanwhile on Monday afternoon, Trump defended the use of tear gas against the migrants at the San Ysidro border crossing.
"They had to use it because they were being rushed by some very tough people and they used tear gas," he said. "Here's the bottom line: nobody is coming into our country unless they come in legally.
Earlier Monday, President Donald Trump tweeted that Mexican officials should ship the thousands of migrants seeking entry into the U.S. back to their countries of origin by any means necessary, claiming that many are "stone cold criminals."
Trump suggested that Mexico send the migrants back to countries such as Guatemala and Honduras by airplane, bus or "anyway you want." The president also threatened to shut down the U.S. southern border "permanently" if needed.
Annie Rose Ramos reported from Tijuana, Mexico. Daniella Silva reported from New York.