The death toll from the Miami bridge collapse has risen to at least six, officials said early Friday, as engineers and homicide investigators carefully picked through the dangerous scene in search for possible victims and evidence as to what went wrong.
Multiple vehicles were crushed when the bridge came down near Florida International University's campus at around 1:30 p.m on Thursday. Workers were also on the structure at the time, according to Miami-Dade County Fire Rescue.
Officials said early Friday that personnel had arrived at the site from the FBI, NTSB, and the Occupational Safety and Health Administration.
Miami-Dade County Deputy Mayor Maurice Kemp told a 10 a.m. press conference that authorities were aiming to remove victims in a "dignified manner."
Earlier, fire officials relinquished the lead of the investigation and handed it over to police, according to Det. Alvaro Zabaleta, a spokesman for the Miami-Dade Police Department.
"This has now turned from a rescue to a recovery operation," he said early Friday. "We've been working throughout the entire night."
Homicide detectives were working alongside engineers, both to try to find more victims but also to uncover evidence relevant to the investigation about what happened to the structure.
"Engineers told us last night it's got to be done very carefully," Zabaleta said. "Not only because of the fact that we have to preserve evidence, not only because of the fact that there may be possible victims under there and we have to treat it very delicately, but because of the safety of the rescuers as well, because of the unstableness of the bridge."
He described the structure as "very fragile."
Nine injured people were transported to the hospital and another person is believed to have gone there themselves, the detective said. One of the six people killed, one died while in hospital, he said.
He added that the death toll could rise.
"There's the sad possibility that under the concrete there may be additional vehicles," Zabaleta said.
Earlier, Miami-Dade Fire Rescue Division Chief Paul Estopinan had said emergency workers found eight vehicles trapped under the bridge.
"We could only see eight [vehicles] from the exterior of the bridge," Estopinan said, adding that he did not know how many total cars might be affected. "We are creating holes just so that we can physically see [if there are others]."
The search and rescue effort included urban search and rescue teams and search dogs, heavy equipment and four cranes, officials said earlier.
The walkway weighed 950 tons and was 174 feet long, according to FIU.
The bridge was scheduled to open early next year and designed to withstand hurricane-force winds. Built across the seven-lane Tamiami Trail, the planned walkway connected the FIU campus to the town of Sweetwater where the university estimates some 4,000 students live.
"We are shocked and saddened about the tragic events unfolding at the FIU-Sweetwater pedestrian bridge," the university said in a statement. "At this time we are still involved in rescue efforts and gathering information."
The university had celebrated the unveiling of the walkway five days prior to the collapse.
"This bridge was about collaboration and was about hope and determination," said FIU president Marc Rosenberg.
Witnesses described watching the bridge fall down in front of them.
"I was three seconds away from being under the bridge, but I looked forward," said Susie Bermudez. "All of a sudden I saw the bridge collapse, and it started from the left side of the bridge and it really shocked me."
"There's probably like seven or eight cars under the bridge so it was very shocking to me, and I'm very grateful to be alive," she added.
Jose Mejia, who lives in Sweetwater, told MSNBC that he heard a loud bang and then rushed to the scene with police where he saw numerous cars trapped under the bridge.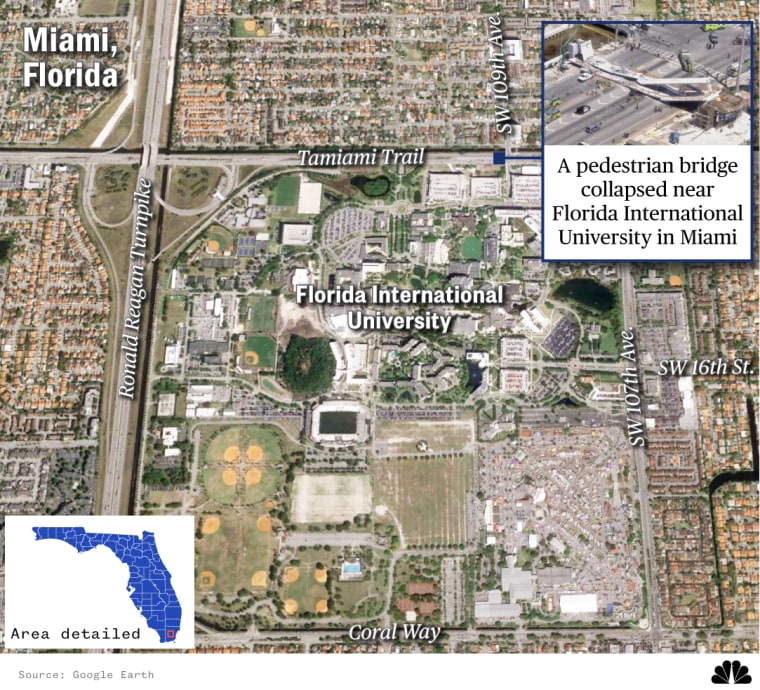 "There was a young gentleman in a red Honda, and unfortunately there was nothing I could do, but he stuck his hand out and, at that point he passed away, he expired," Mejia said.
Florida Gov. Rick Scott said he had spoken to Perez about the collapse and would remain "in constant communication with law enforcement throughout the day."
Sen. Marco Rubio, R-Fla., who has taught at FIU as an adjunct professor, called it a "horrifying tragedy" and said he had spoken to Department of Transportation Secretary Elaine Chao and also planned to travel to the university.
Scott and Rubio said there would be a thorough investigation.
"There will be an exhaustive review that will give details at an engineering and scientific level," said Rubio.
And there could be consequences.
"If anyone has done anything wrong we will hold them accountable," said Scott, promising a transparent investigation.
Meanwhile, White House Press Secretary Sarah Huckabee Sanders told reporters that President Donald Trump was aware of the bridge collapse and would provide government resources as needed.
The National Transportation Safety Board said was sending a 15-person team to investigate the collapse.
The bridge was lifted off its temporary support and placed in its permanent position on Saturday.
The $11.4 million bridge was meant to connect the school to the city of Sweetwater as part of a $124 million expansion of the campus. It was built and designed by Munilla Construction Management in partnership with FIGG Bridge Engineers, the college said.
In a statement posted on Twitter, MCM said they would "conduct a full investigations to determine exactly went wrong."
FIGG Bridge Engineers said they were stunned by the "tragic collapse" and would cooperate with the authorities as they investigated the matter.
"In our 40-year history, nothing like this has ever happened before," the company said in a statement. "Our entire team mourns the loss of life and injuries associated with this devastating tragedy, and our prayers go out to all involved."
The homicide bureau will take the lead in investigating the collapse and the state attorney will also work the case, said Perez, the police director.
Rubio said that the bridge project was intended to save lives, and that last year an FIU student was killed while crossing the road.
Perez warned there could be more casualties discovered. "This is going to be a long, long process, because to get through that rubble and, you know, the pieces of concrete that are laying there is not going to be an easy task," he said.
"Our prayers go out to all those impacted," Perez said. He said that despite the best efforts of the fire department, other rescuers and ordinary citizens who leaped in to help, "we're probably going to come out with a sad outcome for many in our communities."