Donald Trump's personal lawyer, Michael Cohen, is calling into question part of a report released by Stormy Daniels' attorney about Cohen's alleged banking transactions.
In a court filing on Wednesday, Cohen's attorney said some of the transactions attributed to Cohen were actually tied to other people with the same name.
"This document is concerning for a number of reasons, including the number of blatantly incorrect statements it contains," Cohen attorney Stephen Ryan wrote in a 24-page complaint letter to a federal judge.
Cohen's camp does not dispute the report's contention that a company he created in 2016 — and used to pay hush money to Daniels, an adult film actress who claims she had sex with Trump — received large payments from companies like Novartis and AT&T, which confirm they hired him as a consultant or adviser.
But the report issued by Daniels attorney Michael Avenatti also listed a series of smaller transactions involving international companies and individuals that Cohen's legal team is disputing.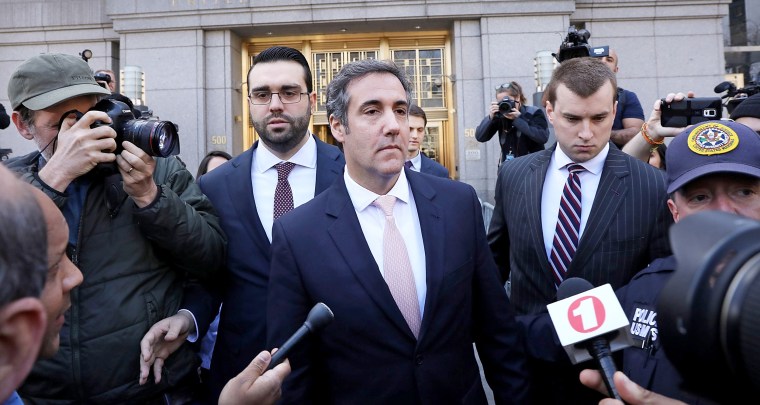 Among them was a $980 payment from two individuals in Kenya, Netanal Cohen and Stav Hayun, to a Michael Cohen. NBC News spoke to the man who received those funds, and he said Avenatti has the wrong guy.
"I am an Avionic technician in El Al airlines. So, no, not a lawyer," said Michael Cohen, 26, from Ashdod, Israel. "No, I never talk with or meet Trump."
He said that his brother Netanel wired him the money when he was living in Kenya. "He owed me some money," he said.
The 26-year-old Michael Cohen said he had no idea how the mixup could have occurred, but said he's been getting lots of attention.
"My whole family was surprised. Friends called me, It was a crazy day," he said.
Other listed transactions include $4,250 from a Malaysia consulting firm called Actuarial Partners. Ryan said in the filing that "the Michael Cohen who apparently received this wire is a Canadian citizen who has conducted foreign aid work for Actuarial Partners in Tanzania" and not Trump's attorney.
"The Michael Cohen who was actually involved in this transaction has expressed grave concerns about the breach of his privacy by Mr. Avenatti's apparently improper possession and publication of his personal bank records," Ryan wrote.
Avenatti also included a $3,698 payment from a corporate consulting firm in Singapore and $10,980 from a Hungarian business — but Ryan said his client has no knowledge of those firms. NBC News has contacted those companies but has not received a response.
Ryan conceded some of the material in Avenatti's report was accurate but said he had distorted the information.
"Mr. Avenatti has published some information that appears to be from Mr. Cohen's actual bank records, and Mr. Cohen has no reason to believe that Mr. Avenatti is in lawful possession of these records," Ryan wrote.
He asked the judge to reject Avenatti's petition to intervene on Stormy Daniels' behalf in an ongoing legal dispute over a federal search warrant executed in raids on Cohen's Manhattan office and hotel room last month.
Avenatti responded to the filing on Twitter.
"Mr. Ryan's submission on behalf of Mr. Cohen is baseless, improper and sanctionable," he said. "They fail to address, let alone contradict, 99% of the statements in what we released. Among other things, they effectively concede the receipt of the $500,000 from those with Russian ties."
In a statement to NBC News, he said: "Let me get this straight. The best they have to try to undercut our report is pointing to a few small transactions with minimal dollar amounts? Are you kidding me? Why don't they address the four 3,000-pound elephants in the room? Namely Columbus Nova, Novartis, AT&T and Korea Aerospace Industries?"