The white Florida man who shot a black man dead in a dispute over a parking spot said he believes he was following the state's "stand your ground" law when he killed the unarmed father of three — and that he would not change anything about what he did.
Michael Drejka, 48, defended himself during a jailhouse interview Friday from Pinellas County Jail, where he is awaiting a manslaughter trial for fatally shooting 28-year-old Markeis McGlockton on July 19 during a dispute that was captured on video over a handicapped parking space.
"I followed the law the way I felt the law was supposed to be followed," he told local station WTSP in an interview that was released by the sheriff's department, since it was recorded using their facilities."I cleared every hurdle that that law had to put in front of me."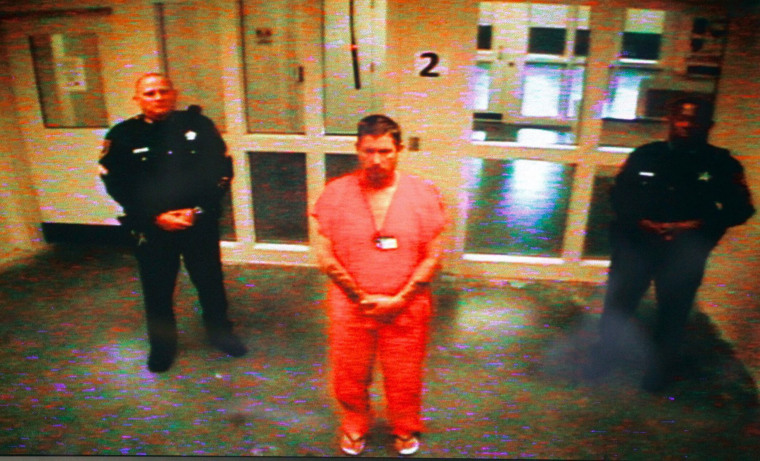 And when asked if there was anything he would change about how he handled the incident, he said, "I don't see, I really, no, not off the top of my head."
"I did not confront anyone. I was confronted and I answered," Drejka said in the interview.
McGlockton's father, Michael McGlockton, said he was disgusted by the interview.
"I think he told a bunch of lies in it," Michael McGlockton said.
He referenced parts in which Drejka said he misses his dogs and was concerned about his wife while he is in jail.
"For this guy to sit up there and have more remorse for his animals, versus taking my son's life — I don't like that," Michael McGlockton said in an interview with NBC News Monday. " … He misses his wife, he misses his animals. And he's crying on video. But the bottom line is, his wife can go see him. I cannot go see my son. I can't talk to my son. That's the bottom line."
Surveillance video of the deadly shooting showed McGlockton pulling into a handicap parking spot outside a convenience store. While McGlockton and his 5-year-old son go into the store, Drejka got into an argument with McGlockton's girlfriend about the car being in a handicap parking spot.
McGlockton can be seen shoving Drejka to the floor and then appear to be backing away when Drejka pulls out a gun while still on the ground and shoots him. Drejka has a conceals weapons permit and McGlockton was unarmed.
Drejka said he feared for his life.
"I didn't know it was a shove, I thought I was tackled," Drejka said.
He also said people who park in handicap parking spots are a "pet peeve" for him because he has disabled friends and family.
"It's always touched a nerve with me," he said. "The way they're abused and used."
Drejka, who said he was born and raised in Delaware, also insisted he was not a racist and the shooting was not racially motivated.
"I do not hate anybody," he said.
Drejka has been accused of confronting people over using handicapped spaces in the past, according to police documents obtained by NBC News.
Floridians are allowed under the "stand your ground" statute — which was first enacted in 2005 and backed by gun lobbyists — to defend themselves with deadly force if they believe they are in imminent danger or death. The person being threatened is not required to try and flee the scene.
Michele Rayner, an attorney for McGlockton's family, said the idea that Drejka had cleared every legal hurdle in his defense was "preposterous."
"How did you 'clear every hurdle' when Mr. McGlockton was backing up?" she told NBC affiliate WFLA. "How did you 'clear every hurdle' when there is clearly no further advancing? The altercation was done. And, in fact, how did you 'clear every hurdle' when he was the initial aggressor of the entire situation?"
Rayner said Drejka started the altercation by going up to McGlockton's girlfriend and confronting her about the parking spot.
She also said previous incidents in public records reports show Drejka's prejudice towards people of color.
"This is not an isolated incident," she said.
"It's not necessarily about wearing a hood or you know burning a cross, but it's about your actions and the things that you do that show that you have a bias, a prejudice towards people of color and it's very clear that Michael Drejka did, does," she said.
Pinellas County Sheriff Bob Gualtieri did not initially arrest Drejka citing the appearance of a self-defense case under the state's "stand your ground" law but prosecutors later filed manslaughter charges against him.
When asked what he would say to McGlockton's family, Drejka said he didn't think the interview was the right place to talk to the family directly but offered, "I'm sorry, that's all I can really say to them. And, thinking about it, would you accept those kind words from someone? I don't think I would."
Michael McGlockton said the family does not accept the apology.
"I think the question was asked to him, if he could do it all over again, you know, would he change anything about that day, and he flat-out said, 'no," Michael McGlockton said. "So that itself, just — I mean, no, we don't accept that apology at all."
He also said he thinks the stand-your-ground law should be repealed, and does not understand how Drejka could have felt that his life was threatened.
"Michael Drejka pulled out his gun — again, he had full control of the situation at that point," Michael McGlockton said. "So how can you be in fear of your life if ... Markeis was in retreat mode? Markeis was not going for it. He was walking backwards.
"So, how can you use that 'I was in fear of my life'? No."