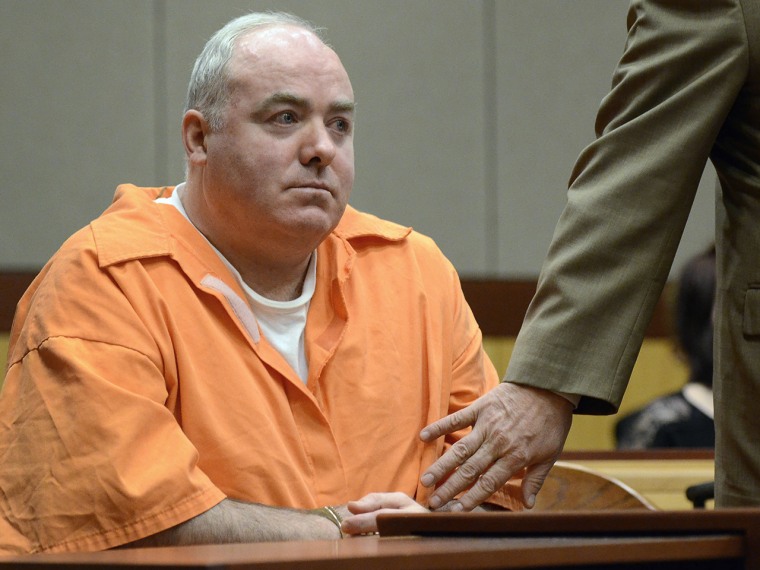 Two members of the jury that convicted Kennedy cousin Michael Skakel of murdering a teenage neighbor in 1975 said Friday they were surprised a judge granted him a new trial and remain convinced he did it.
Skakel, the nephew of Robert and Ethel Kennedy, is serving a sentence of 20 years to life for the bludgeoning of 15-year-old Martha Moxley — after being found guilty more than a quarter century after the crime.
Earlier this week, a Connecticut judge considering the third appeal in the case set aside that conviction and ordered a new trial, finding that Skakel's lawyer had put on a shoddy defense.
Christia Valentino, 67, one of the jurors who deliberated three days before finding Skakel guilty in 2002, said that while she was not blown away by defense lawyer Michael Sherman's performance, she thinks he "did an adequate job."
"We did the best we could to see that justice was served at the time," she said. "I feel confidence in the decision I made at the time."
A note of bitterness crept into fellow juror Laura Copeland's voice when she was asked about the ruling.
"I guess if you have money, you get to keep appealing until you get a judge to say what you want him to say," she said.
"I still believe he did it. I still believe we made the right decision," said Copeland, 50.
In a 136-page ruling, Connecticut Superior Court Judge Thomas Bishop said Skakel, 53, is entitled to another shot at proving his innocence because of a series of errors and failures by Sherman.
Among the mistakes highlighted by the judge: Sherman did not challenge a juror with ties to the police; he failed to present a potential alibi witness; he didn't try to find witnesses who could have refuted testimony that Skakel had confessed years before; and he delivered a "disjointed" closing argument.
The judge also blasted Sherman for his decision not to focus more attention on Skakel's older brother Thomas, who said he had a sexual encounter with Moxley the night she was killed, as the possible killer to sow reasonable doubt in the mind of the jury.
"The defense of a serious felony prosecution requires attention to detail, an energetic investigation and a coherent plan of defense capably executed," Bishop wrote. "Trial counsel's failures in each of these areas of representation were significant and, ultimately, fatal to a constitutionally adequate defense."
Several of the original jurors said they did not want to speak about the case, and others could not be reached. But Copeland was adamant that the evidence against Skakel -- much of its circumstantial -- was compelling enough that it would have taken a smoking gun implicating someone else to win an acquittal.
She said the jury knew that Thomas Skakel -- who has always maintained his innocence -- had been an early suspect but said more evidence that he and Moxley had a liaison would only have bolstered the prosecution's argument that Michael Skakel killed her out of jealousy.
"Unless someone comes forward and says they saw it happen or there's DNA evidence, in my heart of hearts I believe he did it," she said. "I don't have a problem sleeping at night."
Valentino said she didn't take Bishop's ruling personally, but did feel bad for Moxley's mother, Dorothy, who faithfully attended the five-week trial.
"She was there every day with her son and now she has to go through this all again?" she said.
After the ruling, Moxley told NBC Connecticut that she has not changed her mind about who killed her teenage daughter: "Michael Skakel is very, very guilty."
Skakel's defenders remain just as convinced of his innocence.
"There was no credible evidence against him that couldn't have been challenged by much stronger evidence," Robert F. Kennedy Jr. told TODAY. "And if he gets another trial, he's got good lawyers now and there's no way in the world that he will be convicted."
Sherman has not responded to the criticisms in the report but issued a statement saying he is happy Skakel will get a new trial. Prosecutors are appealing the judge's order.
Skakel has asked the judge to release him on bail in the meantime -- saying he deserves a chance to reconnect with his 14-year-old son -- but Bishop has not yet decided whether he should be freed.