A Massachusetts woman who encouraged her boyfriend to kill himself was released from jail Thursday, after just under a year behind bars.
Michelle Carter walked out of Bristol County Jail flanked by jail officials, one of whom was holding two clear garbage bags containing her belongings. Carter was dressed in a black turtleneck, light-colored blazer and black pants. She was picked up by her parents and her lawyer, who had no comment.
The 23-year-old was convicted in 2017 of involuntary manslaughter in the death of Conrad Roy III, who died by suicide in 2014 after filling the inside of his pickup truck with poisonous fumes.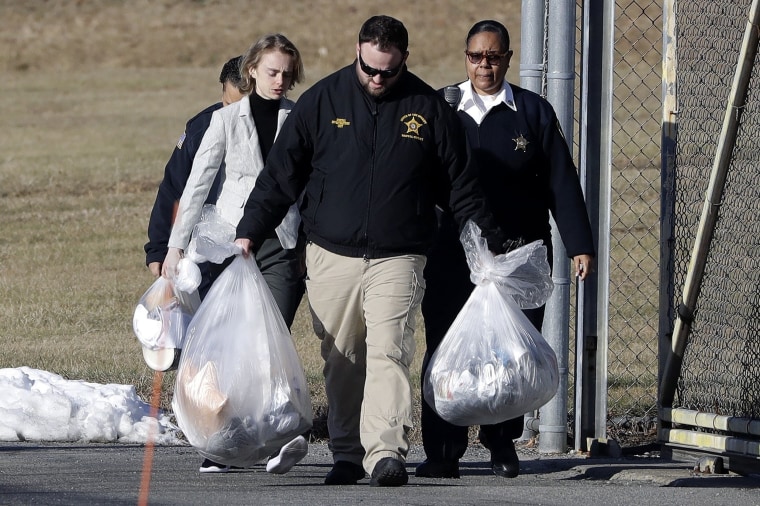 Carter, who was 17 at the time, had repeatedly, through text messages, pushed Roy, 18, to kill himself.
On the day he ultimately took his life, she told him to "get back in" the truck when he expressed to her he was having second thoughts, prosecutors said.
Both of the teens struggled with depression, and Roy had tried to kill himself before.
Download the NBC News app for breaking news
The case was subject of an HBO documentary, "I Love You, Now Die: The Commonwealth vs. Michelle Carter."
Carter was sentenced to 15 months and five years probation in 2017. After pleading not guilty, she opted for a bench trial, meaning a judge, not a jury, would determine her fate, and she did not testify in her own defense.
She had faced up to 20 years in prison.
But Carter, of Plainville, wasn't incarcerated until after the Massachusetts Supreme Court denied her appeal of the conviction in February.
She was denied parole in September, but jail officials said she garnered enough credits for good behavior and attending jail programs to be released more than three months early.
Bristol County Sheriff Thomas Hodgson said Thursday that Carter had been a "model inmate" with no disciplinary issues who liked "keeping busy" during her time in jail. He said Carter enjoyed gardening.
"She has completed her sentence and completed her obligation," the sheriff said.
Carter cannot profit from her story, according to the conditions of her release.
Her time in jail came to an end 10 days after the U.S. Supreme Court refused to take up her appeal, leaving her conviction intact.
Carter's attorneys had argued her texts were constitutionally protected free speech.
In a statement, Roy's family said that "news of the Supreme Court denying to hear her case far outshadowed the news of her early release. Her time in jail, no matter how long or short, will not change the outcome of a guilty verdict which is thankfully being upheld."
"July 12, 2014, our lives were forever changed, and the world lost a beautiful soul. Michelle Carter is the reason for that," the statement said. "She was the only person who could have saved him. She didn't, in fact she was on the line with him as he was dying, moaning in pain, gasping for last breaths. Who could do that?"
"She did, and we'll never really know why," the family said.
Last year, state lawmakers proposed a new law called "Conrad's Law," which would make it a crime, punishable by up to five years, for anyone who "intentionally coerces or encourages" a suicide or suicide attempt.
Roy's family said they are urging state lawmakers to pass the law and are working with the White House to "help bring his law to a Federal level."
A case similar to Carter's is ongoing in a Boston court. Prosecutors say Inyoung You, 21, a native of South Korea who is an American citizen and was attending Boston College, urged her boyfriend, Alexander Urtula, to kill himself in a barrage of text messages throughout their relationship.
Urtula, a biology major at the school, jumped to his death from a parking garage about an hour and a half before his graduation ceremony. You has pleaded not guilty to manslaughter.
If you or someone you know is in crisis, call the National Suicide Prevention Lifeline at 800-273-8255, text HOME to 741741 or visit SpeakingOfSuicide.com/resources for additional resources.