A Massachusetts woman showed little emotion as she was sentenced to 15 months in jail on Thursday for coercing her boyfriend via text to kill himself.
Bristol County Juvenile Court Judge Lawrence Moniz found Michelle Carter, 20, guilty of involuntary manslaughter in June for encouraging Conrad Roy III, 18, to take his own life in July 2014 after prosecutors successfully argued the then 17-year-old was an attention-seeking teen, desperate to play the grieving girlfriend. She had faced up to 20 years in prison.
Moniz gave her a 2.5 year sentence and said only 15 months was mandatory. He also sentenced her to five years of probation.
Bristol County District Attorney's Director of Communications Gregg Miliote said the other 15 months of the sentence "hangs over her head" if she gets into legal trouble during her probation.
"I have not found that Miss Carter's age or level of maturity or even her mental illness have any significant impact on her action," Moniz said. "She was a bright young lady, did well in school and I am satisfied that she was mindful of the actions for which she now stands convicted."
But Carter's lawyer, Joseph P. Cataldo, successfully petitioned to have her sentenced stayed, meaning she will not go to jail until her state appeals are exhausted.
He added that Carter can't have contact with the Roy family, except for the prosecution of a civil suit, and Carter is not to have contact with classmates who acted as witnesses for the prosecution. She is also not to leave the state of Massachusetts, and must submit DNA samples and a have a mental health evaluation.
And Carter is banned from using social media.
If she violates the terms of her five-year probation, she will have to serve her full sentence in jail.
However, Carter's probation also doesn't start until her appeals are exhausted, and she will remain on the terms of her pre-trial release until a decision is made at the appellate level. If her appeals are denied, she will have to begin serving her jail sentence and probation.
Carter wiped tears from her cheeks as Moniz dismissed the packed courtroom.
During the hearing, Roy's family spoke through tears, explaining how Carter's actions had impacted each of them, as they spoke before Moniz.
"Michelle Carter exploited my son's weaknesses and used him as a pawn. She has not shown any remorse. The fact that he was convinced to him to kill himself is unimaginable. Where was her humanity? In what world is this behavior OK and acceptable?" Conrad Roy Jr., Roy's father, told Moniz on Thursday.
Assistant District Attorney Maryclare Flynn read a letter on behalf of Roy's mother Lynn.
"I have been to few court hearings but it caused emotional pain. I could not come to terms with someone who claimed to love him inflicting so much pain on him and my family," Lynn Roy wrote.
Flynn had recommended a sentence of seven to 12 years for Carter, and reiterated that Carter had not accepted responsibility for her actions or shown remorse.
Cataldo, told Moniz that Carter had no history or record of disciplinary problems and that she would be a prime candidate for probation.
"This is a horrible circumstance, which she does regret and does take responsibility for," Cataldo said, adding that because the case was heard in juvenile court, Carter would be better suited for probation and would abide by whatever conditions Moniz set.
Following the sentencing, Flynn said that they were disappointed with the judge's decision to grant the stay.
"While we are disappointed the judge chose to stay the sentence, we remain steadfast in our belief that Michelle Carter committed involuntary manslaughter and needs to be held responsible," she said.
Roy died after he used a portable water pump to fill his black Ford F-250 with carbon monoxide while Carter texted him to stay in the vehicle from 30 miles away.
During a 47-minute call with Carter, Roy exited the vehicle because the carbon monoxide poisoning was "working and he got scared," court documents say.
Related: Michelle Carter Sent Texts to Her Boyfriend's Grieving Mother
Carter "f----- told him to get back in," according to the documents. It's this directive, Moniz reasoned, that led to his decision to find Carter guilty.
"I don't believe she can be helped. I don't believe she could even give one single f--- about what she's done," Roy's aunt Kim Bozzi said in a written statement to Moniz Thursday. "I believe she should be kept far away from society."
Moniz said that when Carter instructed Roy to return to his vehicle, she became responsible because she knew he was entering "a toxic environment inconsistent with human life." Moniz also noted that Carter did not contact Roy's family when she knew his location and his intended actions.
Moniz said Carter had a responsibility to take action to stop a life-threatening risk.
"Take away the spotlight that she so desperately craves," Bozzi begged. "Twenty years may seem extreme but it is still twenty more than Conrad will ever have."
The defense had claimed Carter wasn't in her right mind at the time she encouraged Roy to kill himself, saying the troubled teen was on Celexa, a treatment for depression, which can trigger side effects like irrational thinking, irritability and poor impulse control.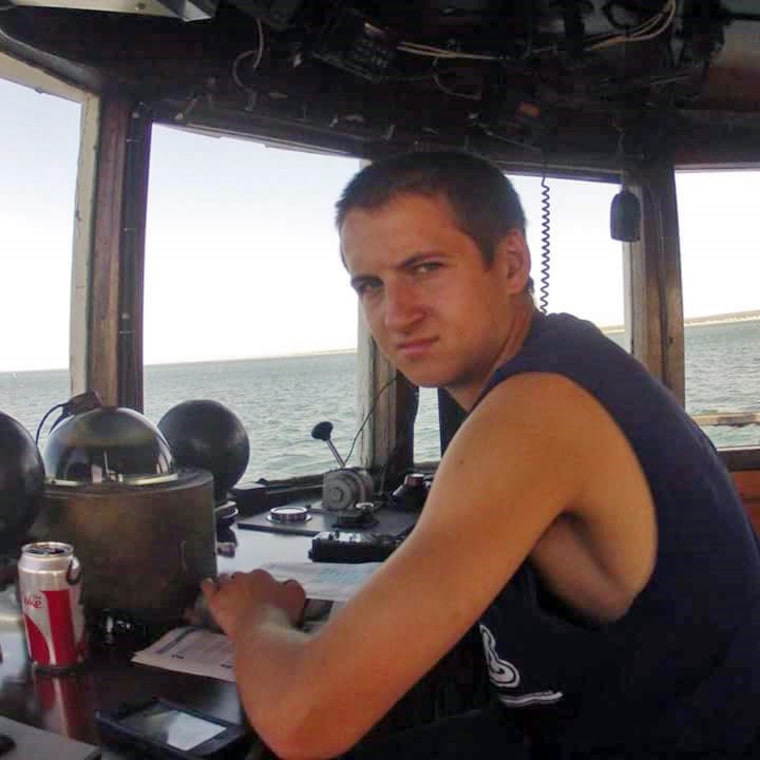 During sentencing, Carter's father pleaded with Moniz to give his daughter a lenient sentence, and take her mental health into account while deciding how to punish her.
"I pray to God you will take into consideration that Michelle was a troubled, vulnerable teenager in an extremely difficult situation and made a tragic mistake," David Carter wrote in a statement to Moniz. "I am 100% sure she was only trying to do what in her mind what was right for Conrad."
During the trial, prosecutors argued in the days before Roy's suicide, Carter attempted a "dry run," texting classmates that Roy was "missing" despite being in constant contact with him.
Related: Michelle Carter Found Guilty of Encouraging Boyfriend's Suicide With Text Messages
"She begins to get the attention she craved for," assistant district attorney Maryclare Flynn said during her opening statement in June. "So she has to make it happen. She has to make him kill himself so that she's not seen as a liar."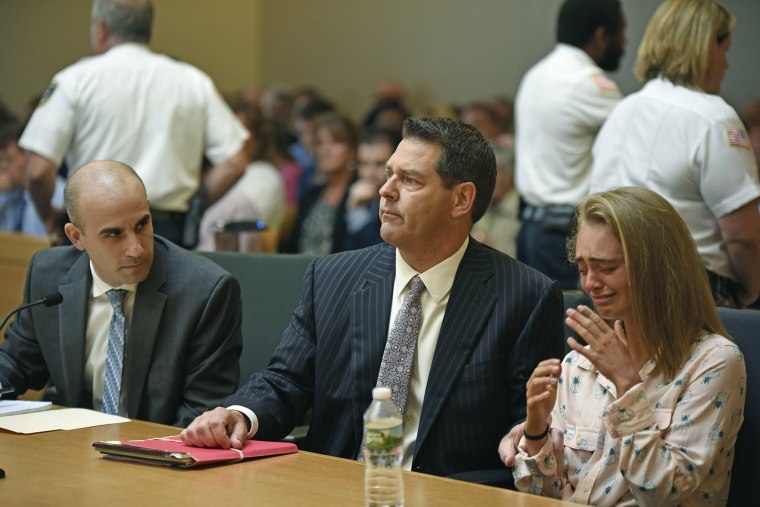 After Roy's death, Carter texted at least three classmates nearly identical messages about hearing the moment Roy took his own life.
A text sent by Carter, on the night Roy died, to friend Samantha Boardman said: "Sam, he just called me and there was a loud noise like a motor and there was moaning like someone was in pain … that's all I heard."
She later texted Boardman again, saying: "I think he just killed himself."
Months after his death, when authorities began investigating the circumstances of Roy's suicide, Carter began to panic when she realized their text messages were likely to be reviewed by police.
"I just got off the phone with Conrad's mom, and she told me … [police] have to go through his phone and see if anyone encouraged him to do it on texts and stuff. Sam, they read my messages with him I'm done. His family will hate me and I can go to jail," Carter wrote in a message to a friend.