A Massachusetts woman broke down in tears Friday as she was found guilty of involuntary manslaughter for goading her teenage boyfriend into killing himself.
Michelle Carter now faces up to 20 years in prison when she's sentenced on Aug. 3.
While he handed down the verdict in Bristol County Juvenile Court, Judge Lawrence Moniz said Carter, 20, failed to give a "simple additional instruction" for Roy to exit his car as it was filling with poisonous fumes.
Carter's lawyers were holding her hand and patting her back during the hearing.
A prosecutor's request to deny Carter bail was rejected. However, she is prohibited from contacting the Roy family or any witnesses from the case, acquiring a passport or leaving Massachusetts without the court's approval ahead of her sentencing.
Carter, who opted for a bench trial rather than for a jury, was tried in a juvenile court without a jury because she was 17 when Roy died.
In July 2014, Carter's boyfriend, 18-year-old Conrad Roy III, sat in his black Ford F-250 in a Kmart parking lot and killed himself by inhaling carbon monoxide.
Moniz said that when Carter instructed Roy to return to his vehicle, she became responsible because she knew he was entering "a toxic environment inconsistent with human life." Moniz also noted that Carter did not contact Roy's family when she knew his location and his intended actions.
Moniz said Carter had a responsibility to take action to stop a life-threatening risk. "The reckless failure to fulfill this duty can result in a charge of manslaughter," he said.
The victim's father, Conrad Roy Jr., said his family is happy with the verdict and thankful for the judge and prosecution team.
Assistant District Attorney Katie Rayburn said, "Although we are very pleased with the verdict in reality there are no winners, Conrad is dead and a young woman is convicted, two families have been torn apart." She added, "We hope the verdict will bring some measure of justice for the friends and family of Conrad Roy."
Although she was not physically present, the prosecution argued that Carter texted Roy moments prior to his death and encouraged his suicide instead of trying to prevent it.
In a text to her friend Samantha Boardman, Carter allegedly wrote, "Sam, [Roy's] death is my fault like honestly I could have stopped him I was on the phone with him and he got out of the [truck] because it was working and he got scared and I f------ told him to get back in Sam because I knew he would do it all over again the next day and I couldn't have him live the way he was living anymore I couldn't do it I wouldn't let him."
Carter's defense attorney Joseph Cataldo said Roy had multiple suicide attempts in the past. Steven Verronneau, a forensic investigator with MWV Multi-Media Forensics who testified on behalf of the defense, analyzed the computers and phones owned by Roy and Carter and discovered Roy researched "suicide by cop," and which medications he could use to die while sleeping.
However, during his cross-examination by prosecutor Rayburn, Verronneau said there were family pictures on Roy's devices that could be interpreted as him being happy and Carter had likely deleted phone messages she sent to Roy.
Cataldo mentioned Carter was taking Celexa, a treatment for depression, at the time of Roy's death. Dr. Peter R. Breggin said in his testimony for the defense that Carter's switch to this medication led to a "transformation" that made her think she was helping Roy by aiding his suicide.
In response to the verdict, Matthew Segal, legal director at the ACLU of Massachusetts, released a statement condemning the decision.
"This conviction exceeds the limits of our criminal laws and violates free speech protections guaranteed by the Massachusetts and U.S. Constitutions," he said. " If allowed to stand, Ms. Carter's conviction could chill important and worthwhile end-of-life discussions between loved ones across the Commonwealth."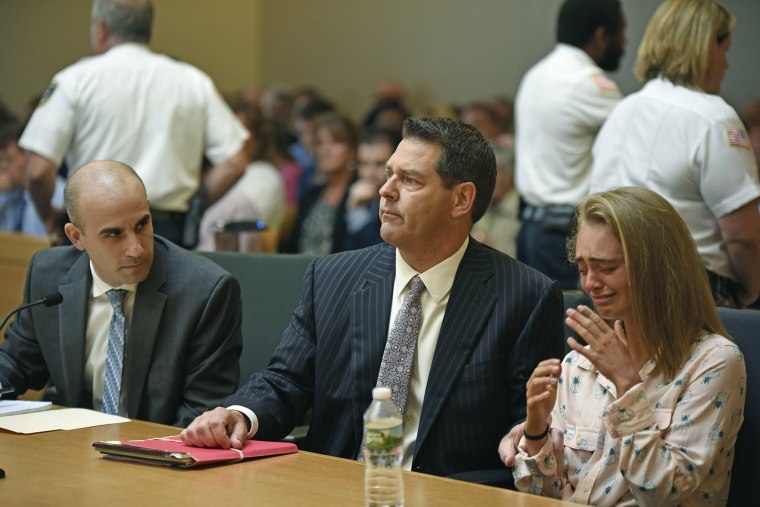 The defense argued in their closing statement that Carter should not be convicted considering she was 30 miles away when the suicide occurred.
"He goes to the beach, he drives down to the Kmart there is no evidence that she helped him load the water pump, helped him obtain it, there is no evidence that she has any physical actions whatever," the defense said on Tuesday.
The prosecution said Carter's texts to friends as well as her phone call with Roy's mother after his death show Carter wanted to use the suicide to become famous and play the "grieving girlfriend."
"The court has never required actual presence to commit a crime," the prosecution countered. "She was in his ear even though she knew he was going to die and she did it for attention."
CORRECTION (June 16, 12:05 p.m.): An earlier version of this article misstated the name of the court where Carter was convicted. It was Bristol County Juvenile Court in Taunton, not Taunton Juvenile Court.