We all felt it.
When first lady Michelle Obama and former President George W. Bush were captured on camera sharing a warm hug at the opening of the National Museum of African American History and Culture over the weekend there was a collective national "aww."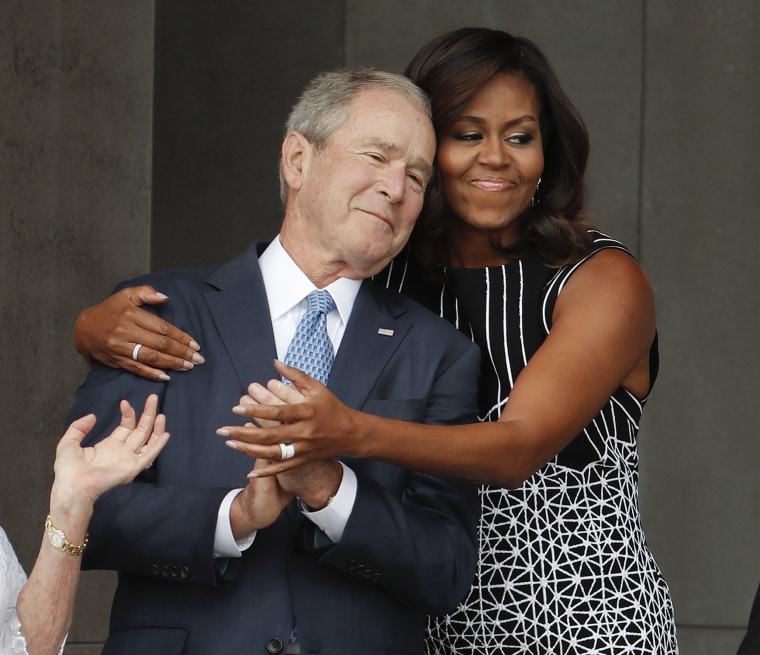 "It's a great photo that demonstrates genuine bipartisanship," said Larry Sabato, director of the University of Virginia's Center for Politics and a longtime White House watcher. "At one time they were political enemies, but they came together for a good cause. In the midst of a nasty election season, people are hungry for anything that can unify us."
But in a politically polarized time when Republicans and Democrats go after each other with proverbial hammers and tongs, it may come as a surprise to many that the people who have actually occupied the White House — and battled each other to get there — not only get along but, in many cases, have managed to forge friendships.
"We've been called 'the world's most exclusive club,' and we do have a pretty nice clubhouse," Obama said at the April 2013 dedication of Bush's presidential library. "But the truth is, our club is more like a support group."
Obama publicly opposed the Iraq War and won in 2008 in part by bashing Bush's handling of the 2003 invasion. But since taking office, Obama and Bush have spoken about each other with relative warmth and respect.
"To know the man is to like the man," Obama has said of Bush. "He knows who he is. He doesn't put on any pretenses. He takes his job seriously, but he doesn't take himself too seriously. He is a good man."
And Obama isn't just pals with Bush, he is also friendly with Dubya's dad, former President George H.W. Bush.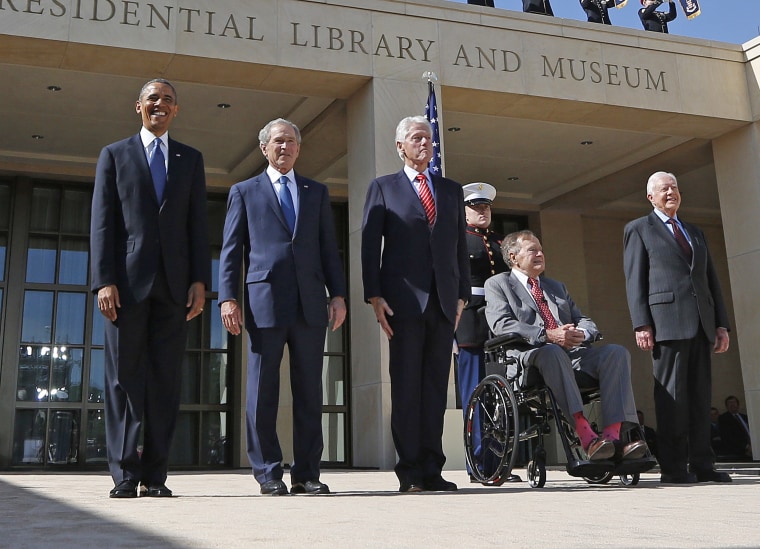 The first ladies also have a bond.
"We all know what it is like to have your husband be president," Laura Bush said in July 2013 at an African first ladies summit in Tanzania that was organized by the George W. Bush Institute. "We first ladies have a lot of things we can talk about together, that no one else really will understand."
Here are some other examples:
Obama and Bill Clinton were bitter enemies in 2008 when the ex-president was campaigning for Hillary Clinton. But after Obama picked Hillary Clinton for his secretary of state, Obama and Bill Clinton set aside the bitterness and became allies, if not friends.
Richard Nixon and John F. Kennedy were pals before they became political opponents. While they came from different worlds and different political points of view, they bonded over drinks, hamburgers and shared experiences as World War II vets who fought in the Pacific.
Nixon and JFK's successor Lyndon Johnson were not pals, but they respected each other and were both close friends with evangelist Billy Graham. The day after Johnson died in 1973, Nixon announced that an agreement had been reached to end the Vietnam War. And during that address Nixon made a point of defending LBJ against charges that he was a war monger. "No one would have welcomed this peace more than he," Nixon said.
In "The Presidents Club," Nancy Gibbs and Michael Duffy recounted how Harry Truman and Dwight Eisenhower — once fierce enemies — set aside their differences after JFK's funeral over drinks at Blair House.
Two other once bitter enemies, Bill Clinton and George H.W. Bush, were tapped in 2005 by Dubya to raise money for victims of the devastating Indian Ocean tsunami. Since then, they've worked together on other projects. Clinton and George W. Bush have also bonded — over being grandfathers.