When Michelle Obama was in high school, there was a lot she didn't know about college: She didn't know what an Ivy League school was; she didn't know what a syllabus was; and she had no idea that the bed in her Princeton University dorm room would have an extra-long mattress.
"My sheets were too small," the former first lady told a group of first-generation college bound students on Thursday. "I just lived with it. I didn't think of changing it."
Speaking at the fifth annual Beating the Odds Summit in Washington, D.C., hosted by her education initiative, Obama told teens that they shouldn't be afraid to take risks in college — as long as they also make sure to ask for help when they need it.
"Here's the advice I'd give you: Don't do this in isolation. Find your community. Find a community for yourself, whether that's through sports or it's a cultural organization or a minority group," she said, seated among other panelists. "College wasn't meant to do alone."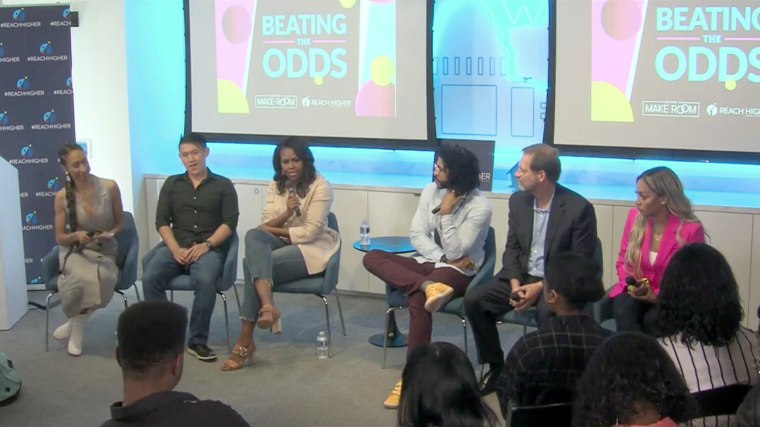 Obama, a first-generation college student herself, recalled how scared she was to start Princeton, having never been away from her Chicago home for longer than a few sleepovers with friends. She remembered being a minority in what was a primarily white school at the time, and encountering skeptics who said she wouldn't succeed there.
"There were people who told me I didn't belong there, and they were wrong. They didn't know me and they didn't really know what they were talking about," she said.
Obama graduated from Princeton with honors in 1985 and went on to get her law degree from Harvard. She urged students to break out of their comfort zones and take advantage of everything college has to offer, and also to not be afraid to reach out for support.
"Don't wait till the middle of the semester. There are support systems on all of these college campuses," she said. "Every college you're going to wants you to succeed."
She added that college is a safe environment to make mistakes in: "In college, you can fail a lot, and you have people whose job it is to support you. That's not going to happen any other time in your life. So think about the benefits and the joy of college, and enjoy it."
Obama, who devoted much of her time in the White House to her Let's Move! awareness campaign to improve children's health, also encouraged the students to eat well and exercise.
"Don't underestimate the importance of maintaining your health and learning how to do this on your own," she said.
Obama has been largely out of the public eye in recent months. Three weeks ago, she shared the cover of her upcoming memoir, "Becoming," in an Instagram post. The book is slated to be released in November.