First lady Michelle Obama is receiving praise for her powerful stump speech in New Hampshire on Thursday, in which she eviscerated Donald Trump for misogynistic rhetoric without ever mentioning him by name.
It has been a remarkable political trajectory for the first lady, who just eight years ago was perceived as potential liability for her husband, then seeking to become the first African-American president.
Today, she polls as one of the most beloved and trusted figures in the country, and her Thursday speech — which comes on the heels of a celebrated performance at the Democratic National Convention in August — is already being hailed as the "most important" address of the 2016 election so far.
But is Michelle Obama's impact on the 2016 race unprecedented?
Certainly, the argument has been made that she is uniquely positioned to speak about the mistreatment of women and girls in a way that Hillary Clinton — for complicated reasons — cannot. And she has parlayed her immense — largely apolitical — popularity to become and extremely effective advocate for causes she cares about, like childhood obesity.
Related: Clinton Supporters to Michelle Obama: We Want More
And throughout Barack Obama's presidency, her approval ratings have stayed lofty even when his fluctuated, making her a reliable surrogate in 2012 and 2014 when his fortunes appeared to be at a downturn.
Eleanor Roosevelt is often still held up as the gold standard for first ladies (she consistently ranks as the most admired by Americans) and she is widely believed to have been President Franklin Roosevelt's progressive conscience. But her many of her most significant contributions from a political standpoint were made in private.
The first presidential spouse to take a truly active campaign role was Lady Bird Johnson, who headlined her own whistle stop tour separate from her husband ("The Lady Bird Special") during the 1964 campaign.
Related: Michelle Obama on Trump's Comments Towards Women: 'Enough Is Enough'
Lady Bird Johnson was tasked specifically with touring the South in an attempt to soothe more conservative voters who were turned off by President Lyndon Johnson's support for the Civil Rights Act of that year. Still, Johnson's foray into campaign politics was more of a charm offensive than a partisan one.
More recently, Nancy Reagan took up the anti-drug crusade with her "Just Say No" campaign and Laura Bush made literacy her signature issue, but neither were drawn into the campaign narratives quite like Michelle Obama has this cycle.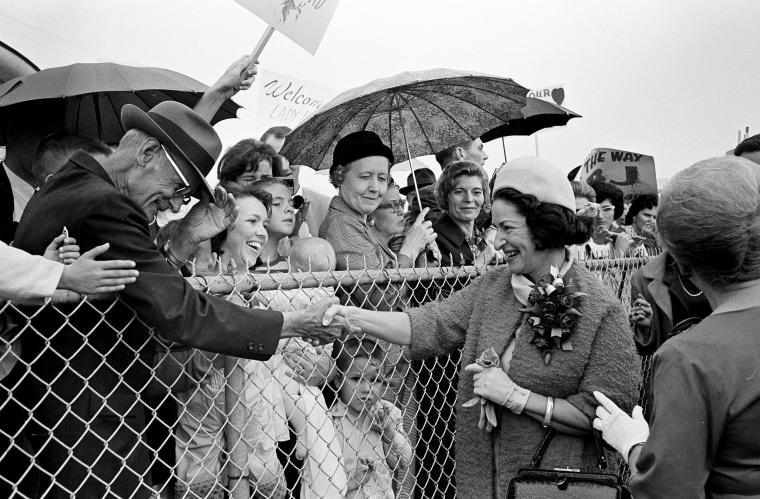 "There has never been anything quite like this," said Kate Andersen Brower, author of "First Women: The Grace and Power of America's Modern First Ladies."
Brower says she was "stunned" by how emotional Michelle Obama's speech was, but argued that "people assume first ladies enjoy being in the background but in my research they seem much more political and in tune with what's going on than they get credit for."
The closest corollary may be Jackie Kennedy, the first lady to whom Michelle Obama is most often compared. Like Obama, Kennedy was viewed coldly by voters at first and some saw her glamorous background as alienating. According to their private correspondence, Jackie lamented to her husband that she was a "dud," and he encouraged her to stop wearing scarves because it made her look too much like a movie star.
Related: Michelle Obama Gives Final Commencement Speech as First Lady
But once she was in the White House, the public warmed to Kennedy and her French designer wares gave way to more affordable knock-offs, which average Americans could potentially afford.
"[Jackie Kennedy] held her ground in a way I think Michelle Obama does too," said Brower. "She was interested in fashion, but there was something accessible about her when she was in the White House."
On the other end of the spectrum, Hillary Clinton, unlike Michelle Obama — who, reportedly, was reticent to be a political spouse and didn't want her husband to seek the White House in the first place — has long been perceived as the impetus for her husband's ambition.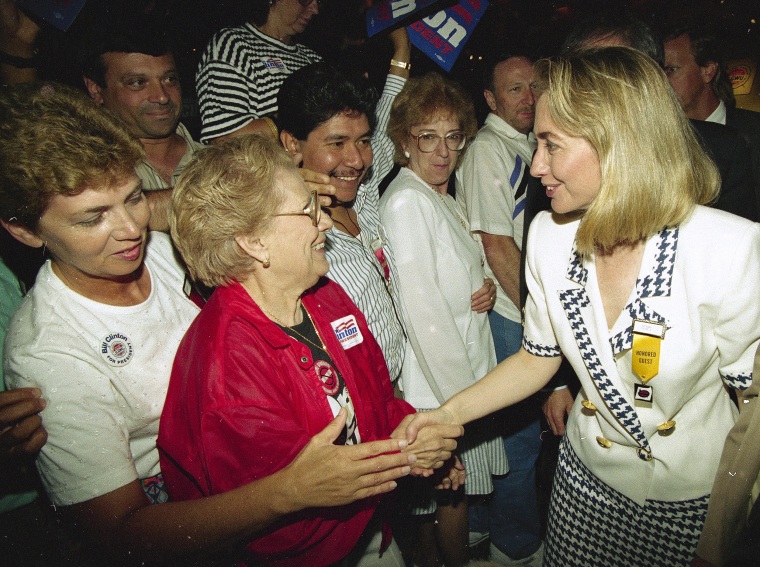 Endless parodies and punditry have cast her as ambitious to a fault, and the Clintons' eager promotion of the notion that voters would get "two for the price of one" in the 1992 election didn't help matters either.
Former first lady Betty Ford, with her outspoken fervor for women's rights, presented problems for Gerald Ford with the more conservative elements of his base, but there was no precedent for the divisive impact Hillary Clinton had then and now.
The future first lady became such a lightning rod that conservative candidate Pat Buchanan made opposition to "the agenda that Clinton and Clinton would impose on America" a major talking point in his infamous 1992 Republican National Convention address. And Hillary Clinton's antipathy towards baking cookies and willingness to take veiled shots at her predecessor Barbara Bush, did little to endear her to many voters, some of whom vilify her to this day.
Related: Why Michelle Obama's DNC Speech Matters
While sitting and potential first ladies have been pitted against each other in past, Hillary Clinton may have been the most polarizing and politically toxic, in part because she was vying to take a more active role in shaping policy than any presidential spouse before or since.
"I don't think we'll see a first lady have a West Wing office again [like Clinton did]," said Brower. "People don't want to see the first lady too engaged in politics. Voters suggest they're open-minded, but throughout history research has shown that they don't want to see activist first ladies."
Besides her "Let's Move" healthy eating campaign, Michelle Obama has comfortably settled into the role of "mom-in-chief," which reportedly has disappointed some Hillary Clinton acolytes, but suits her just fine.
"She told us at the beginning that everyone in that role [of presidential spouse] has to make it their own and she really has been herself in this job," said Susan Swain, C-SPAN host and the author of "First Ladies: Presidential Historians on the Lives of 45 Iconic American Women." "She's been I think a real asset to this administration because she reaches constituencies in a way that politicians can't because she has such a human touch."
Despite being "pretty traditional" in many ways, Brower also believes that Michelle Obama has left big shoes to fill for the the first ladies who follow her.
"People will expect a first lady to be engaging and relatable in the way that she is," she said.