An investigation into Michigan State University's handling of allegations against Dr. Larry Nassar is already getting ugly.
The Attorney General's office had state police seize evidence from the Big Ten campus on Friday, saying the university did not turn it over fast enough.
A spokesman for the newly appointed president of MSU then accused Attorney General Bill Schuette of playing politics with the probe.
"What you have is an attorney general running for governor," said John Truscott, speaking on behalf on the new president, former Michigan Gov. John Engler.
Related: 'Army of women' fights gymnastics doctor Larry Nassar with words
Schuette announced last week that he had appointed a special counsel to investigate MSU, which has been accused of ignoring warnings about Nassar's sexual abuse of patients for almost 20 years.
In a letter to MSU, the AG's office demanded emails and texts for a raft of MSU officials, from trustees down to sports trainers, be turned over by Feb. 9.
But Schuette wanted some things immediately: the computer, phone and calendars of William Strampel, who was the dean of the College of Osteopathic Medicine while Nassar had his sports practice there.
In a statement to the media, Schuette's office said: "On Saturday, January 27, immediate production of physical items assigned to William Strampel were requested by the Special Counsel. This has not occurred. We are continuing to investigate with our partners at the Michigan State Police and will not be providing further comment."
Truscott called the statement disingenuous saying MSU officials had been in contact with AG investigators about a timeline for surrendering the requested items and had agreed to relinquish all but Strampel's personal phone in the next couple of days.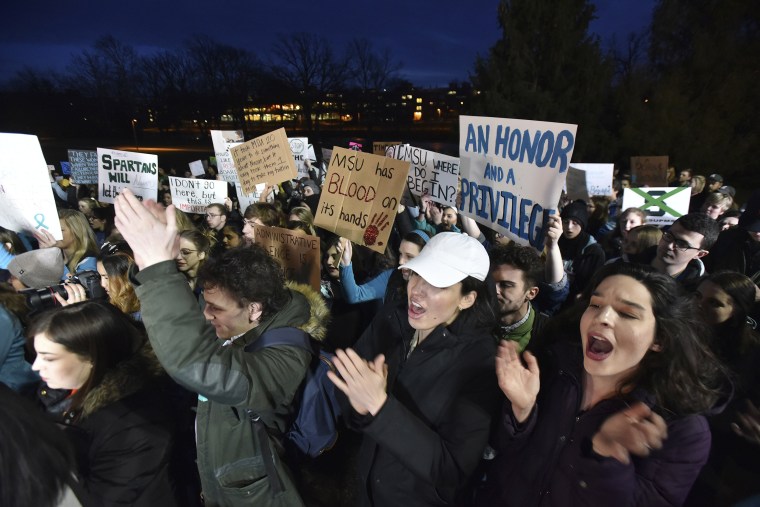 Related: 'We were wrong': Michigan police apologize for doubting Nassar accuser
"Somebody's playing politics," he said. "It lets us know what we are in for."
Engler, he said, "won't be happy to hear about this."
Schuette's spokesman, Andrea Bitely, said in an email to NBC News that there was no agreed-upon schedule for turning items over.
"It's unfortunate that some have chosen to politicize this investigation. This is not a crisis of our making, but we will get to the bottom of it," she said.
Engler was named interim president this week after Lou Anna Simon resigned under pressure. Some faculty and students are unhappy about the selection of a politically connected man to run a school roiled by sex abuse allegations.
Nassar was fired from MSU in 2016 after the Indianapolis Star reported the first public allegations against him. Since then, more than 260 women have accused Nassar of molesting them under the guise of medical treatments.
Nassar, who was also the team doctor for USA Gymnastics, will be sentenced on Monday for abusing three girls. He previously was sentenced to 60 years for child porn and 40 to 175 years for abusing seven girls.
MSU investigated an abuse claim against him in 2014 but decided his procedure was not sexual. Strampel wrote in an email to Nassar that he was "happy" the doctor was returning to full practice.