An undocumented father of two who had lived in the United States for three decades after being brought to the country as a child was deported from Michigan to Mexico this week, his family and immigration officials said Tuesday.
Jorge Garcia and his wife, daughter and son can be seen on an emotional video embracing as they said goodbye near the security gates at the Detroit Metropolitan Airport on Monday. His wife and daughter sob as Garcia holds them in his arms. Nearby, activists hold signs reading "STOP SEPARATING FAMILIES."
Garcia, 39, was undocumented when he was brought to the United States at age 10, according to his wife, Cindy Garcia, and their family lawyer.
"Jorge is very devastated, he's very sad. My kids and myself are also sad," Cindy Garcia, who is a U.S. citizen, told MSNBC on Tuesday. "It's a nightmare that came to life that we don't wish upon anybody."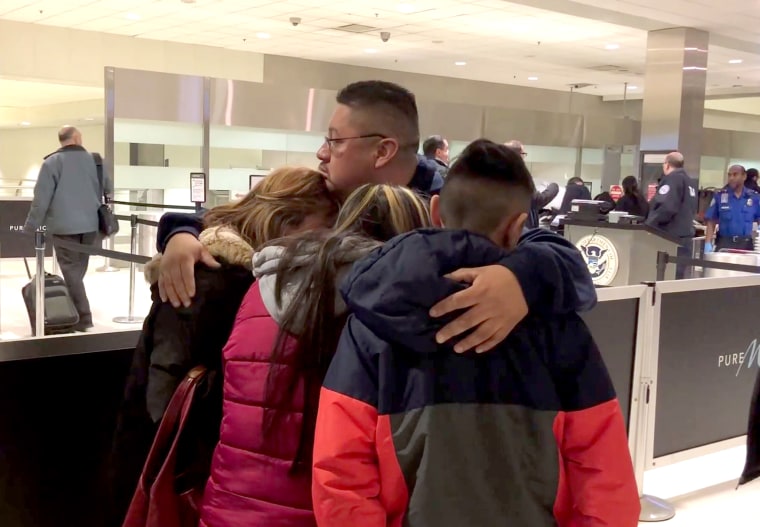 Jorge Garcia had been a resident of Michigan for three decades, but was too old to qualify for Deferred Action for Childhood Arrivals, or DACA, the Obama administration policy that protected people brought to the United States illegally as children from being deported, lawyer Mayra Lorenzana-Miles told NBC News.
Cindy Garcia said that her husband has no criminal history and that the family had been trying to change his immigration status for years.
She noted that the family had tried to apply to change his status in 2005 but their lawyer at the time "filed the wrong paperwork and got us into removal status."
He lost his case and a subsequent appeal in front of an immigration judge in Detroit, then received a final order for removal in 2009, but the family was granted a stay of deportation, Lorenzana-Miles said. Since then, the family has been meeting annually with U.S. Immigration and Customs Enforcement (ICE) officials.
"We were under the Obama administration and we were safe," Cindy Garcia said.
She added that during a yearly visit this past November, they were told he would be detained.
"Our faces just went pale," she said.
Related: White House to ask Supreme Court to rule on DACA before appeals court
"Then they told us that we can bring back an airplane ticket stating he was going to leave the day after Thanksgiving because time had run out under the new administration, that Trump wants everybody who has to leave out of the country," she added.
A spokesman for ICE's regional office in Detroit said in a statement, "All of those in violation of the immigration laws may be subject to immigration arrest, detention and, if found removable by final order, removal from the United States."
"Mr. Jorge Garcia-Martinez, an unlawfully present citizen of Mexico, was ordered removed by an immigration judge in June 2006," ICE's Khaalid Walls said in a statement to NBC News, adding that Garcia "appealed his removal in 2008 to the Board of Immigration Appeals, where it was remanded back to the lower court, which subsequently allowed him to voluntarily depart."
Garcia was subject to a final order of removal in 2009, Walls said.
"ICE exercised prosecutorial discretion on multiple prior occasions in Mr. Garcia-Martinez's case in 2011, 2012 and 2014. In a further exercise of discretion during the this period, Mr. Garcia -Martinez was never detained," he added.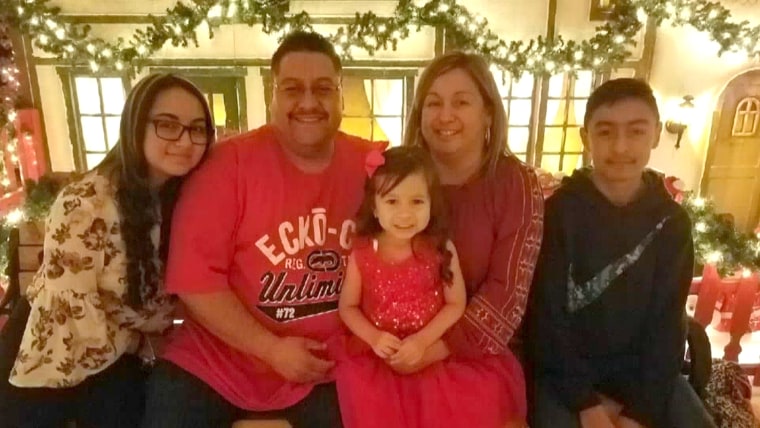 Garcia was deported on Jan. 15 "pursuant to the judge's removal order," he said.
In fiscal year 2017, ICE removals totaled 226,119, a slight decrease from 240,255 in fiscal year 2016, according to ICE's end-of-year report.
But ICE conducted 143,470 arrests in fiscal year 2017, "the highest number of administrative arrests over the past three fiscal years," according to the agency.
Garcia was given a date for removal after Thanksgiving, but the family was called just a few days before and told they were going to extend his time until after the holidays, his wife said.
"We did not have a Christmas tree, we did not put up any Christmas decorations because we were sad," she said. "We knew what we had to face was going to be head on and it was going to be devastating, so we just took it day by day process and just hoped for the best."
Lorenzana-Miles said that Garcia is unable to return to the U.S. for 10 years, but that the family is applying for waivers for him to possibly come back sooner.
But Lorenzana-Miles said that there was no guarantee and that cases like this are far too common.
"This is one of dozens of cases that are happening every month and these are families that are really well established, that are contributing to society — they're paying their taxes, their children are going to school," she said. "I just want people to remember that this is just one drop."