With chanting protesters demanding his resignation in the background, Michigan Gov. Rick Snyder announced Monday that he plans to ask for federal aid to deal with the lead-poisoning crisis in Flint.
At a press conference, Snyder was repeatedly questioned about the state's admitted mishandling of the water emergency and whether he knew it was a major problem before he addressed it in a press conference in early October.
"I have a degree of responsibility," he said.
It wasn't until last week that Snyder declared a state of emergency in Flint, where the first batch of 2,200 blood tests turned up 43 children with elevated lead in their blood — which can cause mental and physical development problems.
Only 2 percent of the city's population has been tested, even though the state's chief medical officer said every child under the age of 6 years should be assessed.
Related: Michigan Gov. Rick Snyder Mum on What He Knew About Flint Water
Officials warned Monday that the tap water still isn't safe to drink, but it took five days after the emergency declaration for the state to start handing out bottled water.
And Flint's economically challenged citizens are still being billed for water that authorities say they shouldn't consume or even use to brush their teeth.
Snyder said a newly formed interagency committee will be examining whether homeowners should get a break on their water bills and that testing and handouts of water and filters will be stepped up.
"We're continuing to work hard. We're going to continue to step up our efforts," he said.
The crisis began in April 2014 when Flint switched from using Detroit's water supply to water from the Flint River to save money. The river water was saltier and began corroding the old pipes and leaching lead into the system.
An email obtained by researchers at Virginia Tech revealed that six months ago, the governor's chief of staff was concerned enough that he told the state health department Flint's residents were "rightfully" worried about initial reports of lead levels and were "getting blown off" by the state.
Snyder insisted his epiphany about the Flint situation didn't come until Oct. 1, when testing done by a hospital lab affirmed the results a local doctor had been reporting.
"We started taking actions on Oct. 2," he said. He blamed the three-month gap between that and the emergency declaration to the need to follow protocol.
Related: Internal Email: Michigan 'Blowing Off' Flint Over Lead in Water
He said it could take a month for the Federal Emergency Management Agency to respond to any request from Michigan, and he did not say what kind of help the state is seeking.
White House Chief of Staff Denis McDonough said on "Meet the Press" on Sunday that the administration is "very concerned" about the Flint situation and "watching it very closely."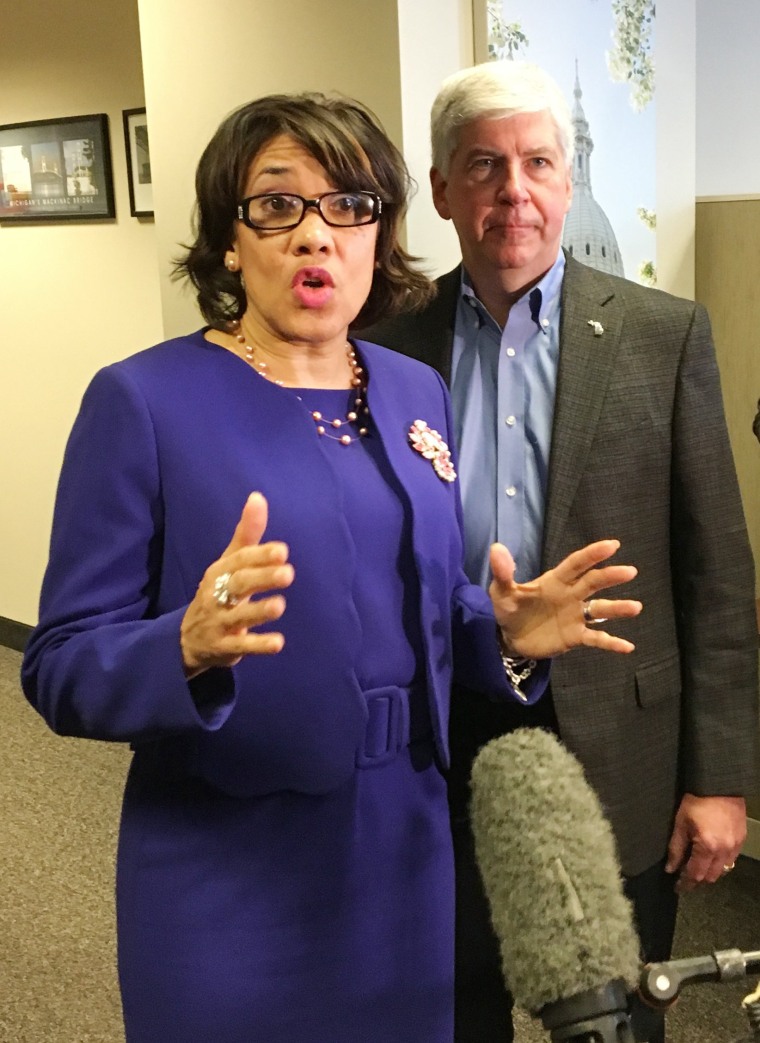 Democratic presidential candidate Hillary Clinton also weighed in on Monday, applauding the Justice Department for opening an investigation.
"The people of Flint deserve to know the truth about how this happened and what Governor Snyder and other leaders knew about it. And they deserve a solution, fast," Clinton said in a statement.
At Monday's press conference, Snyder stood with Flint's new mayor, Karen Weaver, who had been a staunch critic of how the crisis was handled by the government.
She took exception to a remark that she seemed "cozy" with Snyder, saying her goal now was to speed up help for the people of the city.
"I can stand up here and fight with him or I can get the people out there what they need," she said.