The man who killed two bailiffs before other officers fatally shot him at a Michigan courthouse was facing life in prison on charges that he kidnapped, drugged and raped a 17-year-old girl, authorities said Wednesday.
Larry Darnell Gordon, 44, of Coloma, Mich., was being escorted from his holding cell Monday to a hearing at the Berrien County Courthouse in St. Joseph when he grabbed a gun from a sheriff's deputy, shot the two bailiffs and briefly tried to take hostages, investigators said.
Other bailiffs and law enforcement officers converged on the scene, where Gordon was quickly shot and killed, according to the Berrien County Sheriff's Office.
In addition to the two veteran bailiffs who were killed — one of whom was the courthouse's head of security — Gordon shot a sheriff's deputy, identified as James Atterberry Jr., and a civilian, both of them in the arm.
Atterberry, 41, was listed as stable at Lakeland Regional Medical Center. The condition of neither has been reported, but authorities said their injuuries weren't life-threatening.
Sheriff Paul Bailey initially said Monday that Gordon wasn't handcuffed. But at a news conference Tuesday, he said Gordon was, indeed, in cuffs in front of his body — not behind his back — and that he was able to seize Atterberry's gun, Bailey said.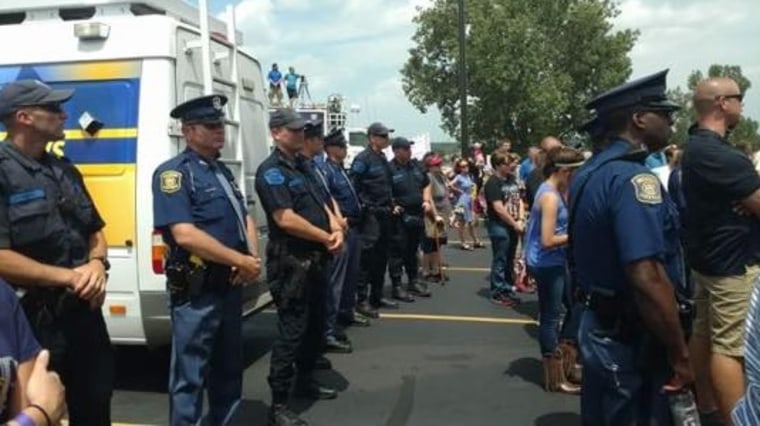 Berrien County Prosecutor Michael Sepic said Wednesday that Gordon was in court to have a misdemeanor domestic violence charge dismissed in place of 17 felony counts in the case involving the teenager.
The new charges included first-degree criminal sexual conduct, kidnapping, production of child sexually abusive material, possession with intent to deliver methamphetamine, unlawful imprisonment, assault by strangulation and assault with a dangerous weapon, Sepic said. Six of the counts carried maximum sentences of life in prison.
Sepic said Coloma Township police were sent to pick Gordon up April 20 on the misdemeanor domestic violence warrant at the home he shared with his ex-wife.
They found Gordon in a shed, where he barricaded himself and then fled through a back entrance, Sepic said. A police dog tracked him down, and he was arrested several blocks away.
When police entered the shed, they found a 17-year-old girl who had been held against her will for about two weeks, Sepic said.
Prosecutors said Gordon gave the girl methamphetamine and assaulted her sexually and with weapons as well as his hands. He also recorded the assaults on video, according to prosecutors.
Not only that, but during the investigation, authorities discovered a similar incident involving a 16-year-old victim in 2006, Sepic said. No further details were made available.
The charges in that investigation weren't among the charges Gordon was facing Monday, Sepic said.
While Gordon's ex-wife said Monday that he was an "amazing man" who'd simply gotten "mixed up with the wrong people," prosecutors said Wednesday that he had a quarter-century-long record of felony convictions — including two federal convictions for possession of pipe bombs and a 2013 conviction for larceny.