A suspect being chased by a team of Michigan police officers last week was a potentially dangerous 40-year-old white woman wanted in connection with a stabbing.
But the person they cuffed at gunpoint and placed into the back seat of a squad car was a terrified 11-year-old black girl named Honestie Hodges.
Now those Grand Rapids police officers are the subjects of an internal investigation into their alleged heavy-handed tactics — and the girl's mother is hopping mad.
"The whole time they are telling her to come down, I'm telling them, 'She's an 11-year-old, that's my daughter, don't cuff her,'" mom Whitney Hodges told local NBC affiliate WOOD.
A spokeswoman for the Grand Rapids Police Department said all other internal investigations have been put on hold so they can determine why little Honestie wound up in handcuffs.
"This investigation has been set as a priority," Sgt. Cathy Williams told NBC News on Thursday. "All other investigations are on hold until it is concluded. None of the officers have been placed on administrative leave, they are still working their normal schedules."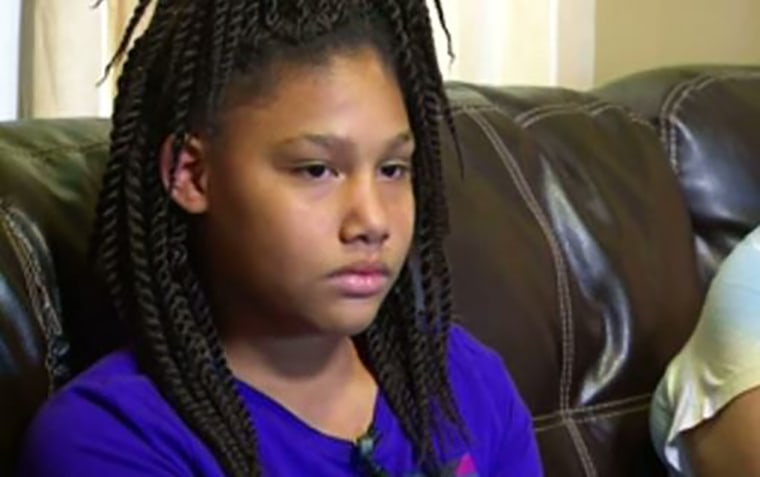 Meanwhile, Honestie's faith in law enforcement has been shaken.
"I wanted to be a detective or a police officer, but now I don't want anything to do with those kind of things," she said. "I'm just wondering why they did that to me."
Honestie's unfortunate brush with the law happened last Wednesday when she was confronted by officers as she was leaving her house by a back door to go to the store.
"They had police cars all over this street, they had police cars all along the alley," she said.
Honestie said the officers had their guns drawn and they ordered her to walk backwards with her hands up. Then after slapping on some handcuffs, she said they patted her down and they took her to the waiting squad car.
"When my mom was walking past, I was putting my hands through the little bars, banging on the windows screaming, 'Please don't let them take me!'" she said.
Honestie's mom and another woman in the house were also detained briefly before they were let go, police said.
The woman police were seeking was Honestie's aunt, Carrie Manning, who was later arrested a few blocks away for allegedly stabbing her sister. She was charged with assault with intent to murder, resisting arrest and other charges, Williams said.
Honestie said she is still rattled by what happened.
"I'm afraid to open or go near my back door because of what happened," she said.