Michigan State University President Lou Anna Simon resigned Wednesday night amid widening denunciations of how the school handled the Larry Nassar sex-abuse scandal.
"As tragedies are politicized, blame is inevitable," Simon said in a written statement that seemed likely to only further infuriate her critics. "As president, it is only natural that I am the focus of this anger."
Just days earlier, the Board of Trustees had backed Simon, 71, who has spent her entire career at MSU and served as president since 2004, making $860,000 a year.
But as she came under scorching fire from Nassar's accusers at a weeklong sentencing hearing for the disgraced gymnastics doctor, the tide turned.
On Tuesday, the NCAA confirmed it was opening an investigation into MSU. On Wednesday, the state's two U.S. senators, Gary Peters and Debbie Stabenow, called for Simon's ouster.
In her statement posted on the MSU website, Simon said she was calling it quits because she had become a lightning rod for "negative attention."
Related: Teen says MSU still billing her for appointments with Larry Nassar
"I understand, and that is why I have limited my personal statements," she wrote. "Throughout my career, I have worked very hard to put Team MSU first. Throughout my career, I have consistently and persistently spoken and worked on behalf of Team MSU.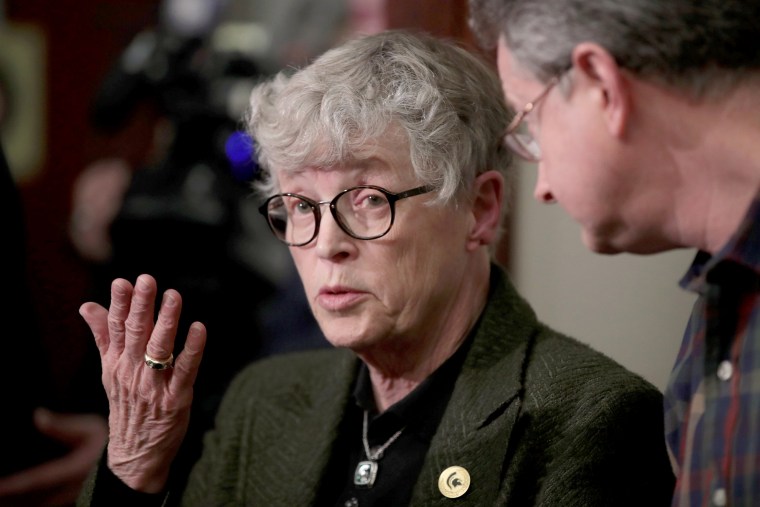 "I have tried to make it not about me," she continued. "I urge those who have supported my work to understand that I cannot make it about me now. Therefore, I am tendering my resignation as president according to the terms of my employment agreement."
Brian Breslin, the chair of the MSU board, issued a brief statement saying they accepted the resignation. "We agree with Dr. Simon that it is now time for change," he said.
Simon said she had originally planned to retire in December 2016 but stayed on after Nassar was accused of molesting scores of patients at his MSU offices and Olympic gymnasts at training camps -- to help the school weather the challenges.
Instead, she found herself accused of trying to cover up Nassar's crimes and putting the Big Ten school's reputation before the suffering of more than 150 girls and women who say Nassar violated them with ungloved hands under the guise of invasive pelvic manipulations.
A handful of accusers surfaced with allegations that they had reported Nassar's behavior to MSU staffers as early as 1997 only to be brushed off. One woman filed a complaint in 2014, triggering an investigation, which found no sexual misconduct.
After MSU fired Nassar it faced criticism of its response. It rebuffed calls for an independent investigation, releasing a letter from the law firm it hired that said no MSU officials believed Nassar was a predator before September 2016.
Rachael Denhollander, the first woman to publicly accuse Nassar, used her victim impact statement at his sentencing to blast MSU.
"MSU, we have been telling our stories for more than 18 months, and you have yet to answer a single question I have asked," Denhollander said.
"Every time I repeat these facts about the number of women who reported to employees at MSU and were silenced, you respond the exact same way. You issue a press statement saying there is no cover-up because no one who heard the reports of assaults believed that Larry was committing abuse.
"You play word games saying you didn't know because no one believed. I know that. And the reason everyone who heard about Larry's abuse did not believe it is because they did not listen," she said.
MSU has asked Michigan Attorney General Bill Schuette to conduct a review of the school's actions around Nassar. Simon said she supported the move but is certain of one thing: "There is no cover-up."